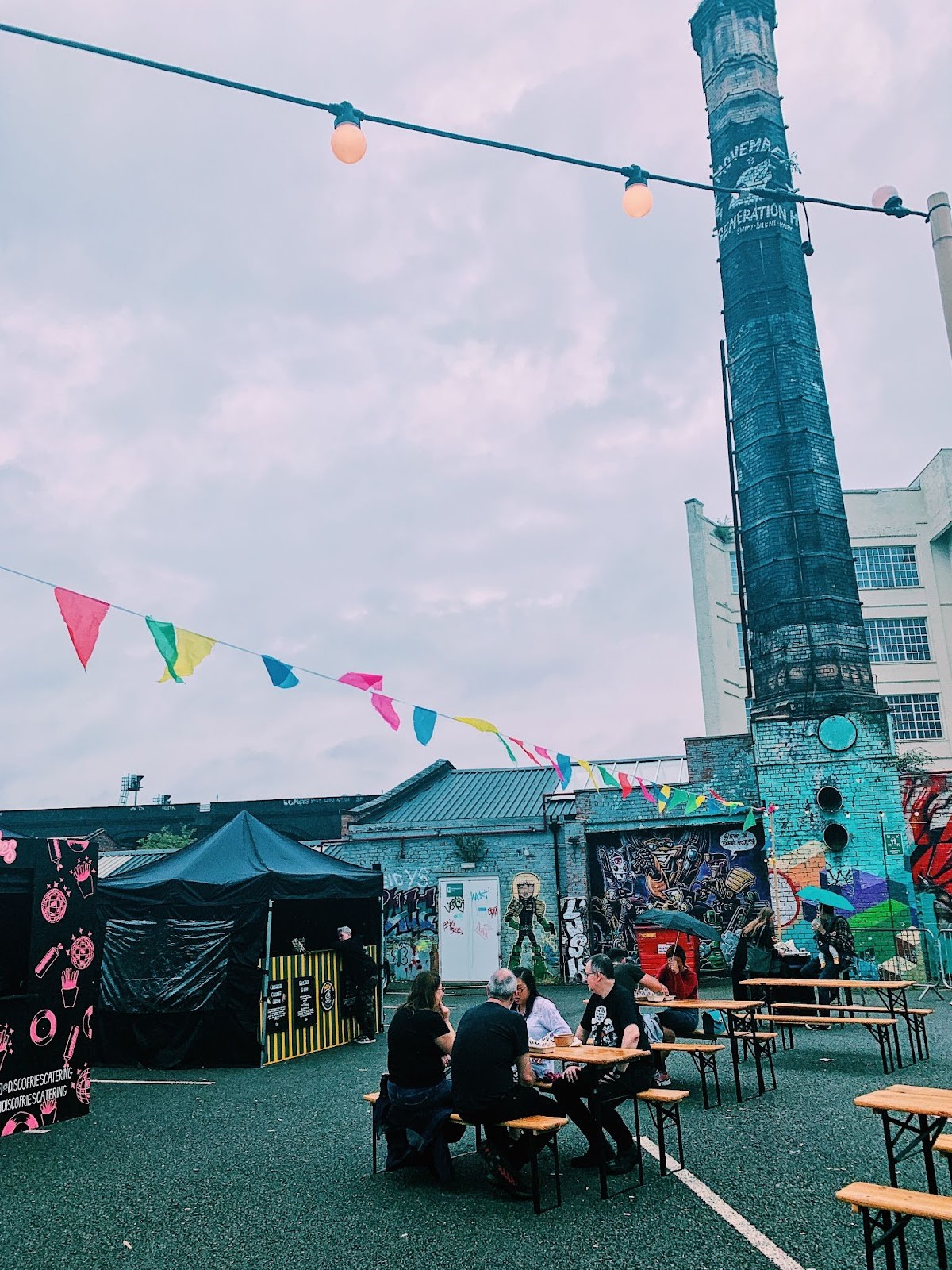 Deputy Editor Jasmine Sandhar reviews the summer foodie offerings at Digbeth Dining Club, ranking her top five favourites
Digbeth Dining Club (DDC) has been the street-food staple of Birmingham for nearly ten years and this summer is no exception. Every Saturday from 12-10pm, a selection of the UK's best independent food traders have parked up their trucks in the graffiti-engulfed Zellig Car Park to cook high-quality dishes they are passionate about. Whether I was eating cuisine from the other side of the world or trying out a series of unique fusion flavours, all of my experiences at the club were sensational; however, some were truly unforgettable. Listed below are my top five highlights from DDC this year:
June
Greidys Wings & Strips (@greidyswingsandstrips)
Given that Greidys were the champions of the 2020 British Street Food Awards – an honour they are in the running for again this year – I was curious to see if their food would live up to the critical acclaim and it most certainly did. As their name suggests, Griedys' menu is nothing inherently special and consists only of fried chicken and chips. What makes these wings and strips stand out is their 24-hour marination process in a variety of secret herbs and spices.
I ordered a portion of the 'Sriracha Thai Fried Strips' and could not believe the explosion of flavour from the crispy, golden chicken itself, let alone the extra drizzles of sweet honey, salty soy sauce and spicy sriracha mayonnaise. The garnishes of crunchy spring onions, hot chillies and crunchy chives on top really brought out those Southeast-Asian influences. This all rather unusually complemented the side of in-house cut salted fries.
The price of £12.50 was a bit steep in comparison to Greidys' competitors that day and there were no vegetarian or vegan-friendly items available. However, the food was undeniably sensational and there is nothing else quite like it.
July
Brúm Mì (@brummifood)
Despite making their debut at DDC only this year, Brúm Mì is a food force to be reckoned with. Whilst they are mainly known for selling the traditional Vietnamese street food 'Bánh mì', which are £8.50 apiece, these spicy baguettes have inspired their slightly larger (and completely gluten-free!) £10 rice bowls.
My friend and I shared a 'BBQ Pork Belly Bánh Mì Bowl'. The lack of meat was a bit of a disappointment, but it was filling enough for two. An abundance of fresh vegetables – including juicy cucumbers, zesty coriander and pickled carrots mixed with red cabbage –  also kept the meal very light on the stomach.
I particularly enjoyed the succulence of the pork belly paired with the smooth mayonnaise. This combination brought the dish together and prevented it from becoming too dry. Having lived with two Vietnamese families whilst studying abroad, I have had the privilege of eating this cuisine home-cooked to which nothing will ever quite compare. Nevertheless, there was still an authenticity in the basic flavours of this bowl that made it worthwhile. 
Torito Taco (@toritotaco)
Similar to Brúm Mì, Torito Taco was another of DDC's latest additions. Founded in Liverpool by 'a team of like-minded foodies', the Mexican restaurant sells all sorts of classic street food from nachos to burritos to tacos. When I visited the food stall, I ordered the 'Loaded Beef Birria Nachos' (£9) and a portion of the 'Coconut Fried Chicken Tacos' (£10.50), which come in a set of three. Unlike the nachos served at most other restaurants, these ones had deep-fried corn tortilla chips, which are much crisper and retain a beautiful golden colour.
I was particularly impressed by the zinginess of the chunky guacamole, provided by the healthy amount of lime juice and coriander, which was needed to cut through the heartiness of the stewed meat and thick queso. The only disappointment was the pico de gallo, which I personally found lacked the spiciness of traditional Mexican salsa and this was the same with the tacos, too.
It was this absence of heat that made the tacos slightly bland, especially against the backdrop of a plain corn tortilla and chicken that was seemingly starved of the coconut flavour promised on the menu. However, the acidity of the pickles and tanginess from the creamy slaw ensured that they remained refreshing. All in all, I could probably live without the tacos, but it would be hard to give the nachos a miss!
August
Hope You're Hungry! (@hopeyourehungry_)
In the past, I have found that vegan street food can be quite hit-and-miss in the UK, which is probably because it is considered to be more of an underdeveloped and niche market here compared to our international counterparts. Whilst I am a huge fan of tofu and halloumi, many other meat-free alternatives have been rather disappointing. This was not the case with the 'BBQ Pulled Jackfruit Rice Bowl' (£11) from the Hope You're Hungry! food stall.
Having never had jackfruit before, I was not sure what to expect, but I think it is probably the best meat substitute available. The soft, shredded texture and smoky flavour from the sticky barbecue sauce perfectly mimicked the texture of pulled pork – I honestly would not be able to tell the difference without being told!
Alongside the 'meat' was a bed of plain white rice topped with wok-fried vegetables, crunchy house slaw, fresh carrots and cucumber, sharp mooli pickle, toasted sesame seeds and hot chilli. The Korean-inspired spices really elevated this otherwise fairly simple rice bowl. I wish I had ordered a side of the steamed bao buns or marinated chicken wings to indulge in those distinctive seasonings even more. 
Disco Fries (@discofries_uk)
For the past few years, Disco Fries has been a popular choice amongst Digbeth diners and it is clear to see why. These groovy vendors offer their hand-cut chips topped with everything from lasagna to chicken katsu. In addition to the food, Disco Fries have a brilliant brand. Their disco theme includes retro, multicoloured floor tiles on the ceiling of their truck and funky vinyl record prints.
A friend and I shared the vegetarian-friendly 'Loaded Nacho Fries' for a reasonable price of £7 and they did not disappoint. On top of the golden, crispy (and very well-salted!) french fries were the typical nacho relishes: guacamole, salsa and sour cream; however, there were also some unexpected ingredients. There was a sprinkling of jalapenos for extra heat and some crushed up tortilla chips to break up the sloppy texture of the various sauces. It was absolutely delicious and is perfect as a quick snack or starter before digging into some more DDC grub!
These food highlights were slightly let down by the expensive drinks from the Bubble Bar (£5 upwards), the £2 entry fee and the lack of shelter when the weather is poor, but these are small prices to pay for sensational food with friends in the beautifully chilled atmosphere of soft fairy lights, patchwork bunting and laidback classics from local, talented DJs.
Unfortunately, DDC has finished its tenancy at Zellig for this summer and is moving further out to Droitwich. Nevertheless, just around the corner in the Jewellery Quarter is the Hockley Social Club, a resident kitchen, set up by the same creators of DDC, that provide a similar experience every Thursday-Sunday.
---
Has this article whet your appetite? Read more here:
Eating Out: Gluten-Free Vietnamese