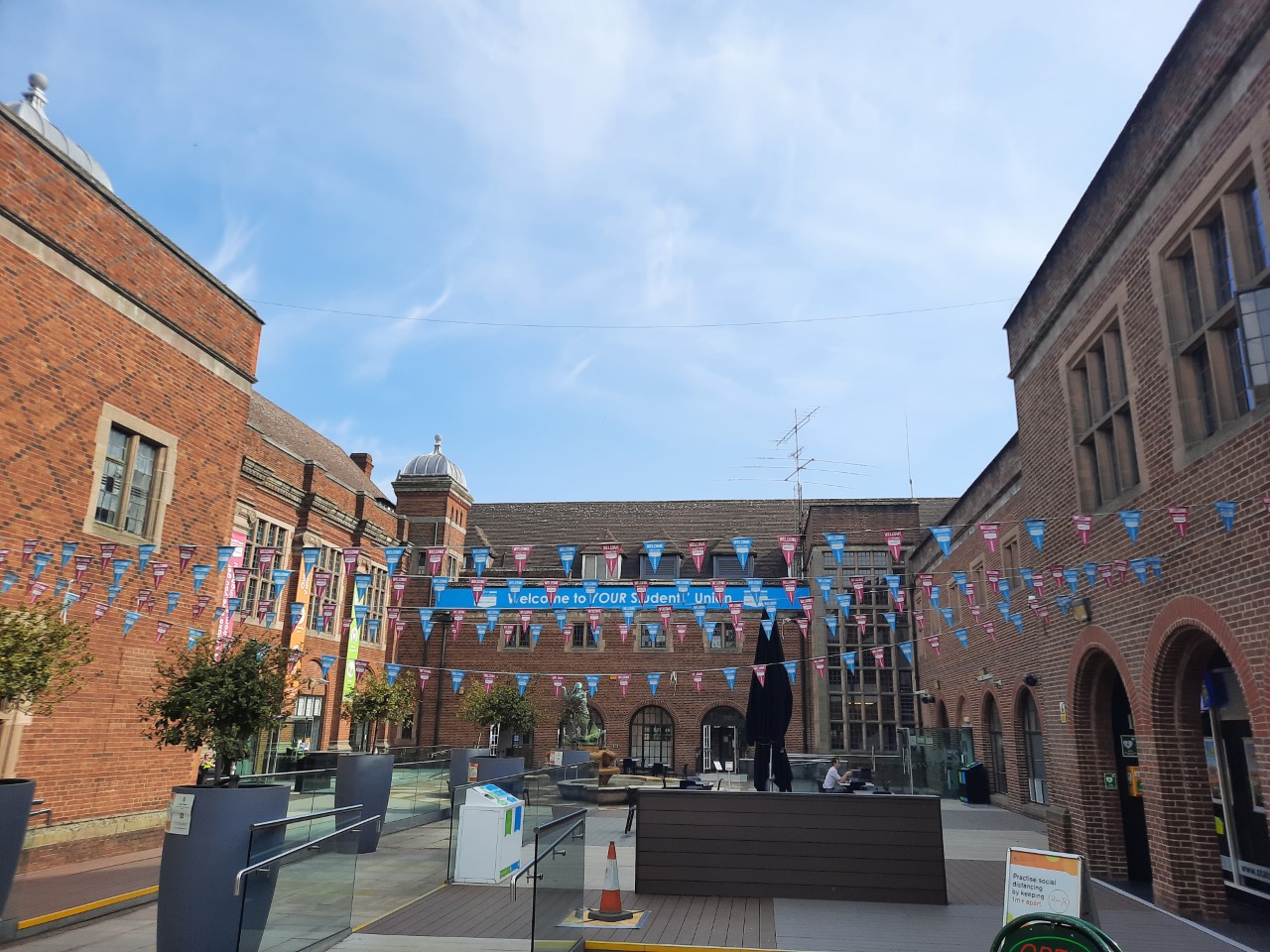 Ahead of the 2021 Guild Elections, Sports Editor Kit Shepard spoke to candidates for the position of Activities and Employability Officer
The Activities and Employability Officer (AEO) is responsible for ensuring all kinds of students groups and societies thrive, as well as helping students develop employability skills. They also manage Guild venues and chair the Activities Committee.
While there are six candidates for the position of AEO, only four took up Redbrick's offer for an interview. Abhishek Tatijwal and Sakshi Gajbhiye did not reply to Redbrick's communications.
You can find out more information about the Guild Elections, as well as vote in them here.
The candidates are listed in alphabetical order by surname.
Josephine Conway (Josephine the Dancing Queen)
Abba-lover Josephine Conway, campaigning under the name 'Josephine the Dancing Queen', is planning for a sustainable and emphatic return of Guild events, as well as a focus on growing awareness of working opportunities for students.
If and when COVID-19 restrictions ease to a level that societies can move away from online activities, Josephine wants to push for students of all years to join new groups. Speaking to Redbrick, she emphasised the value of Societies' Fair, insisting: 'I'm committed to making the Societies Fair the biggest fair that there is to make sure all students know about societies and want to join.' 
Similarly, Josephine would include students of all years in the Guild's events during Freshers' Week which, COVID-permitting, would allow second years in particular to enjoy a more traditional introduction to university life. This would include the Guild's Lakeside event on the Vale, which typically introduces new arrivals to the university, being tailored to all students.
Since most Guild events have been unable to run since last March, Josephine, a third-year Law student, is calling for a spectacular return when restrictions are eased.  'I'm so excited to make the next year the year with the biggest events and the return to campus nights out,' she said. To deliver on this policy, she plans to hold seven consecutive nights of Fab N Fresh if elected, believing that 'as soon as it's possible, everyone will want to return to Fab.' 
One element of Guild venues that Josephine does want to change is the inadequate level of recycling and care for the environment. As AEO, she would remove single-use plastic from Joe's Bar and, to reduce waste further, introduce paperless tickets for events.
To help students be as employable as possible, Josephine plans to shine a light on the availability of work on offer at the university. She wants to create a social media platform  where all jobs can 'be seen very easily,' because 'so many students just don't realise the brilliant jobs that the Guild and WorkLink have to offer.'
Another event included in Josephine's plans is a new local business fair. As well as highlighting companies in the Birmingham area, the event would promote businesses set up by UoB students during the pandemic, allowing 'students who started these wonderful businesses to get the recognition that they deserve.'
Extending her focus to students' long-term future, Josephine recognises that 'when we are going into such an uncertain job market, it's so important that volunteering and work experience has been recognized.' As a result, she advocates for greater promotion of the Personal Skills Award, which will help celebrate and reward achievements beyond students' studies.
With experience in the Law Society netball team and as Social Secretary for UoB Hockey, Josephine believes she can provide students a rounded university life. 'I am committed to being the friendly personal face that students want at university, I'm here to fight for student-led policies and I'll represent them.'
Alex Heighton
Changes to societies and continuity in employability programmes are the main aims for Alex Heighton, a Maths and Computer Science student currently in their third year.
Heighton told Redbrick that they believe societies must become more transparent, an issue that the pandemic is exposing because 'you can't just go up to the student groups counter and stand there and wait until they fix things for you.'
'People don't know what's going on in student groups,' they said, adding that improved guidance and a more available committees hub are needed to allow societies to run more smoothly.
Currently a part-time Trans & Non-Binary Students' Officer, Heighton also hopes to make societies more inclusive by advertising society events and breaking down how to start a student group. Eager to foster a welcoming environment across the university, they propose that anti-discrimination training must be improved and made compulsory in every society. Similarly, they advocate for greater emphasis on stamping out misconduct in societies, as current processes are 'painfully slow and can cause more problems.'
With the pandemic drastically reducing in-person contact, Heighton is conscious that 'a lot of societies have completely stopped functioning.' To limit the impact of reduced participation for many groups, they plan to endorse societies with vacant committee roles and, for those still short on members next year, retain their information and finances in the Guild. This will prevent societies from disbanding and, once participation does recover, Heighton believes the groups 'can pick up exactly where they left off.'
Societies have been 'a massive part' of Heighton's university experience. They are the current NerdSoc Chair and have been on four different committees across two student groups. Nevertheless, with such a diverse student body, they insist that 'it would be naïve to assume that any given person in this position could accurately represent everyone.' Instead, they contend that 'the most important trait is being able to listen, being able to take criticism, being able to look at what people are doing, focus on where people are struggling, and make changes based on that.' As co-chair of the LGBTQ+ Association, Heighton believes they have 'hands-on experience of listening to people whose experiences I can't possibly understand, because I haven't lived them.'
Heighton is less concerned with another of their main responsibilities as AEO, the running of Guild Venues. 'I think that it is a much better investment of my time to make sure that the groups at the Guild can get back off the ground because financially this has been a tough time,' they said. Heighton is certain that the eventual return of Fab N Fresh and Sports Night will need no additional promotion, proclaiming: 'build Rome and the people will come.'
While Heighton's approach to student groups is one of restructuring, their employability policies involve building on the systems already in place. They assert that existing services offering advice on CV writing and interviewing are 'greatly useful to the people that go to them', but 'the vast majority of people don't even know they're going on,' so advertising this assistance is crucial for Heighton.
Although they 'can't just hand out part-time jobs to people,' Heighton plans to help students prepare for life after university by expanding careers fairs which 'have been massively successful' in the past. After several months of adapting to COVID-19 restrictions, they believe they have enough experience to make any virtual careers fairs as beneficial to students as in-person iterations.
Jiahao Huang (Roland)
Jiahao Huang, also known as Roland, is a Business Management student currently in his first year. If elected, he would maximise the power of social media and help students from across the world feel included at UoB.
Online advertising is vital according to Roland, who told Redbrick: 'social media is getting more and more important in our modern lives.' He plans to create a YouTube channel where all student opportunities and events can be promoted. Hailing from China, Roland wants to use social media to extend the university's reach and introduce the local culture to students of all nationalities. To help achieve this objective, he proposes finding individuals who can represent the opinions of students from a certain country and advertise university events to them.
With 'one for all' as his campaign slogan, Roland believes that volunteers will be crucial to the reopening of Guild venues, saying that 'we need to inspire them to do something for our university.' He is eager to make selflessness a defining element of his AEO ambitions, adding: 'we need to have the determination just to help everyone and sacrifice ourselves.'
On employability, Roland hopes to create a system where students are steered towards working opportunities that align with their passions. Discovering the interests of students is 'the first step,' before they are introduced to courses that will improve their skills and experience. At this stage, Roland is prioritising digital opportunities, saying: 'the only thing we can do is open up our laptop and take courses online.'
With experience helping to manage his parents' company and as a blues singer in his spare time, Roland believes he has the background to help students both become more employable and enjoy themselves outside their degree. An avid reader of philosophical thought, he promises that 'every decision which is made by me is always going to be very practical,' which gives him 'confidence to take up this kind of seat.'
Abubakr Nanabawa
A Politics and International Relations student in their third year, Abubakr Nanabawa's AEO manifesto focuses on supporting students looking for work experience, making student groups accessible to disabled students, and helping societies to become more environmentally-friendly.
Top of Nanabawa's priorities is helping students who want to go on a placement year. Speaking to Redbrick, he cites the diminishing job market due to the pandemic, which meant his own employment opportunities 'literally disappeared,' as a key reason for this emphasis. By working with academic departments, he hopes to encourage as many students as possible to feel comfortable considering a placement.
For those unwilling to take a year away from their university studies, Nanabawa is equally eager to ensure they have opportunities to gain work experience. If elected AEO, he would call on the university to offer students seeking summer internships sufficient financial support. This system, he contends, would mean that 'people are able to get money before they go these [summer] placements so they are able to afford to live on these placements without having to take out any extra loans.'
As Vice-President of the Islamic Society and BAME Officer for the Labour Society, Nanabawa's experience of helping run student groups revealed to him that inclusivity can be improved, particularly for disabled students. He understands firsthand that groups 'want to welcome everyone, but sometimes are not really sure how, and the Guild can support them.' To avoid confusion and to make groups more welcoming, he suggests implementing a university-wide logo that indicates the events where disabled students can take part.
Nanabawa's student years have also convinced him that societies need to become greener. 'We are in a crisis when it comes to the climate and, as a university, we need to take it seriously and as a Guild we need to take it seriously,' he says, pledging to help student groups cut down the use of plastic at events.
As AEO, Nanabawa would also assist groups whose social activity has been hindered by the pandemic. Concerned that committees will consist of individuals who have only experienced societies in virtual format, he aims to give groups assistance when planning in-person events. Here, Nanabawa favours a balanced approach, stating: 'I don't think societies want to be overseen and be told what to do [but] you want to help nod people in the right direction.' However, whether it be helping societies organize socials or reopening Guild venues, safety remains '100 percent the first priority.'
With a 'very volatile' job market, Abubakr emphasises how 'students need to learn skills beyond just their degree.' Consequently, in an attempt to combine his main responsibilities into one policy, he is keen to work with the university to demonstrate to students how skills developed through societies can improve their employability. 
Liked this article? Here are some more from Redbrick News:
UoB Help the Homeless are Raising Money with a Valentine's Delivery Service
UCU Industrial Action Not Going Ahead
Guild Refuse to Take Society's Sexual Harassment Complaint Further