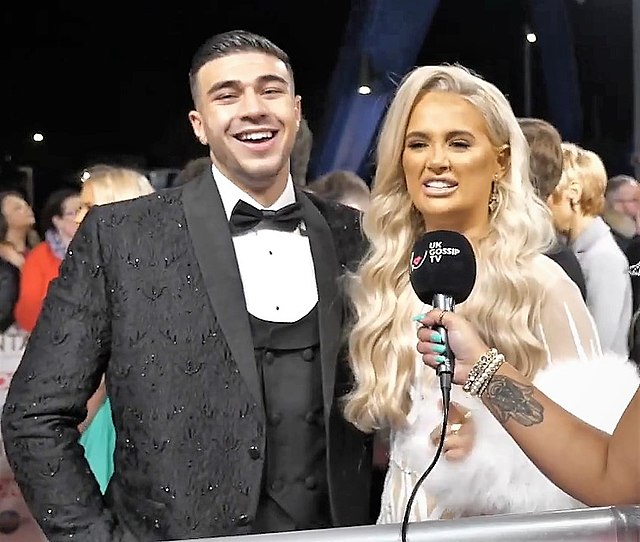 Life and Style editor, Emma Davis explores the implications of Molly Mae Hague's appointment as Creative Director of Pretty Little Thing and the issues with failing to appreciate the nuances of celebrating 'girlbosses'
Molly Mae Hague's recent appointment as the new Creative Director for Pretty Little Thing has been both lauded and criticised since its announcement. For some, Hague's appointment is a beacon of the #GirlBoss movement – a celebration of female success despite patriarchal limitations. For others, the decision represents the privileges of an influencer obtaining a competitive role through follower count, rather than qualifications or experience. In my opinion, the debate is not so polarised, but rather a more nuanced consideration of a wider issue. 
To term Hague as a 'Girlboss' would be completely justified; at only 22 years old, she has achieved career highs that many influencers can only dream of. Her first collection with Pretty Little Thing (PLT) in 2019 earnt her a reported £500,000, with her new role as Creative Director signing her onto a seven figure deal. Alongside these ventures, Hague has her own tanning brand, Filter, and is an ambassador for Beauty Works, whom she regularly collaborates with on both her YouTube and Instagram. With her level of traction, it is no surprise that Hague can charge over £10,000 for a single Instagram post, nor is it shocking that she was able to celebrate her newest endeavour by treating herself to a £37,400 Cartier bracelet as a 'well done' to herself. Her success is inspiring and demonstrates the power of a hardworking business-oriented woman. It is also impressive that whilst much of Hague's following came from Love Island, she has separated herself from that sole association, rebranding herself by building her own empire.
However, whilst the idea of 'women supporting women' is absolutely fundamental to societal progression and female success, it comes with the possibility of overlooking the downside of this kind of advancement. Blindly applauding female success fails to notice nuance. For instance, Hague's appointment as Creative Director, whilst impressively demonstrating a woman in a position of responsibility, also brings up the injustices of influencers gaining opportunities that they are underqualified for. Without a degree or qualification, some have seen Hague's position as undermining the industry. One Instagram comment expressed these doubts: 'They are using her for her name while qualified creatives with talent cannot get positions.' Hague's name undoubtedly brings with it a greater audience than an anonymous professional. With her six million Instagram followers alone, it is clearly a contemplated move to have her as the face of the brand. It is true that she may be underqualified, according to her academic achievements. In this way, her followers have given Hague an undisputed advantage in securing the role. However, whilst she may have been given the opportunity with more ease than any other professional, in my opinion, this does not necessarily make her underqualified, only largely advantaged in securing the role in the first place. 
Once given the role, the opinions of the qualified creatives will no longer be about why Hague got given the role, but rather how she performs in it. It is important to separate those two considerations; yes, Hague has been (perhaps unfairly) handed the job, but this does not detract from how successful she will be at said job. Although she has no formal qualifications, since coming out of Love Island, Hague has not only started her own business from scratch but has been continuously working alongside brands in a creative capacity, giving her hands-on experience with branding decisions, marketing, and other important skills that a Creative Director will need. It is also true that employers no longer value academic achievement as highly as they once did; huge companies such as Tesla do not require a degree, with Elon Musk advocating for hands-on learning, rather than theoretical. In this vein, my view towards Hague becomes more sympathetic, seeing the criticism she is facing for the job she is doing – and doing well according to PLT sales – as unjust. Indeed, whilst her route to the position was carved out by her name and following, this does not mean that the work she does will be inadequate.
It is refreshing to see a female carving out such a huge brand for herself. Hague has been dubbed the British Kylie Jenner, the youngest self-made billionaire (well, prior to her business valuations being revealed as incorrect). This comparison demonstrates just how savvy Hague has been with her career since Love Island. Another female in this position is Rihanna, who, on a much larger scale than Hague, has seen her career grow exponentially in the business world in the last few years with the establishment of her brands, Fenty Beauty and Savage x Fenty. Forbes has now declared Rihanna an official billionaire, with an amassed fortune of $1.7 billion. As another example of a highly successful female, we should undoubtedly be applauding Rihanna, as well as Hague, for breaking through the glass ceilings of their industry. 
And yet, this success is not without its concerns. Often, we are so relieved, impressed and respectful of the women who are able to assert themselves as CEOs or Creative Directors, we do not want to tarnish this female success by seeing the full picture. However, it is just as damaging to see these appointments through rose-tinted glasses. For instance, there is an unethical side to anyone becoming a billionaire – man or woman. It has been said that you cannot earn a billion, you must exploit it, and yet this is often directed at men, such as Amazon's Jeff Bezos, rather than the women who are in a similar position. Whilst Hague is not at this level of wealth, there are some concerns about the ethics of PLT, which has come under fire for the pay and conditions for workers. Whilst Hague is not in control of these factors, it does seem ignorant to accept huge sums of money whilst the factory workers are making less than minimum wage. This discrepancy was only highlighted in last year's 'Pink Friday', when clothes were marked as 99% off, leaving coats previously worth £70 at a mere 7p. Clearly, this kind of pricing is unsustainable and unethical. 
Therefore, whilst Hague's immense success should indeed be applauded, and her 'Girlboss' status left untarnished, it is important to see the nuance of her being the Creative Director of PLT. It can be true both that she has shown career initiative and that her appointment was unjust. Not only has PLT provided an example of a successful female, but also of unethical failings within a business. Without these distinctions, it is difficult to appreciate the challenge in powerful female representation, the issues that come with it, and the universal shortcomings that seem inevitable in any position of power.
---
You can find more from Comment here:
The Islamophobic Bias Behind the ECJ Headscarf Ban
Rich Kid, Poor Kid: How the Education System Fails to be Meritocratic