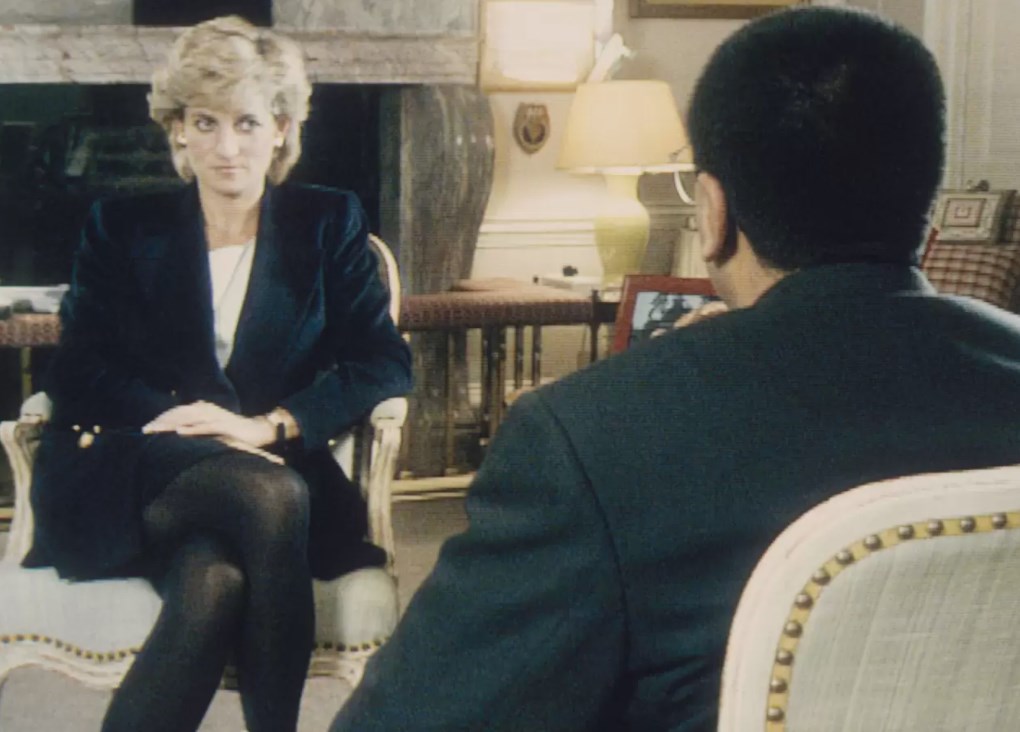 TV Writer Harpal Khambay delves into the ethical problems of Diana's famous 1995 interview with Martin Bashir, reflecting on the Royal Family's relationship with the media
Content warning: this article discusses Bulimia. 
Diana, Princess of Wales, has remained in the public's imagination since her wedding to Prince Charles in the summer of 1981. The wedding itself was watched by 750 million around the globe, with the Archbishop of Canterbury claiming that it was the 'stuff of which fairy tales are made.' Diana became one of the most famous women in the world, and former editor of The Sun, Kevin Mackenzie, dubbed her as 'the princess of sales.'[1] Diana's ability to hold the attention of the media meant that she remained in the public eye throughout her life, culminating in her tell-all 1995 Panorama interview with Martin Bashir. Although the interview itself took place twenty-six years ago, it still causes controversy today, specifically concerning how it was obtained.
The interview itself was thirty minutes long, and in it, Diana told Martin Bashir about her life as the Princess of Wales. She confirmed that she had suffered from bulimia and postpartum depression. She lifted the lid on her extramarital affair with James Hewitt, and also confirmed that Charles had been seeing his ex-girlfriend, Camilla Parker Bowles, famously stating that 'there were three of us in this marriage.' Diana recalled that, following the birth of Prince Harry in 1984, her marriage to Charles was effectively over, and that staff facilitated Charles's clandestine affair with Camilla from this point on. The interview was watched by 23 million people and following its airing the Queen instructed Charles and Diana to formally separate. The interview confirmed the stories that the tabloids had run on Diana throughout her marriage. Diana's candidness had a lasting impact, as she validated the feelings and anxieties of her subjects and shed light on bulimia, a condition that was not well understood at the time. The interview itself however caused friction between Diana and Buckingham Palace. She did not tell the Palace about the impending interview until moments before the BBC announced it themselves and, following its transmission, the BBC lost sole rights to the transmission of the Queen's annual Christmas message. The events that Diana described were recently depicted in Netflix's drama The Crown.
Doubts about how the interview was obtained were first raised in 1996 and an internal inquiry into the matter was launched. The investigation did not yield much, in part because Earl Spencer, Diana's brother, was not interviewed. The issue was raised again in October, when several documentaries criticised the dubious way in which Bashir gained access to Diana. Another investigation was launched and headed by Supreme Court judge Lord John Dyson. Princes William and Harry both welcomed the inquiry. Dyson concluded that the 1996 investigation was 'woefully ineffective,' and conceded that Martin Bashir used fake bank statements to gain access to the Princess. These statements were first shown to Earl Spencer to gain his trust, and in response, Spencer put Bashir in touch with Diana. With the aid of the bank statements, Bashir claimed that Diana's friends were spying on her, as was MI5. Diana herself was paranoid about such developments, and Bashir's fake evidence fed into her fear. Dyson found Bashir guilty of 'deceit,' and conceded that, without these fake bank statements, Bashir would not have gained access to the Princess.
Prince William decried Martin Bashir's actions, and noted that they contributed to Diana's 'fear, paranoia and isolation.' Prince Harry blamed the media as an institution for the death of his mother. It is Harry's hatred of the media that has come to the fore this year more than any other, in relation to his own marriage and family. Earl Spencer claimed that Bashir's deceit directly led to Diana's death, as the interview itself severed her last remaining ties with Buckingham Palace. This left Diana unprotected and vulnerable, and Spencer claims that this ultimately led to her death. Since, BBC Director-General Tim Davie has offered a 'a full and unconditional apology' to Princes Charles, William and Harry, and Earl Spencer.
While the public generally come out in support of Diana, some have questioned whether those who currently work at the BBC should take responsibility for something that occurred twenty-six years ago. Bashir himself has resigned from the BBC, citing health issues, and noted that using the fake documents was a 'stupid thing to do and was an action I deeply regret.' Despite his apology, Bashir still maintained that Diana would have given the interview anyway. Bashir claims that, although he was deceitful, his actions did not harm Diana 'in any way.' This idea is supported by a note that Diana wrote herself in 1995, stating that she was happy with the way in which she was approached, and had 'no regrets.' This view is supported by former news correspondent Jennie Bond, who argued that, in 1996, Diana expressed her lack of regret to her also. Bond recounts that Diana feared that her impending divorce would result in a gagging order, and so she felt that she must speak her mind as it may have been her last opportunity to do so.
Although it appears that Diana wanted the chance to speak out, it is unfortunate that she was unable to do so without being manipulated by the media. It is this manipulation that dampens the impact of the interview in some way, despite the fact that Diana herself wanted to speak. Diana's interview was a massive scoop for the BBC, and the Panorama episode itself won a BAFTA. This makes the situation even more uncomfortable because it appears that Bashir has been rewarded for his unethical behaviour. The BBC is associated with integrity, especially when it comes to ethical journalism, and this incident, however old, has definitely tarnished that. There is no doubt that personnel at the BBC helped to cover up Bashir's activities, and his recipient of a BAFTA only makes Diana's story more tragic. She was again used by the media that she was so adored by, and used specifically to advance Bashir's career.
It is a frequent occurrence that royal interviews are met with fierce backlash. Charles' 1994 interview, in which he confirmed that he had cheated on Diana, led him to be vilified in the media, and more recently, public sympathy has dwindled for Harry and Meghan following their interview with Oprah. Some also criticised Diana for her interview, citing that she did not think about the impact it would have on her sons. Perhaps to avoid greater scandal and media attention the royals should stay away from giving interviews, as it does open them up to greater criticism. While this may have worked for Diana in increasing public sympathy for her, it did still open her up to criticism, especially from Charles' friends and senior members of the royal family. However, should the royals be denied the opportunity to speak to set the record straight? Is it fair for us to expect them to stay silent? Perhaps it is us who should be more sympathetic and caring towards them, as if we were, perhaps Bashir would not have used Earl Spencer and Diana for his own ends. It is right that an apology was issued to Diana's sons in particular, but whether it should be accepted is really up to the two Princes. I personally do not feel that I could forgive actions so manipulative, especially considering Diana's position and vulnerability. Maybe it is not a question about forgiveness, but more about the promise of change. Hopefully, much like in her life, Diana's resurgence into the public imagination will only have a positive impact, and inspire change in those at the BBC and the public.
[1] The Diana Interview, Revenge of a Princess (television programme) (London: ITV Television, November 24 2020).
---
Check out other articles on the ethics of TV interviews here:
Meghan and Harry: Why THAT Interview Would Not Have Happened Without Oprah