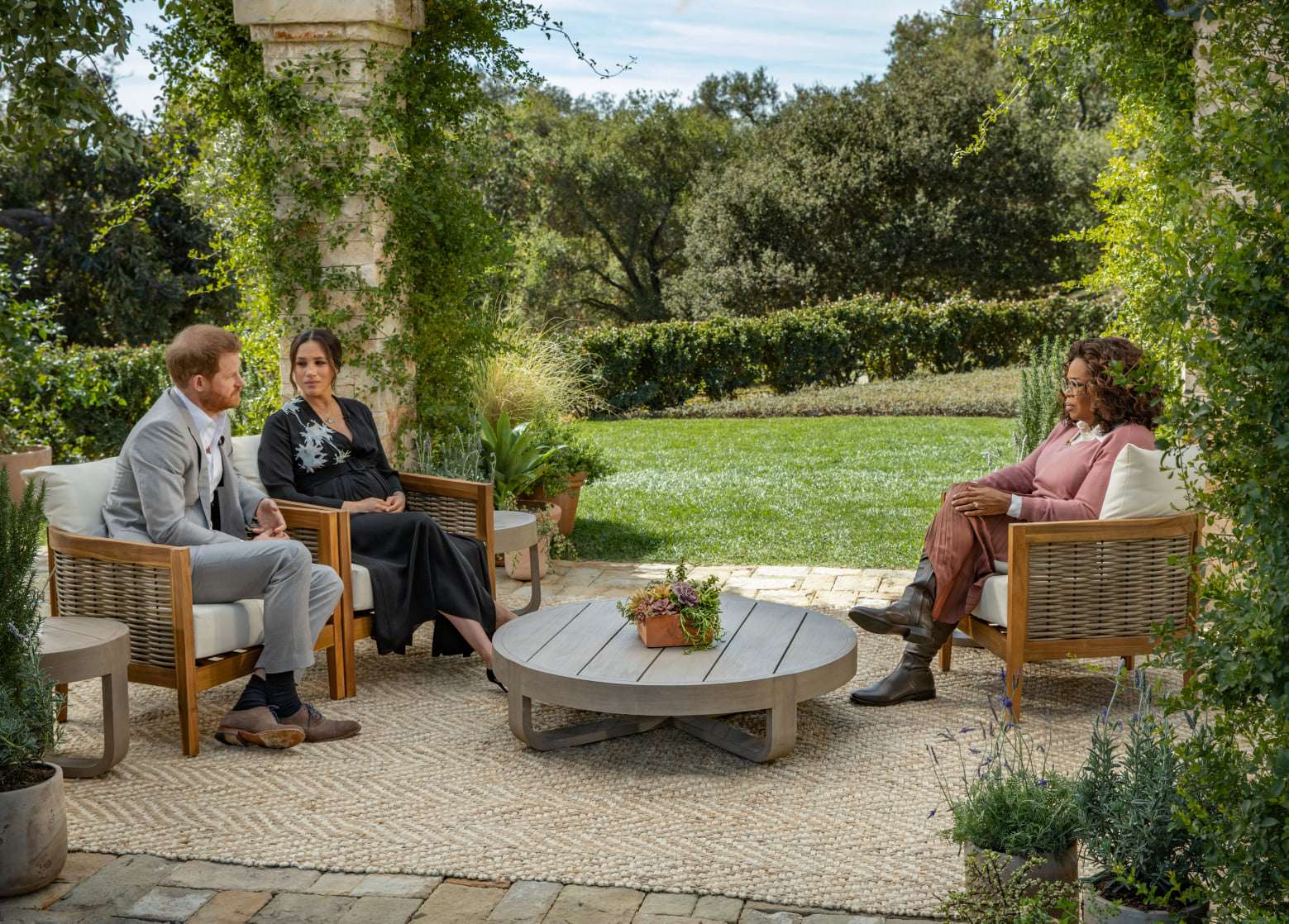 With Meghan and Harry's Oprah Winfrey interview taking the media by storm, TV Critic Jasmine Sandhar assesses whether the interview could have had such an impact without Oprah's intelligence and empathy
The last article I wrote for Redbrick TV argued that a variety of well-known interviewers have interrogated their celebrity guests in the past, incessantly probing up until the point of an invasion of privacy. Oprah Winfrey's groundbreaking interview with the Duke and Duchess of Sussex, which aired on both US and UK television, was no exception to this with the discussion of a variety of deeply personal topics. However, aside from the clear contrast of the respective guests' regal and celebrity statuses, the key difference between Oprah's royal interview and David Letterman's Late Show interview with Lindsay Lohan, for example, was the role of consent. Harry and Meghan directly agreed to a completely open and honest conversation about every aspect of their lives, as is evident from the declaration Oprah made at the very beginning of the interview: 'there is no subject that's off limits.' 
Of course, this did not mean that Oprah was granted uncurbed access and understandably both parties retained the option to leave some boundaries uncrossed, such as when Meghan refused to specifically name royals she asked to help with her suicidal thoughts and Harry would not disclose the full contents of the private talks concerning the colour of his son Archie's skin. Nevertheless, these minor details are merely missed bullets compared to the bombs released by the couple, including, but not limited to, institutional racism, severe mental health issues and shocking truths about senior members of the royal family. These unprecedented and rather perturbing revelations have dominated news headlines and social media platforms for days now, but rather than repeating the content of what was said, I want to focus on the process of how the Sussexes' divulgences even made their way into the public sphere in the first place. A key question I have asked myself over the past week is would we have learnt everything we did if Oprah had not been the interviewer? Perhaps, perhaps not. The one thing I can say for certain is that the interview would not have been as outspoken nor would it have had as profound an impact without Oprah, and that is what I want to show you in this piece. 
First and foremost, we must consider Oprah's relationship with Meghan and by extension of that the royal family, too. The two women have a fairly solid friendship that originated with a personal invitation from Meghan to her Windsor Castle wedding (not the secret marriage ceremony that took place three days beforehand!) in 2018 and continued via intimate discussions behind the scenes for three consecutive years after this. Despite this, Oprah has frequently publicised her close relationship with Meghan through a string of overtly supportive actions and statements – most notably, she '1000 per cent' backed the couple's departure from the royal family earlier last year – and this camaraderie has extended beyond just the Duchess to the Duke as well, with the recent announcement that Oprah and Harry's mental health docuseries in collaboration with Apple TV+ will be released later this year, having being delayed for two years. Oprah's friendship with both royals is significant when it comes to an interview as delicate as this, because it opens up a dialogue of trust where Harry and Meghan do not feel as though they are purely the next interviewees or filler celebrity guests on commercial television, but instead that their voices are being amplified by an understanding ally, who values them as individuals with human thoughts, reactions and emotions.   
However, arguably the Sussexes have a plethora of similar friends who they could have otherwise chosen. Take James Corden, for example. Not only is he a prominent British talk-show host, but he lives and works in Los Angeles, almost next-door to Harry and Meghan. Furthermore, Corden is a close, long-term friend of the Duke's (seven years to be exact), who was also invited to the couple's wedding and has helped to support them by promoting their work, such as when he featured on their Archewell Audio podcast series. Nevertheless, the issue with Corden is that he is primarily a comedian and so it is impossible to imagine how such a serious topic of discussion could occur without everything leading up to a punch-line. For evidence of this, we need look no further than Corden's An Afternoon with Prince Harry episode, which sandwiches a five-minute heart-to-heart, exploring how the false rumors and accusations spread by the British press created a toxic environment that forced the pair to step back from the leading members of the royal family, between the slapstick segments of crashing a service trolley adorned with scones on an open-top sightseeing bus, a brief bathroom break at the Fresh Prince of Bel Air's house and the competitive completion of a military-style obstacle course. Naturally, Oprah was the obvious choice.
Furthermore, Oprah is a veteran when it comes to interviews with public figures. From 1986 to 2011, she hosted her own television programme, The Oprah Winfrey Show and was subsequently hailed as the "Queen of All Media" following its roaring success. After a series of iconic interviews, including one of the most watched television interviews of all time with Michael Jackson, Whitney Houston's candidness about substance abuse and Ellen Degeneres' coming out as part of the LGBT+ community, the term 'Oprahfication' was born – a process which has since been defined as 'the perceived increase in people's desire to discuss their emotions.' Undeniably, Harry and Meghan experienced this same phenomenon during their interview, disclosing several home-truths that set the record straight. So how does Oprah get celebrities, and now royals, to speak out? 
To put it simply, it is because she is a good interviewer. Oprah has crafted a unique blend of sensitivity and directness, through which she is able to connect with her interviewee and her audience. It is clear from her facial expressions, body language and warm tone that Oprah is profusely empathetic. When her guests voice their difficulties and concerns, she reacts in a genuine way, brimmed with emotion – for example, after Meghan revealed that one of the senior royals had asked about Archie's skin colour, Oprah could not help but drop her jaw in disbelief and respond with the indignant rhetorical question: 'what?'. She also gives her interviewees the spotlight on stage, so that they can be the main character telling their story, rather than her being the narrator telling their story for them – rarely does she interrupt her guests' speech, choosing to be an encouraging listener instead, and quite often there are pauses or periods of silence that give the individual an opportunity to think, regain composure and work up to vulnerability. However, this does not detract from her forthright nature. Whilst Oprah is aware of the importance of sympathy, she is not afraid to challenge her interviewees and ask them uncomfortable questions – this was particularly notable in the Sussexes' interview when she inquired as to whether Meghan was 'silent or silenced' and also in her clarifying follow-up questions concerning the state of Harry's current relations with his father and brother. Whether these questions were designed to give viewers the inside scoop of the otherwise impenetrable Buckingham Palace or to provide a context that would change the inaccurate portrayal of the couple in public discourse is a matter of debate, but one conclusion that can be drawn for certain is that Oprah used this technique to connect both British and American audiences with her guests. Even better yet, Oprah does not draw our attention to the fact that she is doing this, as she ties all of these links together in a very nuanced way under the surface whilst we watch the events unfold on screen. Oprah makes the interview seem like a normal, everyday conversation to add a sense of humanity and authenticity to the scene, which fills onlookers with compassion because her interviewees are painted in a certain light that is universally relatable. In other words, an interview with Oprah feels genuine, even if it is not.
Without a doubt, elements of the interview with the Duke and Duchess were staged – after all there are not many scenes more heart-warming than royalty in wellies feeding rescue chickens that are housed in a free-range, backyard coop named after their son. Nevertheless, many of these conscious decisions were made for good reason. Yes, Oprah is close to the couple and she has a lifetime of experience under her belt, but also she is a black woman. Meghan probably chose Oprah knowing that she would understand her struggle as the first person of colour to enter the royal family. Think about this: if you had to determine one takeaway from this interview, what would it be? The majority of people would say the institutional racism embedded in the monarchy and 'The Firm.' After all, it was a theme that consistently ran through each section of the interview, beginning with the removal of royal titles and security, building up with worrying conversations over the colour of Archie's skin and peaking with Meghan's comment about the racist versus rude treatment of herself in comparison to Kate Middleton in the British press. You cannot help but wonder whether this was planned, either solely by the Sussexes or with the third-party assistance of Oprah, or mere coincidence. Either way, as an A-list celebrity who has personally experienced racism throughout her life, as well as being an active advocate campaigning against systemic injustice through her movie roles (The Color Purple, Beloved, The Immortal Life of Henrietta Lacks) and philanthropic work, it made sense for Oprah to be there. Especially after being silenced by the family for years, trapped within the white walls of Frogmore Cottage, Meghan needed an interviewer who would not invalidate her feelings or accuse her of 'playing the race card' and who better to fulfill that responsibility than a black woman?
Oprah made Harry and Meghan's interview revolutionary. Not only did she provide the royal couple with a platform to tell their side of the story, but she also informed, engaged and provoked viewers from around the globe in the right way. Rather than participate in a world engulfed by fake news, tabloid gossip and over-exaggerated scandals, she helped pave a path of truth. Oprah has captured the essence of what it means to be a television interviewer – she does not mock her interviewees like David Letterman, she is not an interrogative machine, in my view, like Guru-Murthy and unlike Piers Morgan, she gives her guests the opportunity to speak. If nothing else, this interview has shown the world that Oprah Winfrey is one of the greatest interviewers, if not the greatest, of all time. 
Watch the full interview here on ITV Hub.
---
Want the latest on pressing issues in TV? Check out these articles:
TV Interviews: How Much Privacy Can Celebrities Expect
Golden Globes Nominations 2021: Overlooked Fresh TV Talent