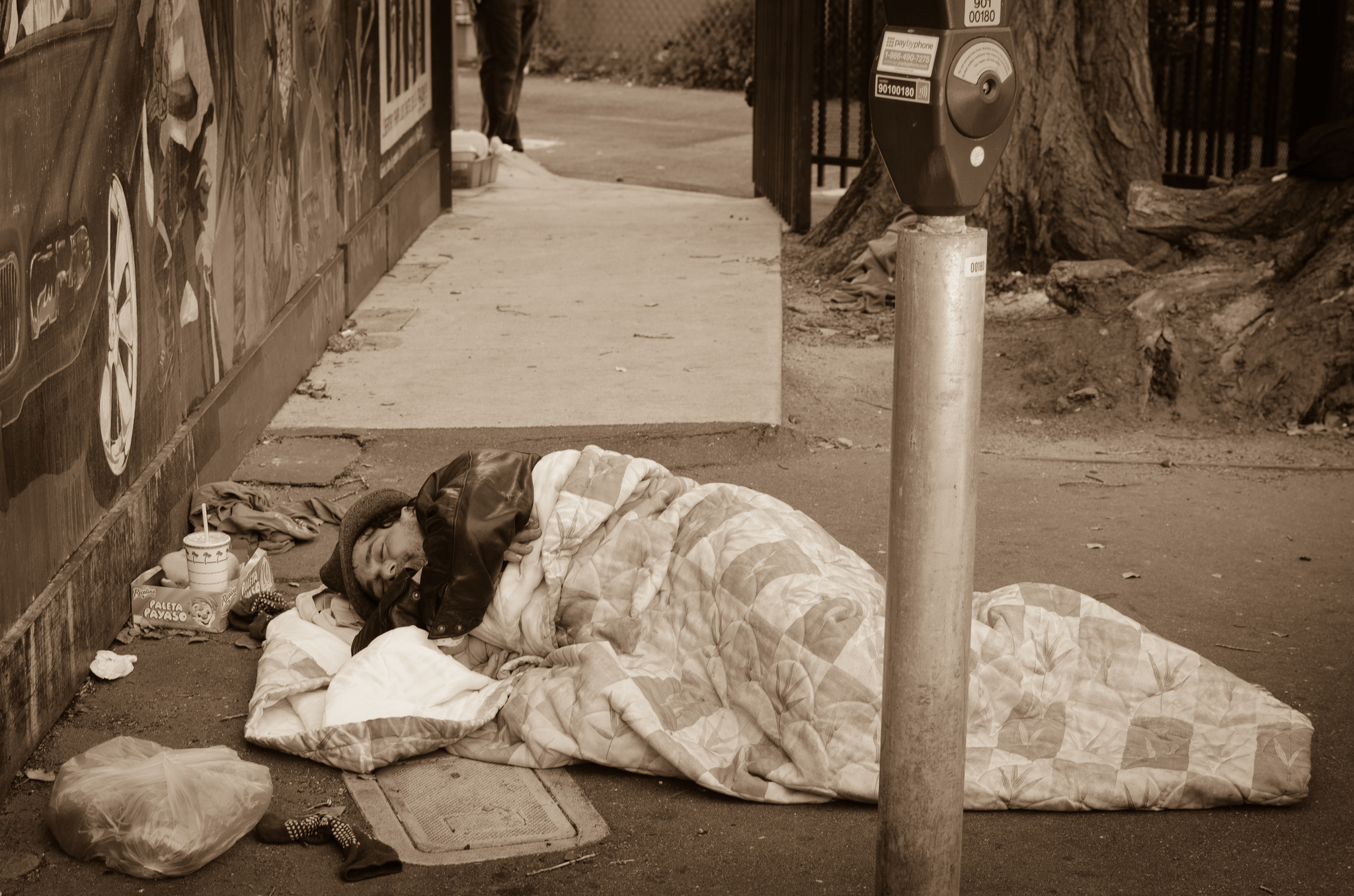 In light of Kane Walker's death, Tom Staples argues that we must do more to help the homeless
Images by
Franco Folini
, This is a stock photograph and is not an image of anyone mentioned in the article
The other week a friend asked me to help him search for the 'Bowie door,' somewhere near New Street. We found it eventually, but what caught our attention were the flowers taped up along an adjacent wall. My friend realised it was a mural he'd seen reported a week or so before. He told me about Kane Walker, 31, who had died there after suffering cardiac arrest in late January.
We vaguely know what contributes to homelessness, and austerity haunts every despair-ameliorating public service that could help. The charities were never built to take this on, especially not with the exponentially increasing rates of homelessness we've seen since 2010. After cuts are fully implemented, the first to be hit with panic and demand are the supplements to the state; the charities and non-profits. The well-meaners, initially started up to catch and hold up what fell from between the system's net. They step up, but they can't take over. But is it really our system's fault? Who can say for sure? I didn't know Mr. Walker. I remember a man last year freely telling me what had happened to him; he lost his job, couldn't afford rent and had no family or friends that could help. For a while he slept under the Aston viaducts.
However, the legacy of the Legal Aid, Sentencing and Punishment of Offenders Act 2012 (LASPO), doesn't help either. Radically reducing the scope of eligibility criteria for legal aid left thousands of vulnerable people without timely access to legal advice regarding housing, immigration or state benefits. Although funding for litigants facing immediate homelessness is, thankfully, included in the emergency Exceptional Case Funding framework, Amnesty International, the House of Commons Public Accounts Committee and select academics have underlined LASPO's vicious circle problem: vulnerable people deprived of accessible, pre-emptive guidance are inadvertently put at greater risk of becoming dependent on more costly emergency measures. In the meantime, it's now clear that – as the numbers mount up, and the charities and non-profits reach operational capacity – citizens of what considers itself to be a world-leader in innovation and modernisation are on the streets, on their own, and dying from the cold.
According to the Ministry of Housing, Communities and Local Government, Birmingham alone has seen an approximate 60% increase in 'rough-sleepers' between 2017-18. It's fairly obvious. In my hometown, just outside the city, new faces become sadly familiar every week or so. People are, of course, genuinely upset. For our sins, homelessness is without doubt a norm of urban life; but is it really, actually possible, that walking past the remains of a young man or woman on our way home will be too?
Without a nationwide effort to revise the cuts made to legal and housing support networks, it will be. Luckily, the well-meaners push on, and policy makers are looking at flexible solutions. The Finnish model for milestone-rewarding tenancy, for example, looks to give vulnerable people a crucial second chance. In response to our latest loss in Mr. Walker, Birmingham YMCA Chief Executive Alan Fraser is, as he and other interest groups have done repeatedly, demanding improved healthcare monitorization and support for rough sleepers. We can afford some bitter optimism – maybe it takes regional spikes such as ours to spark top-down, mandated change.
It's too late for some, however, and looking at the flowers placed around for Kane Walker in the place he was found, Bowie's doorway; it was all completely drained of colour. Yet even in England's 'Second City,' it didn't feel out of place. The friend who showed me the spot, incidentally, actively helps his local homeless brothers and sisters as much as he can. The rest of us, myself included, might have to do more in the future than feel pathetically helpless and ashamed.