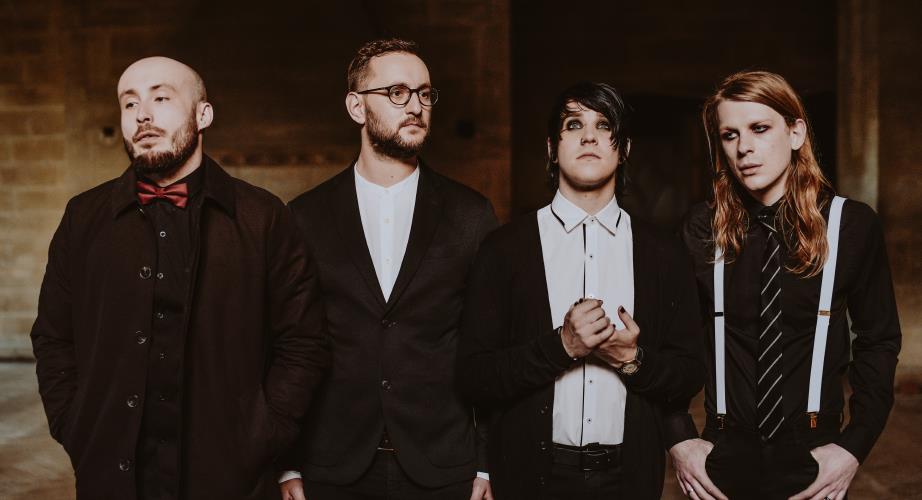 Music Writer Romana Essop relays the news of As It Is guitarist Ben Langford-Biss leaving the band, and reviews their music so far
Having released their third album last year (with an accompanying 'reimagined' alternative version) and embarked on tour after tour since forming towards the start of the decade, pop-punk quintet, As It Is, are arguably at the height of their success. The band continue to grow in popularity both in the UK and with international audiences, largely thanks to their catchy and thought-provoking tracks and their ability to bring them to life on stage.
Despite this, early September saw the band announce that lead guitarist and supporting vocalist, Ben Langford-Biss, would be leaving the group. The decision was personal and driven by Biss' desire to dedicate more time to those closest to him, thus his fellow bandmates supported and accepted his choice completely. 
The band's remaining members intend to continue as a four-piece, most likely utilising the vocal talents of newest member, Ronnie Ish, to replace Biss' much-needed rocky tones which contrast well against the higher, often melodious vocals of lead singer and former YouTube cover artist, Patty Walters. However, as one of the original members, core song-writers and frequently heard voices in As It Is, Biss' departure will undoubtedly impact the band's future music and direction.
Biss' decision, whilst received with expected sadness from fans, gave the band an excuse to organise another tour through the UK and Europe less than a year since their last journey across the continent. The 'Ben today, gone tomorrow' tour took them to more intimate venues than those they are typically capable of filling, but allowed As It Is to revisit songs from as far back as 2015. An opportunity to dig up some of the band's earliest tracks was undeniably missed, with many of the angsty triumphs of As It Is' youth unfortunately absent from the lengthy setlist.
But, in response to the band's lack of fan service, below details the best of their discography, including tracks fans will continue to celebrate even though we can expect them never to be performed live again.
---
Blenheim Place EP
This five-track EP, named after a street in the band's hometown of Brighton, is now only available on YouTube, but provides enjoyable examples of As It Is' earliest recorded music. Boasting angry lyrics and powerful riffs in tracks like 'Upswing' and 'Often', I envy anyone who knew the band during this early and raw stage, dominated by tiny venues and no doubt loud and intimate performances.
This Mind of Mine EP 
This second release of honest, angst-driven tracks in 2014 cemented the band in the 'pop-punk' genre and caught the attention of a much wider audience. This included American alternative record label, Fearless Records, who made the band their first UK signing following the success of this EP's key track, 'Can't Save Myself'. 'Bitter Broken Me' is another fan-favourite which demonstrates the band's ability to produce music at the heavier end of the genre, much like the first EP.
Never Happy, Ever After
Now with access to Fearless Records' far-reaching platform, the band's first full-length album deservedly achieved great success. The album's first single, 'Dial Tones', in particular, catapulted As It Is to the top tier of contemporary UK pop-punk, alongside the likes of Neck Deep, and banked them a spot in the famous Warped tour line-up which took them around the US and Canada. The album followed in the footsteps of This Mind of Mine and reflected the popular tastes of its modern audience, but that is not to discredit its strength and originality, as it is full of catchy tracks that translate amazingly onto stage and make use of Walters' impressive vocal ability. Other notable tracks include 'Sorry', 'Speak Soft' and 'Winter's Weather' from a later released deluxe edition.
okay.
A sophomore album which led the band in a new direction by introducing more synths, higher pitches and a movement towards 'poppier' and lighter music. It included title track 'Okay' and more which began the band's close focus on and dedication to addressing mental health in their music. Songs like 'Pretty Little Distance' make use of difficult lyrics which contrast against upbeat instrumental, whilst others like 'The Coast Is Where Home Is' and 'Hey Rachel' clearly draw on the members' personal lives.
The Great Depression
This third album took the band's desire to and express their concerns with mental health to the next level whilst acting as a tribute to the emo movement of the 00s which they grew up with. As a very artistic and thoughtful album, it uses a fictional character (the Poet) to channel As It Is' messages through and separates tracks into sections based on the emotional stages and aspects of struggling with mental health issues. Since its release in 2018, the album has encouraged Walters and Biss in particular to speak out about their personal experiences with mental health more than ever. As a result of this, and the band's now strong and committed following, The Great Depression gained lots of attention. A powerful music video and clear message against toxic masculinity led to the popularity of 'The Stigma (Boys Don't Cry)' especially, and this is arguably the first of the band's singles to come close to the success of 'Dial Tones' in 2015. Having heard the album played in full at Ben's farewell tour, 'The Reaper' and 'The Handwritten Letter' remain two of the most impressive inclusions.
Both the band and its fans are hugely appreciative of Langford-Biss' undeniable influence on As It Is' music and success so far. But whilst his presence will most certainly be missed, I for one eagerly anticipate the changes this new era will bring.
---