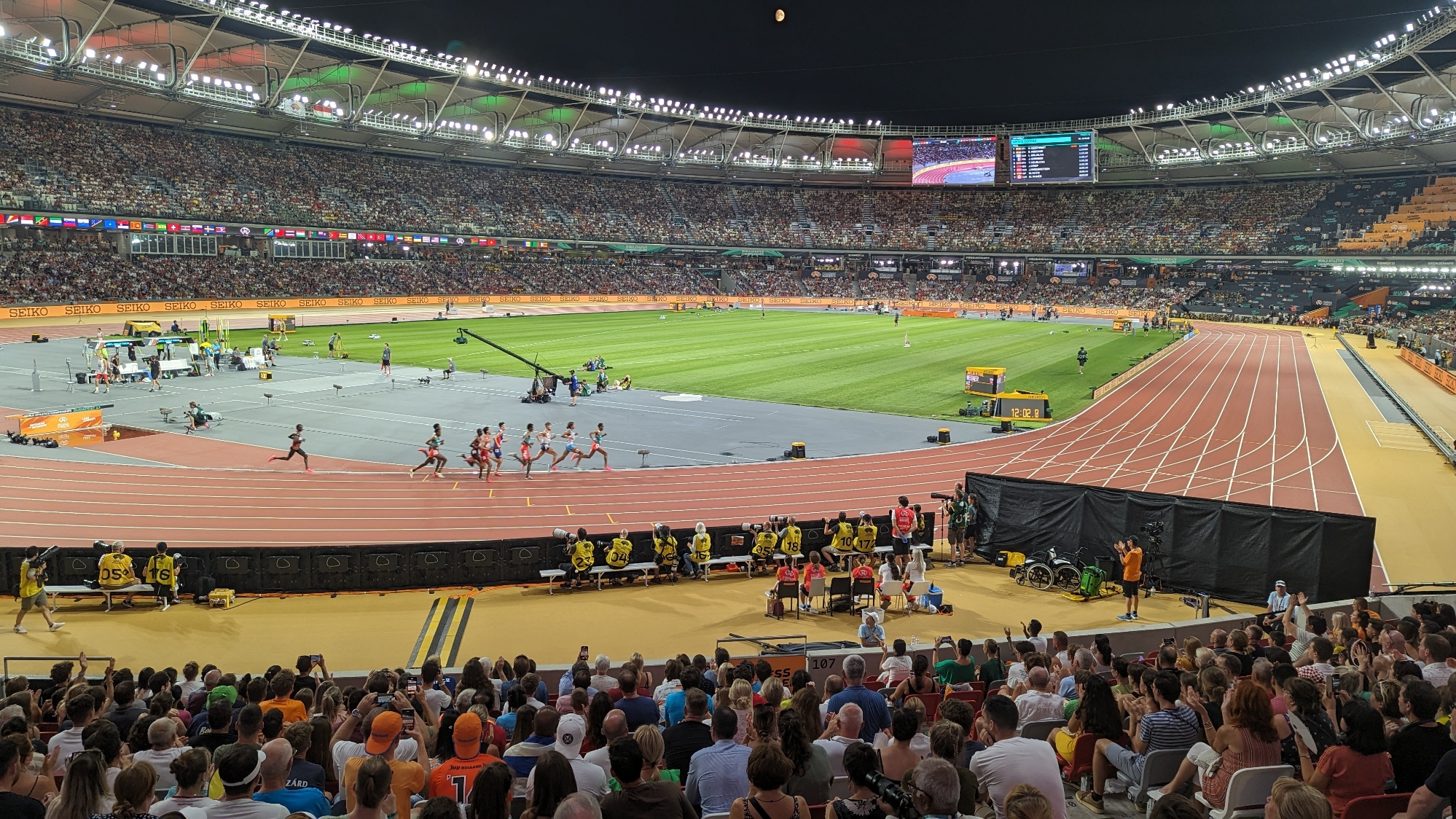 Sports Editor Lucy Parry discusses her experience of going to the World Championships in Budapest and finds it to be a fantastic adventure
This experience began almost nine months ago when I bought my tickets for the World Championships in Budapest. Waiting for a ticket sale to start is always stressful. I was aiming for evening session tickets on the 26th and 27th August. It turned out wheelchair spaces were not available in the first sale, so I got 3 category B tickets and then emailed back and forth with the organisers to arrange a wheelchair space on both days. In the end, my tickets cost £45, my mum's tickets cost £80 and my dad got his tickets for free as my carer. After securing the tickets, we booked our hotel and flights.
Fast forward to the 25th August, we landed in Budapest at 12 o'clock local time. The sun was shining, it was 33°C and I immediately regretted choosing trousers instead of shorts. It was very easy to catch the 100E bus into the city centre and Google Maps helped us find our hotel.
I Googled nearby restaurants and decided on Vas Manci, a little Mediterranean restaurant. For my main, I had baked sweet potato and camembert. It was delicious! Our meal was very reasonably priced, costing £66 for three.
We did not have tickets for the athletics that evening, but I saw on Instagram that the organisers had set up a big screen and deck chairs in Erzébet tér (Elizabeth Square) for people to watch the action free of charge. I recommend following the event's Instagram account because they might post about other things that are going on in the city. We started to make our way to Erzébet tér. The problem with relying on Google Maps for walking directions is that it will tell you to cross four lanes of traffic when there's no crossing. After we managed to safely cross the road, it was smooth sailing. At 7.30pm, we arrived at the square and it was packed. 
The commentary was in Hungarian, but this  did not mar our enjoyment of the athletics. The field events were particularly exciting. Both Yulimar Rojas and Haruka Kitaguchi produced a clutch jump/throw in the last round to take the gold medal in their respective events, the women's triple jump and the women's javelin throw. 
Although our main purpose for going to Budapest was the athletics, we still wanted to do some sightseeing. On day 2 of our trip, we did a walking tour at 12 o'clock. My favourite fact that I learned is that Hungarian is the second hardest language to learn. Afterwards, our tour guide gave us a great restaurant recommendation for lunch. Tüköry Étterem served traditional Hungarian food and it was very tasty.
We decided to get a taxi from the hotel to the National Athletics Centre because it was very hot and the tram stop was not close. The taxi ride cost £12. When we arrived at the stadium, my dad almost gave me a heart attack when he could not find the tickets in my rucksack. He eventually found them. A volunteer tried to give us directions to the wheelchair entrance in Hungarian. I had done a few Duolingo lessons, but my Hungarian was not up to much. Luckily after my dad responded in English, the volunteer switched to English. There were at least 15 security tents, so the queues moved very quickly. We found our seats easily because everything was well signposted. However, there was a small problem with our seats. A massive TV camera was in my spot! We talked to security and they took us to alternative seating. I still had a great view and we were settled in before the first race started, so I cannot complain.
The atmosphere in the stadium was incredible. I think Budapest almost matched the atmosphere of the 2022 Commonwealth Games in Birmingham. A large number of nations were represented in the crowd. Just in the sections around us, there were fans from France, Czechia, Switzerland, Finland, India, Jamaica and of course many other British fans. The crowd was very friendly and knowledgeable.
The stadium commentary was in English as well as Hungarian, making it easy for us to stay abreast of all the action.
On Saturday night, my standout performances were Ben Pattison (GBR) winning a surprise bronze medal in the 800m, Faith Kipyegon (KEN) becoming the first ever athlete to win both the 1500m and 5000m and Mondo Duplantis (SWE) clearing 6.10m and almost getting a new World Record.
On Sunday 27th August, we did a cruise on the River Danube, which was extremely enjoyable. We headed back to the stadium at 7pm. Budapest 2023 chose to have the medal ceremonies in the Medal Plaza, a stage located next to the stadium. It meant that fans got to be a lot closer to the athletes. We watched the British women's 4x100m team get their bronze medals. This innovation went down well with both athletes and fans, so I think it will certainly be reproduced at the next World Championships.
My standout performances on Sunday night were javelin thrower Neeraj Chopra becoming the first Indian athlete to win a World Championship gold, the British men's 4x400m team defying the odds to win bronze, Yaroslava Mahuchikh winning high jump gold for Ukraine and Femke Bol (NED) streaking past Stacy-Ann Williams (JAM) in the home straight to take gold in the women's 4x400m relay.
Overall it was a fantastic experience attending the World Championships in Budapest. The cherry on top was that we managed to fly home with only an hour's delay when Air Traffic Control was in meltdown.
---
You might also enjoy:
Athletics World Championships 2023: The Year of The Underdog
Review: Birmingham World Indoor Tour Final