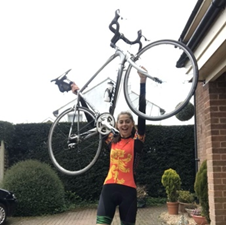 After seeing their final events of the year cancelled, UoB Triathlon has organised virtual races to keep members connected and raise money for charity
In an ordinary university year, UoB Triathlon would compete in two events during the Summer term, BUCS sprint and BUCS standard. For many club members, they are the highlights of the year and for newer members, these would have been their first triathlons. However, as with almost all other sporting events, the coronavirus outbreak forced the BUCS Triathlons to be cancelled, leaving many members searching for motivation to continue training throughout lockdown.
This year's committee, led by club president Dan Shepherd, decided to organise a virtual triathlon. They put together the Tri-solation Challenge, held from Friday 1st May to Sunday 3rd May, where competitors completed the distances they would have done at BUCS sprint, all whilst in lockdown.
The challenge consisted of a 1.5km run on the Friday (replacing the swim leg), a 20km bike ride on the Saturday, and finally a 5km run on the Sunday. Participants chose to compete in either the turbo category, with the bike leg completed on a turbo trainer, or the non-turbo category, where the cycling was done on open roads.
Dan Madden, race organiser for the UoB triathlon team, said the main aims were to come up with a virtual triathlon which 'fitted the government guidelines, encouraged as many people to get involved and to get people involved with raising money for charities too.' The club opted to donate the money they raised to mental health charity MIND, a cause which is currently more important than ever. Madden continued, saying the committee was 'a great team' and used everyone's strengths to get the most out of the event.
Caitlin Brown (Social Media and Fundraising) advertised the challenge across the club's social media platforms to encourage other universities to take part, Ben Bliss (Treasurer) played a huge role in the organisation of the event and Madden himself was involved in setting up a Strava Club to track everyone's results.
The event was considered a success by all, with 156 individual entries and 16 separate teams entering over the weekend. The club showed the positive effects of a hard year's training; UoB's male team came second overall and the female team came third, while no team had more participants than Birmingham's 18.
The organising team received an abundance of positive feedback from external competitors, many of whom were thankful for something to compete for during lockdown. Annie Cox, vice-president of the UoB team, was also full of praise for the event. Cox said 'there was a huge team spirit from all the clubs and it definitely made up for missing BUCS this year! Raising so much money for charity was such a bonus too. It was great to have an event to work towards and seeing other people complete the challenge really pushed me to try my best.'
In total, the universities involved raised £2801. The top five fundraising universities, raising money for brilliant charities, were:
1) University of Bristol – £822 (Caring in Bristol)
2) University of Birmingham – £338 (Birmingham Mind)
3) University of Nottingham – £300 (Children's Brain Tumour Research Centre)
4) Nottingham Trent University – £268 (Cancer Research)
5) University of Newcastle – £230 (Newcastle Foodbank)
UoB Triathlon organised a repeat of the Tri-solation Challenge from Friday 15th May to Sunday 17th May, replacing the BUCS standard (Olympic) distance triathlon. This event consisted of a 3km run, a 40km bike ride, and a 10km run.
You can still donate to Birmingham MIND through UoB Triathlon's JustGiving page here.