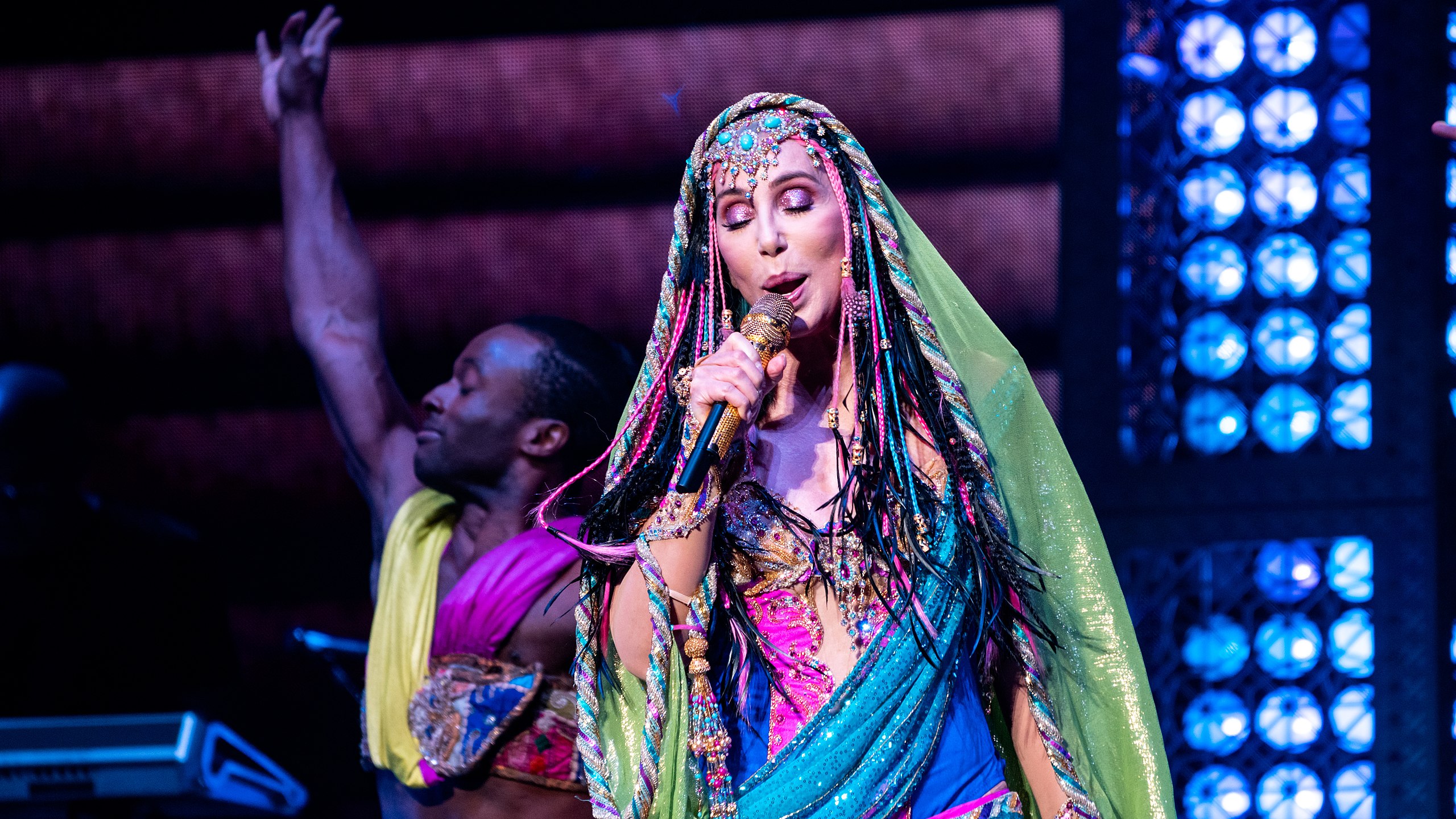 Cher's Birmingham performance was a night of spectacle and a masterclass in showbiz, Music Critic Ben Johns writes
Cher is 73 years old, and still giving it her all in leotards and 'au natural blue hair', something that she knows all too well is unique and special. "What is your Granny doing tonight?" she asks the audience; and as much as I love my own, she could never do this.
She kicked off her performance descending from the roof of Arena Birmingham to the dance-pop thuds of 'Woman's World'. From the outset it was clear that the camp factor would be dialled up to such an extent that it would have made Liberace appear like a wallflower. Dressed in a bright blue wig and surrounded by skimpy gladiators, she then launched into the disco hued 'Strong Enough' which marked the start of her first performance in Birmingham for more than 15 years.
What immediately followed was a near ten minute monologue with quips about motherhood, fellow pop queen Madonna, and the misogyny and ageism she has faced in Hollywood. Her charisma and comedy elevated the usual cliches of "Don't let anybody get in your way" in such ways that it never became tiresome or self-indulgent. It offered vulnerability to a megawatt performer.
The next section of the show saw a sari-wearing-Cher enter the arena on a mechanical elephant singing the sacred Hindu text, the 'Gayatri Mantra'. As fresh as the majority of the show was, this, and the Bollywood inspired performance of 'All Or Nothing' felt slightly off in this post-woke society. Not even she can get away with cultural appropriation completely.
It's a testament to Cher's star power that she can make ABBA's iconic songs her own. The selection of covers from last year's album, Dancing Queen made for the perfect live performances with 'Fernando' proving just as memorable as it was in 'Mamma Mia: Here We Go Again'. If Cher dressed in a blonde wig and purple flares is as close to an ABBA reunion that we will get, then it more than suffices.
The glitz of her wildly successful Las Vegas residency is transferred to her tour, with no fewer than six costume changes all beautifully designed by Bob Mackie, high production videos, and an aerialist performance all thrown in for good measure. Whilst it never stopped the pace from slowing and allowed Cher time to transform herself, it potentially came at the expense of the inclusion of some of her best known numbers including 'Gypsys, Tramps & Thieves'.
Yet for all the stagecraft, outfits and choreography, she shone equally as well on her own. 'Walking In Memphis' saw the most pared back moment of the show and showed any naysayers that her powerful voice was most definitely still there in all it's might. The legendary 'If I Could Turn Back Time' rounded out the main show with the catsuit from the music video making an appearance and still looking fabulous on her three decades later.
'Believe', the best selling single by a female artist in UK chart history, had to be the encore. It was delivered with such optimism and emotional punch that it would have left the most hardened of people feeling happy.
As she took her bows and tootled away to the beats, it was abundantly clear that we had been in the presence of an icon. Had she put in the bare minimum, I would bet my pennies that the sold-out audience would still have left happy. Luckily for them, Cher delivered a masterclass in how a showbiz musical spectacle should be done with poignancy, professionalism and a hell of a lot of sparkle. It was a complete privilege to be there.