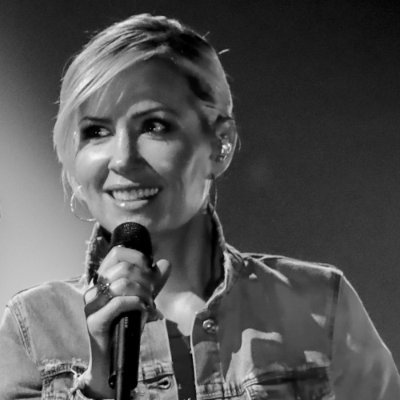 After a fifteen year hiatus from touring, Dido returns to the stage in a powerful way, Music Critic Ben Johns reviews
Dido's first two albums, No Angel and Life for Rent saw her notch up over 28 million record sales worldwide, and had her career kept up at this pace it's tricky to imagine her demure style translating well in massive stadiums. Dido, and her music, are nice; and her show at Arena Birmingham was exactly that: nice. There were no surprises, or obvious risks taken, but that didn't inhibit the enjoyment of what was a perfectly pleasant evening from a perfectly pleasant performer.
Dido's folksy style has always teetered on the fringes of electronic music, and with her new album Still on My Mind she seems to have embraced this with a fair amount of her success. Her brother, Rollo Armstrong, is a dance music pedigree as one third of Faithless, and his production on set opener 'Hurricanes' places Dido's vocals into haunting realms. This year marked Dido's first tour in fifteen years and whilst the intimation may have been that her live vocals may not have been up to scratch, by the end of her first number it was blatantly obvious that her distinctive voice is just as strong as it has ever been.
For someone at the peak of her career since the turn of the millennium, Dido could easily have plodded along performing a set predicated on the nostalgia that swells around her multi-platinum debut and sophomore albums. Yet, the classics weren't milked for all they were worth. 'Life for Rent' made its appearance within the first ten minutes, and 'Thank You' (the song which took her stratospheric thanks to a sample by Eminem) was slotted midway into the set with little fanfare, but received a huge response from the audience.
Her music may be subdued, but her fans were not, and shouts from the crowd peppered the transitions from song to song. Dido has never traded on having a big personality and has instead preferred to let the music do the talking, but she was surprisingly charismatic in an awkwardly charming way. Her rapport with the audience made the whole concert feel a bit like seeing a mate perform down the pub. She took the time to have a chat with a couple who were planning on walking down the aisle to 'Sand in my Shoes' and gave a call out to a fan who had made some artwork for her and her band. This candour was accentuated with 'Quiet Times', a song about depression.
Fifteen years is a long time to go without touring, and whilst her voice was still there, her stage presence was somewhat subdued. Dido had a habit of two stepping whilst facing the back of the stage at the slightest hint of an instrumental. It was unclear if this was intentional, a way for the audience to focus on her talented backing band, or if it was more that she did not know what to do with herself. Her request for the audience to get up and dance to 'My Boy', a song which isn't actually that danceable, felt a bit out of place and awkward with Dido not exactly enthusiastically moving along.
However, Dido has never been about choreography, spectacle, or the trimmings which usually make a popstar. Her talent has always laid with her voice and song-writing, and with an encore of 'White Flag' it was evident why her ardent fans are still singing along with her after all these years.