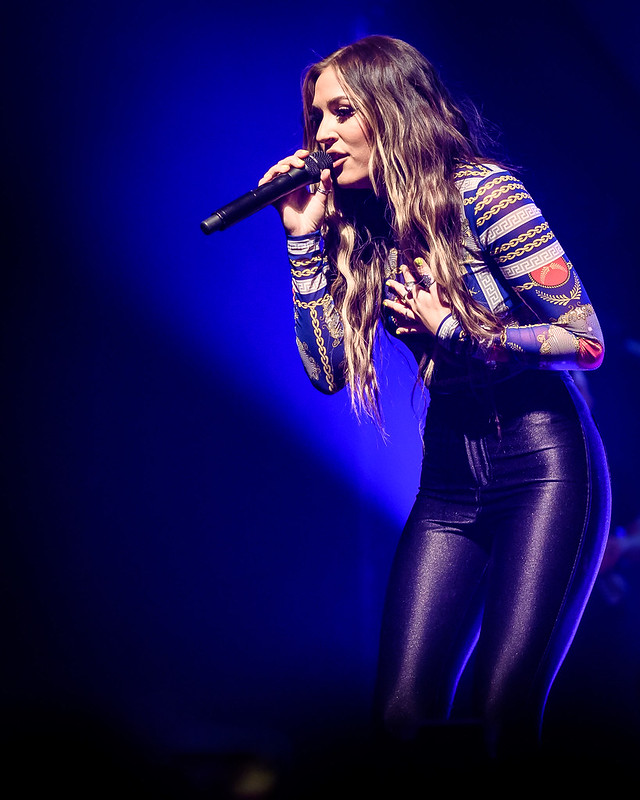 Music Editor Daisy Kirkaldy reviews Lennon Stella at the O2 Institute Birmingham, calling it a night of dreamy, ethereal pop
Lennon Stella came on early, to the extent that members of the audience were walking in a third of the way through her set asking what songs they'd missed. She seemed to mean business, delivering song-after-song with little to no breaks in between.
Lennon began with an unreleased song, 'Black Light', an interesting choice to open the gig; it felt odd to not immediately be singing along. She followed with 'Bad' and 'Feelings' off her recent Love, me EP (the latter being my absolute favourite song of hers). They are perfect pop songs in my opinion; heartfelt lyrics, intriguing rhythms and a catchiness that you just can't ignore. All of Lennon Stella's music seems to have a dreamy, ethereal quality; they're all immersive in every sense. 
'Breakaway' was up next. It's a simpler song with far fewer layers to its production, and it sounded amazing with the high ceilings of the O2 Institute. The lighting of the gig was amazing; at this early point, a deep pink haze seemed to encompass every member of the audience. Next was the first of a few covers in the night's set, with Stella choosing Rhianna's 'Umbrella' as her first pick. It was done well, and accentuated Stella's incredibly raspy and breathy voice. It also seemed the right choice due to the age of the audience – 'Umbrella' seemed to be a song we had all grown up with, and Stella cleverly played on our nostalgia throughout the night.
Speaking of the early 2000s, Stella herself has come to embody the intense nostalgia that popular culture (myself included) seems to have for the 00s and 90s. She followed with 'Die Average', another unreleased track, which seemed very drum-heavy, almost to the point of overtaking the vocals. This didn't seem purposeful, but it could have been. Stella used lots of echo throughout the set, which allowed her voice to completely fill the venue.
My highlight of the evening had to be her acoustic version of her feature with the Chainsmokers: 'Takeaway.' It is the most played song on her Spotify and could be described as her breakout track.
Despite being massively different from the original song, it was truly stunning: Stella alone on stage with an acoustic guitar and a single spotlight. I doubt any member of the audience would disagree that it was a million times better than the original – but this also could be down to my personal hatred of the Chainsmokers. 
Stella's next cover was of Cyndi Lauper's 'Girls Just Wanna Have Fun'. She sat down at a piano previously used by a band member and began a haunting but good rendition of the 80's classic. The audience attempted to sing along, but in Stella's more interpretative moments they struggled. She stayed at the piano to sing 'the first song [she] ever released,' the track 'Like Everybody Else,' which proved the audience to be loyal fans due to every word being sung at top volume. It's a devastating song, with lyrics like "What made me think that I was special / I'm not special / turns out I'm just like everybody else" – hearing the audience shout these back to her was admittedly odd, but seemed to make Stella smile, so was eventually appreciated. 
'Kissing Other People' is another brilliant song of Stella's. The chorus is impactful and bold, whilst still remaining as dreamy and ethereal as her other tracks. The band behind Stella seemed slightly bored, I must add; like cool kids at the back of a party not wanting to dance and ruin their image. Again, the drums seemed far louder than in the studio version of the song, but not enough to put me or the audience off the performance. 
JP Saxe joined Stella on stage for their collaboration 'Golf on TV', the most recent release of hers. Another selection of heartwarming lyrics, with a dreamy melody and impressive but palatable vocals. The harmonies between Saxe and Stella were stunning, and something I hadn't noticed in the studio version.
Stella's overall stage presence was slightly lacking. She delivered song after song with little interaction with the crowd, which seemed odd in a small venue like the O2 Institute. However, the uniqueness of her voice covered her tracks. The lighting and staging was impressive and her voice sounded almost identical to the studio versions of her tracks, which I know and love. Even though Lennon Stella might need to work on her audience interaction, the crowd of loyal fans walking out seemed very happy with what they were given, and in such a short set (just over an hour) the audience were clearly given exactly what they'd come for: dreamy, ethereal indie pop.
Tickets for the remainder of Lennon Stella's tour are available here
---
You might also like:
Live Review: The Script
Single Review: Niall Horan – No Judgement