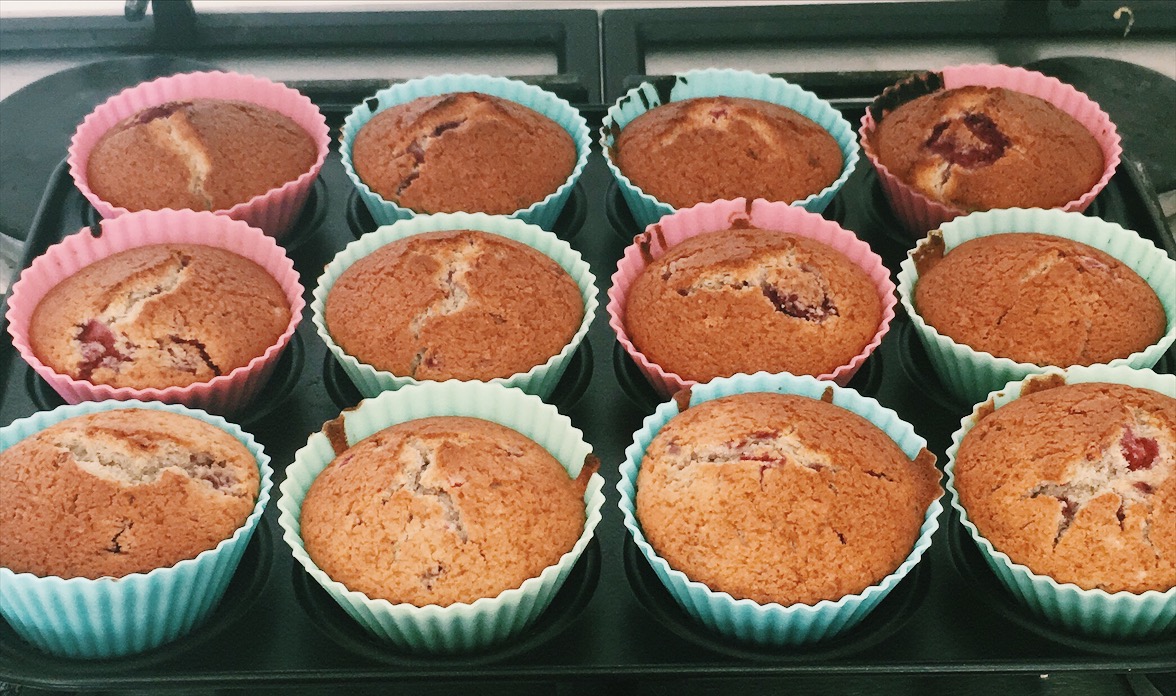 Deputy Editor Lydia Waller whips up some tasty low-FODMAP muffins that even those with dietary requirements can enjoy
My friends will be sick to death of me harping on about the low-FODMAP diet, but this lactose and gluten free diet- which eliminates any foods and legumes with a high-FODMAP value, has been the bane of my life for the past month.
FODMAP stands for 'fermentable oligo-, di-, mono-saccharides and polyols,' which essentially are short-chain carbohydrates that are resistant to digestion, producing more gas in your stomach when your body tries to break them down. These can include very arbitrary foods such as mushrooms and ripe bananas, only allowing you to have 45g of chickpeas and 4 sun-dried tomatoes per day- very limiting, some may say.
Many people follow this restrictive diet for a recommended period of 4 weeks, if they have conditions such as IBS, IBD, gluten and lactose intolerances and general digestive problems that they can't pin down to a certain food group. 'The Wellness Project' by food blogger and chef Phoebe Lapine has been a roaring success, adopted by multiple lifestyle magazines and publications, promoting the 4 week 'gut-reset' diet, centred around Low FODMAP foods and recipes, to relieve your gut from sluggish digestion, give you more energy and generally sort out any digestive issues you might find yourself having!
Even if you do not suffer from an intolerance or digestive issues, you are bound to know someone who is! That is why these muffins have been an absolute God-send during this exam season- meaning I can pack my bag and house-mates' lunch boxes with one of these scrummy gluten-free and lactose-free summery muffins for a long study-day ahead. They actually rise in the oven and have a light, springy sponge texture despite being gluten-free; the dark chocolate and raspberry combo is classic but hits the spot perfectly when you need that sweet-sugar boost mid-revision!
As the weather picks up, I have been experimenting with topping them with lacto-free cream cheese icing (cheese available in Selly's big Sainsbury's) and blueberries and chia seeds, potentially a mint leaf and subtracting the dark chocolate for a more summery cheese-cake feel. You can pretty much do anything with this basic recipe, but at the end of the day the texture makes for an inclusive crowd-pleaser for all stomachs!
Ingredients
350g of rice flour
3 ¾ of baking powder
100g of dairy free spread
210g of caster sugar
1 tsp of xanthan gum- (TIP: If you can't get your hands on some, 1 tsp of chia seeds with 2 tsps of boiling water does that same job!)
250ml of lacto-free/nut-based milk
2 eggs
125g of frozen/fresh raspberries
88g of dark chocolate chips/pieces
A sprinkling of icing sugar (optional).
Method
 Preheat oven to 190 degrees.
 Melt the dairy free spread for 20 seconds in the microwave. Add the flour and baking powder to the bowl with the spread and rub together with your fingertips, until there are no lumps left.
 Beat the 2 eggs in a separate mug/bowl. Then add the sugar, milk, chia seed paste/xanthan gum, eggs to the flour and spread, beating them together until combined properly.
 Then with a big spoon/spatula fold in the raspberries and chocolate in a figure of 8 motion, to incorporate some air into the mixture
 Line 2 muffin tins with 24 cases (this mixture usually makes about 22/24 for me, depends on the size of your cases), and with 2 tablespoons distribute the mixture evenly into the cases.
 Bake in the oven for 15-20 minutes – until they spring back when you press the top of the cakes, and when you insert a knife to the middle, it comes out clean.
 Let them cool, and either dust or ice according to your preference!