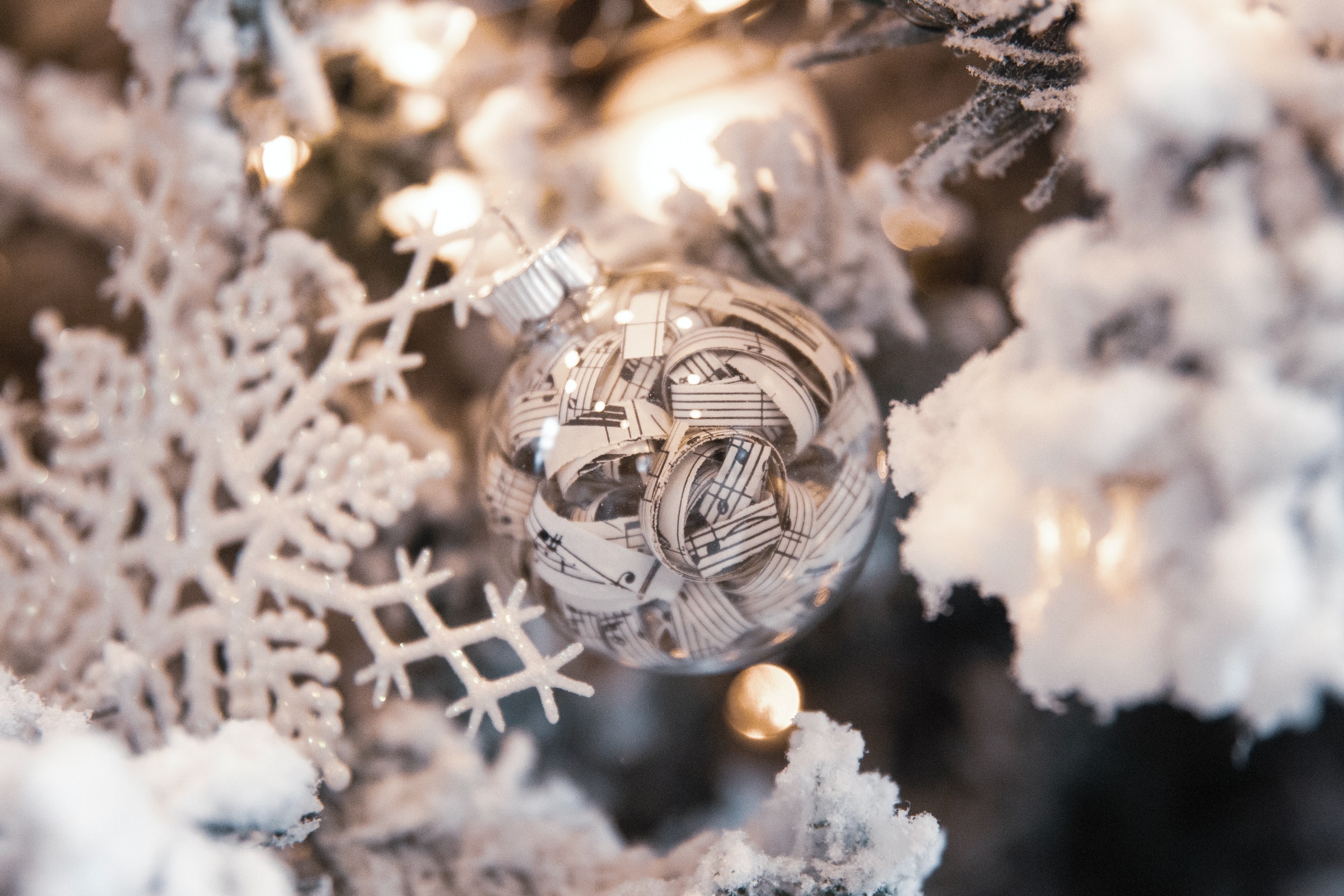 Redbrick Music Writers and Editors come together to share their favourite songs for the festive period
Abi Kinsella: Nativity! – She's The Brightest Star
It may not be the height of intellectualism, it may not be high-brow, it may not even have a plot that entirely hangs together – but I will maintain until my dying day that Nativity! (2009) is the greatest Christmas film of all time. And that is in no small part down to its music, the jewel in the crown of which is 'She's The Brightest Star.'
An affectionate, parodic ode to 90s boybands of the NSYNC, Backstreet Boys, New Kids on the Block ilk, it is a cheesy tapestry weaved of synth-laden echoes, chorister harmonies and charmingly juvenile attempts at American accents. It's tongue in cheek, it's self-aware and it's oh so delightfully festive. It embodies perfectly that divine interval of time when kids are thoroughly invested in being cool – and will happily achieve that by painting felt-tip goatees onto themselves – but when the definition of cool still includes getting excited about Christmas.
And of course – Ollie's rap. Don't we all shed a tear when his mum waves sheepishly from the back of the crowd, and his eyes glint with pride? Or is that just me?
Leah Renz: Mariah Carey – All I Want for Christmas is You
I genuinely refuse to believe it is Christmas until I have heard the first strains of Mariah Carey's all-time classic 'All I Want for Christmas is You'. The distinctive seasonal tinkle, followed by the frankly iconic drawn-out 'I' is enough to get me slightly too excitable. I had to click pause to calm myself down before listening to the rest of the song to write this review, because the feeling of Christmas which overwhelmed me was too powerful for a random evening in November.
'All I Want for Christmas is You' has it all: the cosy good cheer, the beat to get you dancing, and, of course, Carey's fantastic vocals matching a (slightly needy) plea for love. But then, what could make Christmas better but the addition of a soppy romance?
The song also has the requisite level of Christmas references – from reindeers and Santa, to snow, mistletoe and Christmas trees. Sleigh bells abound throughout, and even the harmonic backing singers emanate carol choir energy. Overall, 'All I Want for Christmas is You' is perfect for imagining your own Christmas fairy-tale… and it is always good fun to try (and fail) to croon "youuuuuu" alongside Carey in the final chorus.
Rebeca Bernat: Ashnikko – Carol of the Bells
Ashnikko is an artist who has found their sound and stays loyal to it no matter what. Because of this, her rendition of 'Carol of the Bells,' originally by composer Mykola Leontovych, manages to remain true to its foundations, with a spooky twist. When asked about the cover, Ashnikko says she chose 'Carol of the Bells' 'because it sounds like a strange little fairy chant' and I couldn't agree more. The song has the peculiar ability to make the listener feel simultaneously comforted and unsettled. 'It is the closest I could get to spooky on Christmas', she says.
The cover is part of this year's Spotify Singles: Holiday Collection; a playlist curated by Spotify that contains a selection of Christmas song covers by different artists. There were twelve new additions to the playlist this year, with artists like Nao, jxden, ElAlfa, LeeHi, and many more. This is also the first year Spotify has included covers by international artists.
Overall, the cover remains true to the original with the harmonies and choir in the background. The build-up created during the first three verses is what makes the beat drop so impactful as she adds a modern beat and guitars. Her voice matches the eerie ambiance of the song perfectly, which shows a lot of thought was put into this cover, as it does not feel like a rendition of a pre-existing song, but rather just another Ashnikko banger.
This cover meshes beautifully with the rest of her discography and is a perfect song to transition from the spookiness of Halloween season, into a cheery Christmas spirit.

Beatrice Lancet: Adam Sandler – Hanukkah Song
What rhymes with Hanukkah? Adam Sandler will tell you.
In his spoof song on the Jewish festival of lights, he laments the lack of songs about Hanukkah, saying, we 'don't need Deck the Halls or Jingle Bell Rock' because we now have a new song we can all sing along to. It certainly is so much 'fun-ukah' and a classic festive song. Every time I hear it, I cannot help but laugh out loud at the witty lyrics and the lightness and fun that he brings into the song and its expression. The next thing I do is to send it round to everyone I know.
Sandler's humorous asides and the crazy additions of '-uka' onto words to allow rhyme, create such a brilliant, entertaining way of rejoicing that Hanukkah is coming. In each version of the song, he lists different Jews who are celebrating, including that we can play dreidel games with Captain Kirk, that Harrison Ford is one quarter Jewish and so is David Lee Roth. The song becomes a way to celebrate Jewish heritage and being Jewish, as well as having a laugh(uka).
From me (and Adam Sandler) 'have a happy, happy, happy, happy Hanukkah!'
Georgia Brooks and Daisy Griffin: The Killers – I'll Be Home for Christmas
I know what you're thinking – didn't Bing Crosby record the original I'll be Home for Christmas? Your second question is probably, why is this version five and a half minutes long? Bear with us. We have 200 words to convince you that the Killers' version, with only 86,000 Spotify streams, is the one to listen to this Christmas.
The song opens with a narration from the lead singer, Brandon Flowers <3, who recalls his own story of moving home as a child, from Las Vegas to Utah. He introduces Ned Humphrey Hanson, his elementary school teacher, and recollects a particularly important moment from his childhood, when Mr Hanson sang I'll be Home for Christmas acapella in front of 9-year-old Brandon and his classmates. He recalls: 'I knew I was experiencing something different from the others, but I was uplifted, so it didn't matter. I felt the power of a song.'
The recording concludes with the 86-year-old Hanson leading a rendition of I'll be Home for Christmas and Brandon complimenting his teacher's performance with accompanying harmonies. The song perfectly captures the nostalgic power that music can have. Through Brandon's recollection of his own personal connection to this Christmas classic, we are reminded of the unique ability of music to take us back to a specific moment in time.
Aimee Sargeant: Wham! – Last Christmas
Released in 1984, 'Last Christmas' by Wham! is one of the most iconic Christmas classics. If you haven't ever heard this song playing anywhere at Christmas, then you have probably been hiding under a rock. The synths and iconic drum beat lead you into George Michael's soothing and recognisable vocals. There is a jolly upbeat melody of the song which completely contrasts the lyrics. Looking into the lyrics, there is very little to do with Christmas. It focuses on a failed relationship, and only mentions Christmas in the phrase 'Last Christmas.' Even though this appears to be the only blatantly obvious reference to Christmas, the bells in the chorus also give off a festive vibe. 'Last Christmas' is both a fun song to sing along to, and quite a sad one when you realise the meaning. However, it will always be played around Christmas as a comforting and familiar sound. The chorus will get you addicted, and you will start becoming a backing singer. 37 years on, it's still a classic.
Sammy Andrews: The Waitresses – Christmas Wrapping
'Christmas Wrapping' by The Waitresses is an absolute 80's new wave Christmas classic. As the guitar riff enters you into the song, the song leads you into an ironically melodic expression of Christmas and all of its frustrations. Referencing the overwhelming business of Christmas traditions, the song wittily plays with irony, opening sardonically with the line 'bah hum but that's too strong / 'Cause it is my favourite holiday. ' The entire hook of the song being 'Merry Christmas, Merry Christmas / But I think I'll miss this one this year.'
Ultimately though, The Waitresses prove not to be scrooges, with the song ending on a heart-warming note, highlighting the truly important parts of Christmas, or the 'Christmas magic' as they so put it. The trumpet melody that characterises the chorus has become synonymous with Christmas – it sounds and feels joyful and festive. In fact, the entire horn and saxophone arrangements bring an undeniable amount of festivity into the song. 'Christmas Wrapping' is an incredibly fun Christmas song, that plays around with the glee expected from a Christmas song and wittily gets to the heart of the festive season – plus the hook will get caught in your head for the entire Christmas period.
Lorcan Drury: Taylor Swift – Christmas Tree Farm
What makes a great Christmas song is how catchy it is and how much it represents the holiday spirit. 'Christmas Tree Farm' by Taylor Swift ticks both those boxes, from campy lyrics to a very chorus that has been stuck in my head for the past week. In the intro, Swift explores how hectic our modern day lives are with 'stress and holiday shopping,' however, through the power of imagination, she is transported to a simpler, more idyllic Christmas setting. Each verse starts with the lyric 'in my heart there's a Christmas tree farm,' a metaphor for the idea that the childlike joy of Christmas is deep within her. Swift was inspired to write the song because she actually did grow up on a Christmas tree farm in Pennsylvania. With this knowledge, Christmas can be seen as having a deep importance to Swift as it helped shape her as a person. Overall, the song is saturated with typical festive images, from 'sparkling lights' to 'holly and ribbon,' to create an idealised version of Christmas. I just love how uplifting this song is and I cannot wait to be swiftly absorbed in a winter wonderland this Christmas.
---
You Might Also Like:
The Ultimate Christmas Day Playlist