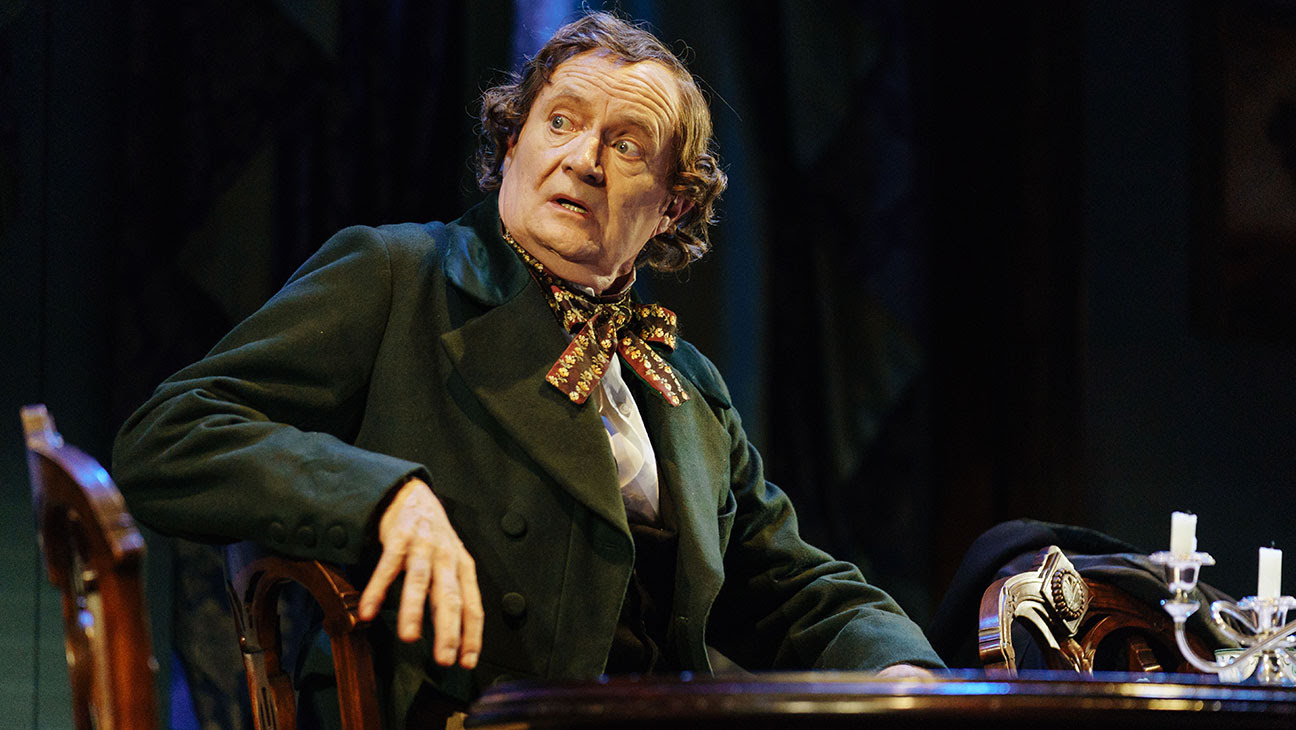 Lydia Waller reviews A Very Very Very Dark Matter at the Bridge Theatre
The small, cubic Bridge Theatre, right next to the river, is the perfect setting for a crucifying dark tale about Hans Christian Anderson, keeping a 3-foot woman from the Congo in a box to write his fairy-tales. In our own little box of the intimate Bridge Theatre, reminded of the breadth of the world when we return outside to the vast river as you would near the Congo Basin, we watched the façade of Anderson, the great fairy-tale writer, get dismantled by the poignant reminder of all the tragic sufferings imposed by European imperialism- in the form of a 3ft woman called Marjory (Mbute).
Writer of Three Billboards Outside Ebbing, Missouri and playwright of Pillowman, Martin McDonagh strikes again at confronting a watching audience with unpalatable truth and darkness, to create a visual spectacle of gripping story-telling and self-exposure. We are all guilty of falling for the charm of Victorian literature of Dickens and the charm of imperialist literature such as The Jungle Book, but McDonagh does not allow for the warmth of these stories and fairy tales to exist, by confronting both Hans Christian Anderson and the audience with their own Marjory trapped in a box, trying to reverse the inevitable deaths caused by colonialism.
From the incredible cast of Jim Broadbent as Hans, to Phil Daniels as Dickens and Johnetta Elua'Mae as Marjory making her incredibly memorable debut, the acting was as equally enchanting as it was terrifying. The cast worked seamlessly to create a safe but uneasy environment for the audience to laugh at, and simultaneously be terrified by, their own ability to find comedy in such dark history. Elua'Mae states she is the 'minorities of all minorities' as a black, female, dwarfed amputee, in her Bridge Theatre interview, which translates into her role in the play poignantly, as the constant reminder of the stories untold, whilst the rich white man writes his own. From the delicate, gothic, enchanting stage-craft by Anna Fleischle, of Anderson's attic covered in puppets, sham-carpentry and the centre-piece of a swinging wooden box, with a 2 inch 'sausage hole' for Marjory to write up the Little Mermaid and smoke her cigars in, Dunster's production creates a chilling fairy-tale world for the audience; where 2 dead Belgian soldiers haunt Anderson's consciousness with chips and mayonnaise, whilst he rattles on in silly and ignorant dialogue to his attic-dweller.
McDonagh allows for very few moments of comfort, as the play is only 90 minutes long, you are enticed and challenged by the brutally crude and foolish plot of the play. From Anderson prattish-ly accepting praise from his potentially homoerotic fan, to Marjory attempting to control the forthcoming historical narrative of 10 million deaths in the Congo by Leopolde II, with a bloody on-stage massacre of 2 soldiers, Dunster pervades the auditorium with swearing, gore, horror, and the childlike charm of stories; leaving the audience in constant discomfort and entertainment, not knowing if they love it or hate it. This creation of the paradoxical charm and horror, brutally depicts the crude reality of European entertainment of colonisation, with the simultaneous back-drop of civilian tragedies in the Congo and other areas of expanding empires.
Dickens is exposed as having his own skeleton-in-the-cupboard of a 'pygmy' writing his novels, whilst he gallivants in a life of outrageous lechery and hideous Victorian children. It is known, from biographical and autobiographical writings, that Anderson was a self-centred and contradictory man to his light and lovely tales, but McDonagh has evidently chosen to challenge how such delightful literature can come from such a questionable and egotistical man, living in such a decadent yet dark period. This dilemma does create a Very Very Very Dark Matter for a play – one that disturbingly entertains, encroaches on your conscience and marvels in front of the eye with a brilliant macabre twisted tale of the fictions and forgotten facts of European imperialism.
I am still digesting this terrific yet indefinable play, which is testament to McDonagh's genius and uncensored imagination. I would be on the look out for what else this master-mind has in store this year for the stage.