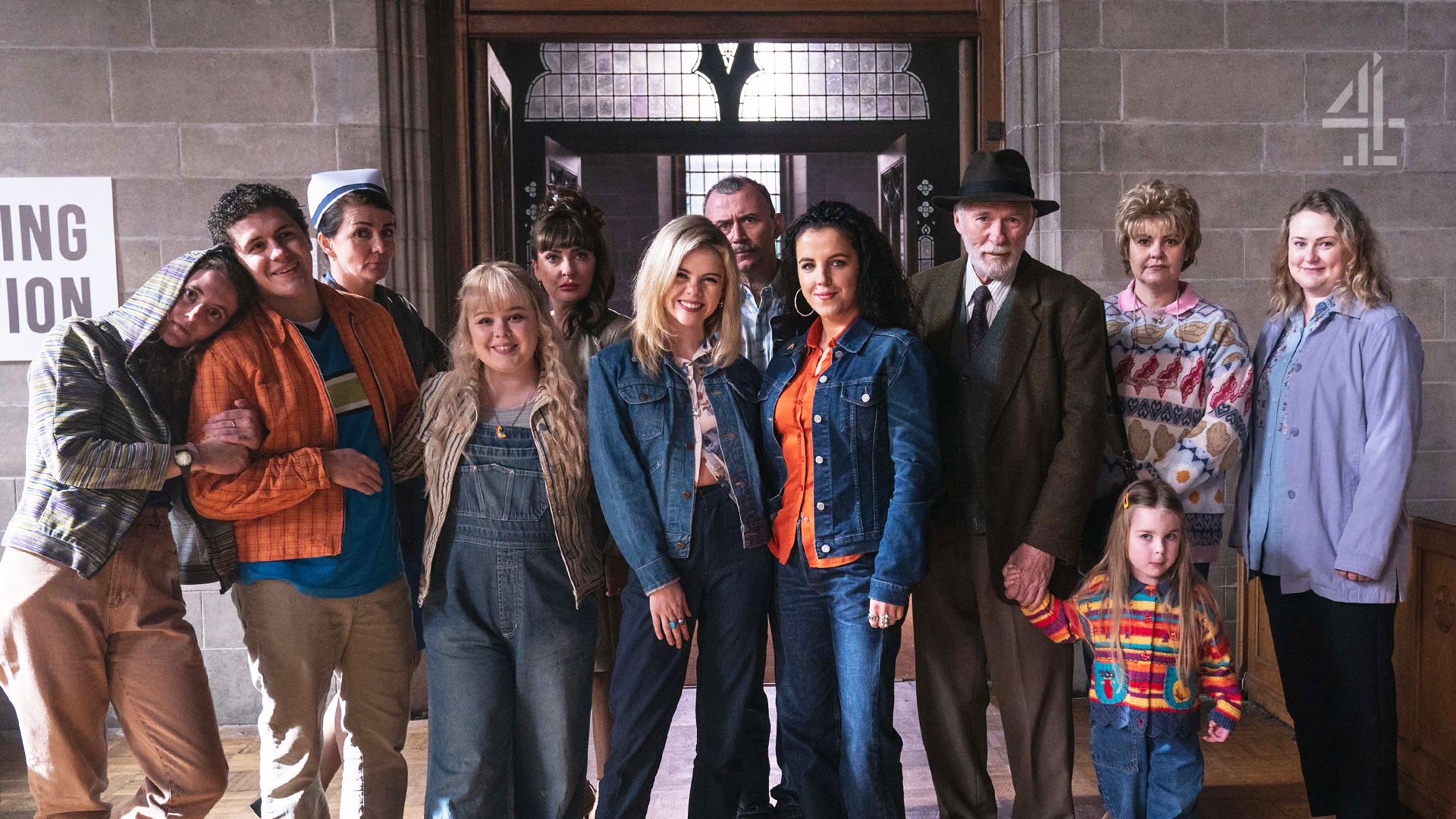 TV Writer Erin Perry raves about the final season of Derry Girls, following a friendship group navigating life in 1990s Northern Ireland amidst The Troubles
Derry Girls' swan song concludes its heartwarming love letter to teenage-hood, to finding yourself, and to ordinary lives in extraordinary times. Viewers have welcomed Erin (Saoirse-Monica Jackson), Clare (Nicola Coughlan), Michelle (Jamie-Lee O'Donnell), Orla (Louisa Harland) and James (Dylan Llewellyn) into their hearts, and to finally say goodbye is heartwrenching. But that is what makes Derry Girls the incredible show that it is: it rips your heart right from your chest before making you crack up seconds later. It would only make sense to continue in this vein until the very end. 
Season three opens with The Troubles in the back seat as Northern Ireland enjoys a period of relative peace following the ceasefire and visit of President Bill Clinton depicted at the end of last season. 
We return to the characters on the eve of GCSE results day and little has changed. Michelle continues her quest to bring out the wilder sides of her friends, while Erin reaffirms her lofty literary ambitions. Clare is still a highly strung and stressed individual, and James, despite being noticeably more confident within the group, is still picked on for being English. Orla is just, well, Orla. 
But after running into the ever hilarious Sister Michael (Siobhan McSweeney), their worries over their impending grades lead them into a series of escalating hijinks that only the Derry Girls (and their wee English fella) could get themselves into. 
The gang are growing up and are on the cusp of adulthood, still trying to figure out what that means and how they are going to face it. There is a maturity to them now which only grows as the season progresses. Their experiences are relatable to anyone who has lived through that time just before you leave school, where everything feels slightly scary and like its changing so quickly you can barely come up for air.  
And that relatability is the beauty of Derry Girls and Lisa McGee's masterful writing. While only a relatively small group can relate to growing up in Derry in the late 90's, everyone and anyone can relate to the characters themselves. The way they think, feel and act brings a warmth because it is what we see in our own lives. 
Of course, no show can properly work without great performances from its main cast and Derry Girls has this in spades. From the teens to the adults, each performance brings the characters to life and turns them from words on a page to well-rounded, complex individuals. A standout performance from this season has to be from Jamie-Lee O'Donnell as she manages to convey both Michelle's loud and boisterous traits alongside her deep-rooted worries and anxieties all within one scene. In 'The Haunting' we understand just how much she truly cares about her friendship group and how scared she is that things might be changing far quicker than she would like. 
When a show is as stacked with great moments as Derry Girls is, the task of picking favourites becomes all the more tricky. Ma Mary's (Tara-Lynne O'Neill) impassioned speech about wanting to go to university to study English literature, despite believing everything to be against her, is a real tearjerker, particularly when her husband Gerry assures her that he will help make her dream come true. For the shippers out there, James finally confessing his true feelings to Erin after a brush with death will put a lot of smiles on the faces of those who have been invested in this quintessential friends-to-lovers romance since that epic prom moment at the end of season two. 
Since its first broadcast in January 2018, Derry Girls has built a huge fanbase that only increased with its later worldwide Netflix release. It is one of those special shows that appeals across the generations thanks to the overall feel-good atmosphere it provides even in its most serious moments. Season three perfectly rounds off the story of the girls and their families as we leave them on the approach to adulthood and real life. It is a sad farewell but its masterful crafting ensures that this beloved show goes out on a high. 
Rating: 5/5 stars
---
Check out more TV reviews here:
Review: The Sex Lives of College Girls