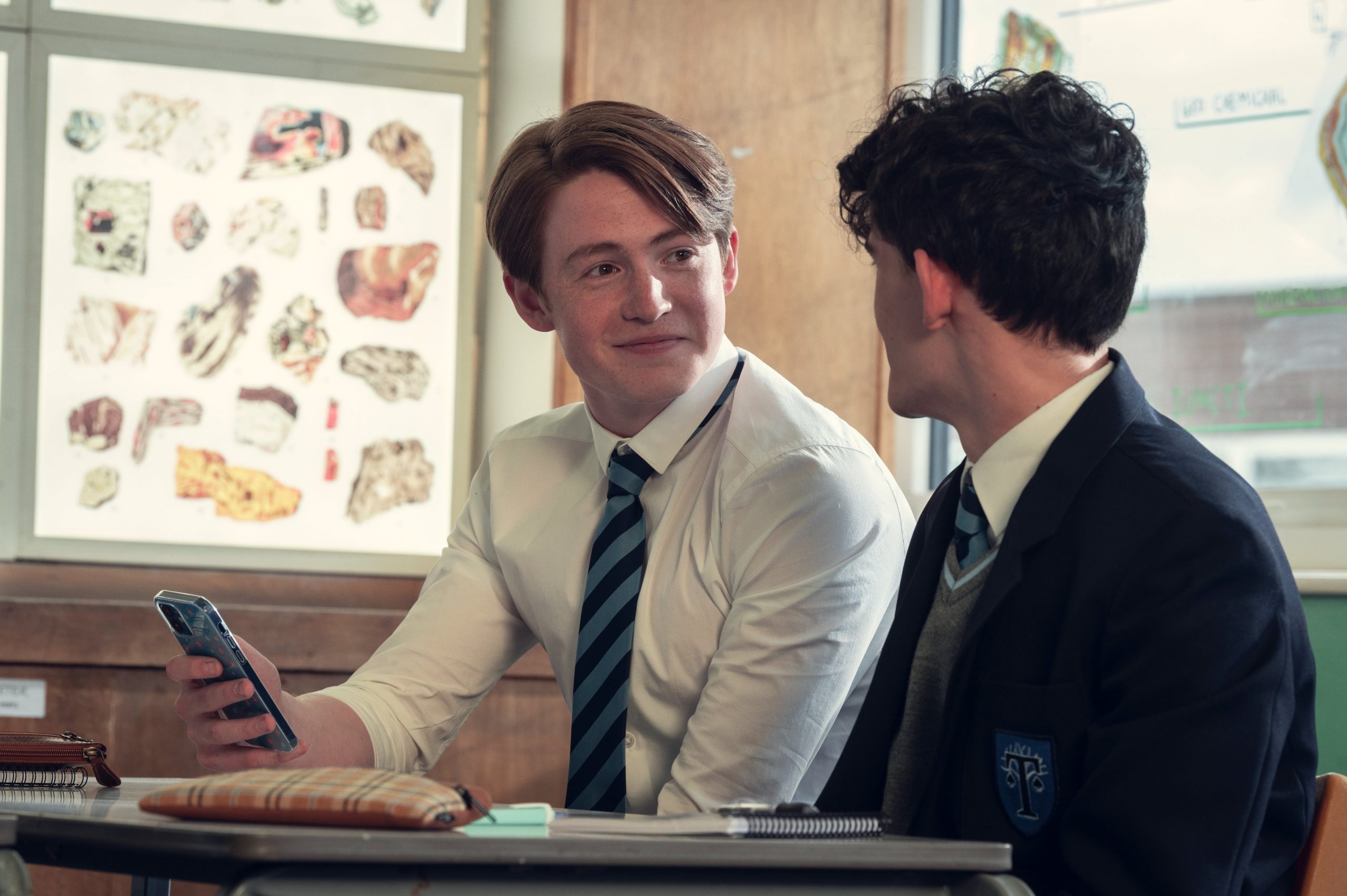 Film Editor Emily Wallace raves about Heartstopper, the queer teen love story that everyone can find comfort and joy in
As a long-term fan of Alice Oseman's webcomic-turned-graphic novel Heartstopper, the Netflix TV adaptation was one of my most highly anticipated shows of the year. Set in a British secondary school (making a refreshing change from the vast amounts of American high school media I watched as a teenager), Heartstopper follows Charlie (Joe Locke), an openly gay teenager, as he meets Nick (Kit Connor), the star of their all-boys school's rugby team. After seeing Charlie running in a P.E. class, Nick asks Charlie to join the rugby team with the offer of helping to coach him, and as they get to know each other, Charlie starts developing feelings for Nick. The only problem? As far as Charlie can tell, Nick appears straight. It is hardly a spoiler to say that this assumption might not be correct.
Alongside Nick and Charlie, we are also introduced to their wide range of friends, such as Elle (Yasmin Finney), a trans girl who has recently transferred to the girls' school in the town. Her presence in Charlie's friend group is particularly missed by Tao (William Gao), who is also worried Charlie might get hurt by his crush on a seemingly straight boy. At Elle's new school, she befriends Tara (Corinna Brown) and Darcy (Kizzy Edgell), a lesbian couple who are only just coming out to the rest of their school. In a world where many TV shows about teenagers have a cast in their mid-20s and tend to focus on melodramatic, often darker and grittier storylines – which are still important − it is a nice change to see a show about teenagers that is grounded in realism and authenticity and maintains positivity throughout.
That is not to say that Heartstopper shies away from showing the more difficult parts of growing up. Homophobia is still present throughout and we see it affect the main characters in a number of different ways, particularly as we learn about Charlie's experiences with bullying, or watch Tara deal with people's responses to her relationship with Darcy. Nick's journey in discovering his own sexuality is unflinchingly honest, and the show is not afraid to show the harder moments of confusion in trying to understand yourself. Yet, even when dealing with these themes, Heartstopper keeps its focus on hope and is a show that is centred on joy. This is what makes Heartstopper so important: it is a piece of unapologetically positive queer media available for people of all ages.  
Heartstopper also carries a unique self-awareness of its original format. Comic-style divides can be seen in various scenes, such as when characters are texting each other from different places. Animated hearts appear around the heads of lovestruck teenagers, and sparks fly as they touch each other's hands. Fans of the comics will recognise exact dialogue and frames recreating the original pages. As an adaptation, it maintains both the general plot and the tone of its source material, albeit with some smaller changes to account for the change in format, a fact no doubt aided by the fact that Oseman was able to write the scripts for the show as well. The TV format allows for the supporting characters like Elle to have their own more developed storylines, which was something I particularly enjoyed seeing.
The success of Heartstopper is also aided by its talented young cast members. It would be hard to tell that, for many of the actors, it is their first on-screen role, as they all hold their own and embody their characters fully. The chemistry between the two leads is particularly strong, and you cannot help but find yourself smiling through all the scenes Nick and Charlie share together. The dedication to casting actors that are teenagers and also fit the specific backgrounds of each individual character really pays off in creating a show that feels incredibly authentic. Mention must also be made of the excellent soundtrack, which features a range of indie songs from artists like beabadoobee, Orla Gartland and Baby Queen (who also wrote an original song, 'Colours of You', for the show), all perfectly capturing the tone of Heartstopper.
Though it is made with a teenage audience in mind, the heart-warming joy contained in the 8 episodes of Heartstopper is something that can be enjoyed by anyone, no matter your age or background. The importance of the representation it offers for young people also cannot be understated. You will laugh, you will shed a few tears, but the journey you will follow Nick and Charlie on throughout Heartstopper will be worth every minute.
Rating: 5/5 
---
Check out more Redbrick TV reviews here:
Review: Bridgerton – Season Two