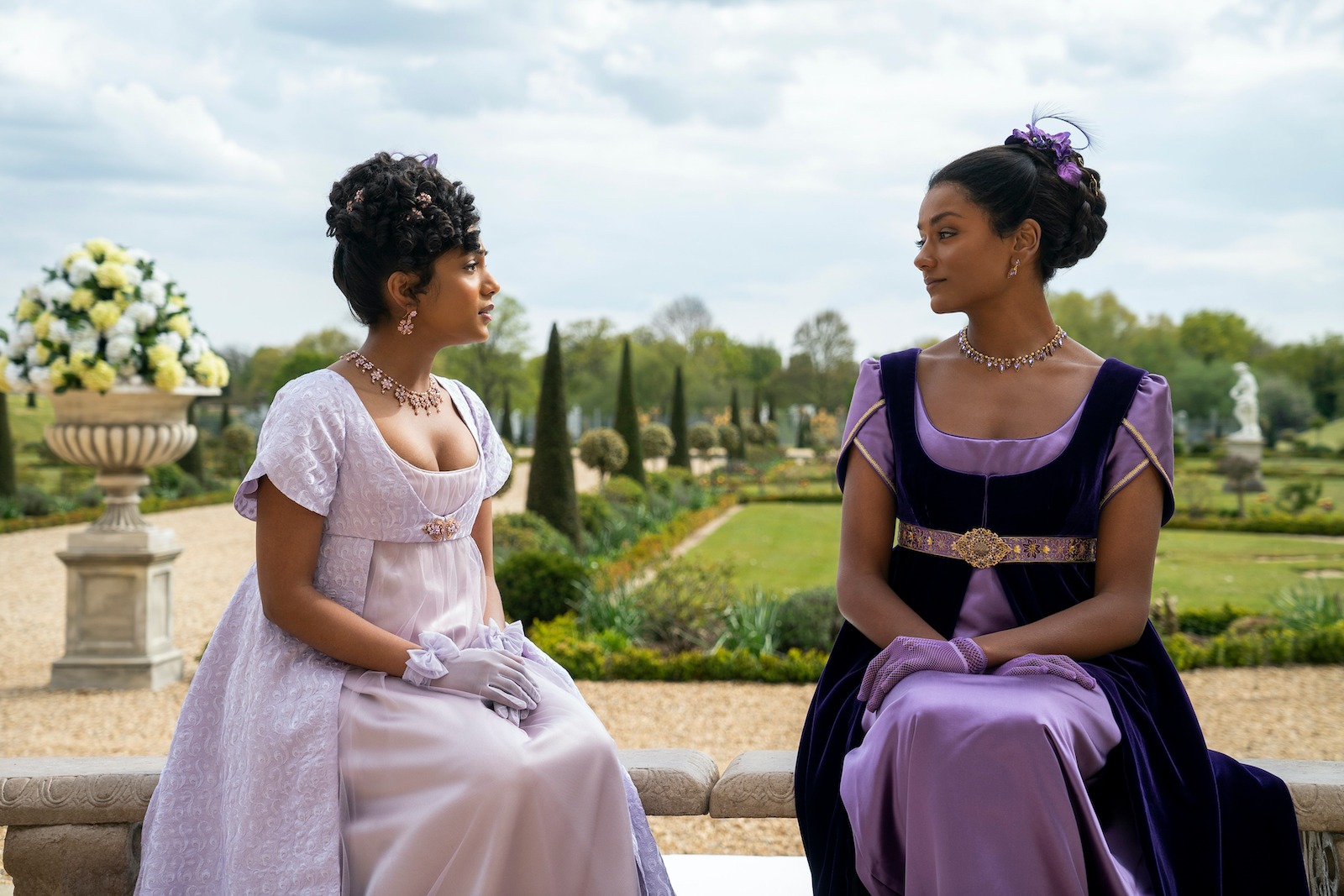 TV Writer Erin Perry praises the second season of Bridgerton for its intense, slow-burn romance that brings the enemies-to-lovers trope to life
After the instant success of its first season, Netflix's Bridgerton is back to return us to the Ton in style. This season follows Viscount Anthony Bridgerton's (Jonathan Bailey) quest to end his Rakish ways and finally find a wife. Armed with a list of requirements, the Viscount sets his sights on the season's 'Diamond', Edwina Sharma (Charithra Chandran), unaware that it is her prickly older sister, Kate (Simone Ashley), who he must impress to gain Edwina's hand.  As Anthony finds himself drawn closer to Kate, we are delighted with eight episodes of longing looks, secret touches and clandestine moments that bring this enemies-to-lovers romance to life.
The bodice-ripping headiness of its predecessor is exchanged for a slower intensity typical of the enemies-to-lovers trope. Kate and Anthony match one another completely and their sparring, them going toe-to-toe every episode, is thrilling to watch. As their story developed, I was left frequently grinning at my screen because of their interactions.
In keeping with season one, the events of the episodes are drawn together by the gossip sheets of the mysterious Lady Whistledown, who was revealed to be wallflower Penelope Featherington (Nicola Coughlan) last season. One of Bridgerton's greatest strengths is how viewers can rely on Whistledown to keep various storylines in order. Plus, thanks to her reveal, viewers are privy to Penelope's double life as we watch her haggle with printers and listen out for gossip to write, living the difficulties that accompany her secret alias alongside her.
In terms of the performances, Bailey and Ashley portray a believable and heartwarming love story between Anthony and Kate. The sheer chemistry between the two is palpable whenever they are on screen together, leaving viewers delighted and always wanting more. Amongst the wider cast, a notable mention must go to Adjoa Andoh, Ruth Gemmell and Golda Rosheuvel who play the formidable ladies Danbury, Bridgerton and Queen Charlotte, respectively. To watch them is to witness three phenomenal actresses having fun, providing the show with stable pillars that can be relied upon no matter the situation.
Numerous elements combine to make Bridgerton the fun, modern period drama that it is, from the beautiful costumes and sets to the orchestral covers of popular songs, of which there are many to treat your ears to this season. In changing the Sheffields from the book to the Sharmas for TV, the show continues its colour-blind casting and mission of making people from all backgrounds feel represented in a genre that has been historically restricted. In this, Bridgerton makes a statement as a drama for the twenty-first century, one that many others will be sure to follow in its example.
Unfortunately, this season does have some issues that may irk viewers. In taking on an ambitious number of storylines, eventually, they do slightly detract from one another and take focus away from the main couple. While this may not be a problem for fans of the ensemble cast, I felt Kate and Anthony were sometimes pushed aside in a season that is ultimately theirs. Another personal preference, and this is simply because I enjoyed the source material 'The Viscount Who Loved Me' so much, is that some crucial moments from the book were lost. This will not bother the casual fan, but I did feel a small sadness that some great moments had been inexplicably cut and I believe any other book fan may feel the same way.
Despite these small complaints, Bridgerton season two is a joy to watch. Family dynamics are at the core of the show and, at its heart, this season is a love letter to the eldest siblings of the world. In watching Anthony and Kate fall in love, we see how they slowly shake off the unconscious pressure to fulfil their duties and do right by their families – and put themselves first. In learning to love each other, they learn to love themselves and understand that it is okay to live your life for yourself.
Dearest Reader, if you are looking for eight hours of glorious, romantic escapism, look no further: Bridgerton Season Two is the period drama at its very best and its vitality will be sure to keep it on our screens for years to come.
Rating: 5/5
---
Read more of the latest Redbrick TV Reviews here: