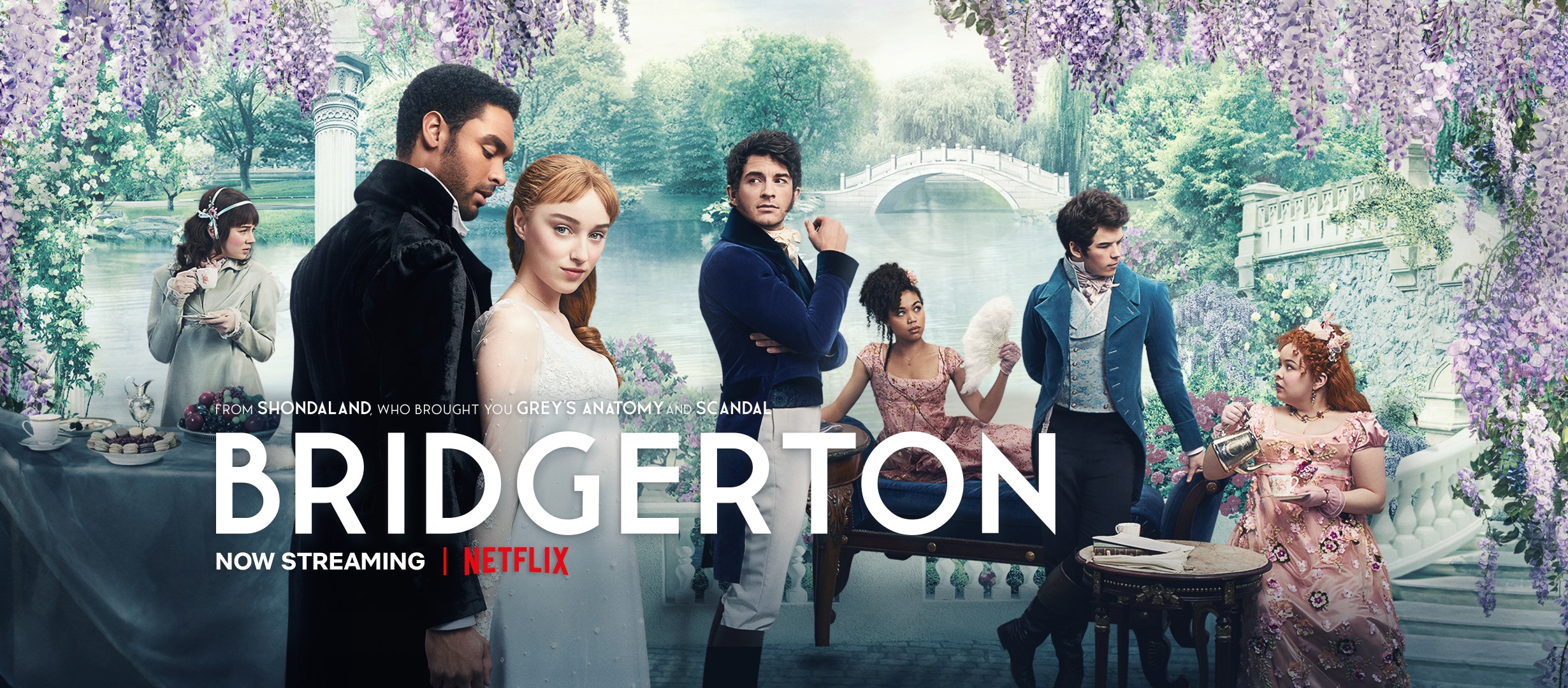 TV Critic Emily Wallace praises Bridgerton as an enchanting piece of escapism set in Regency London
Bridgerton is the latest in a long line of Regency dramas to grace our screens. Airing on Netflix, it is adapted by Shondaland, the production company behind Grey's Anatomy and How to Get Away with Murder. Bridgerton has been adapted from Julia Quinn's historical romance series, with this season largely based on the first book, 'The Duke and I'. Bridgerton follows the Bridgerton family as they navigate London's high society and the marriage market. Daphne Bridgerton (Phoebe Dynevor), the eldest daughter, is quickly established as the 'diamond of the season', the most eligible young lady, but the efforts of her overbearing brother Anthony (Jonathan Bailey) leave her falling short of suitors. Enter Simon Basset (Regé-Jean Page), a recently inherited Duke with no interest in marriage, and the two hatch a plan: if they pretend to be courting, more suitors will be drawn to Daphne, and ladies deterred from Simon. The strong chemistry between the two actors makes it easy to predict what happens next.
Bridgerton differs from other Regency dramas through its Gossip Girl twist – the elusive Lady Whistledown, delightfully voiced by Julie Andrews, who reports on everyone's drama through a scandal sheet delivered to all of London. One word from Whistledown can make or break your reputation within society, yet who she really is remains hidden. The mystery of Lady Whistledown's identity was one of the most compelling aspects of the series, particularly as Eloise Bridgerton (Claudia Jessie) takes matters into her own hands to investigate, and it is a plot point that will leave you guessing to the end.
One of the most notable things about Bridgerton is its colour-blind casting, which I found a refreshing change for a period drama. Golda Rosheuval as Queen Charlotte in particular sent a powerful message. However, instead of presenting this as a world without racism, there were occasional references to the elevated position in society of non-white people being a recent change. It would be interesting to see this explored further and expanded upon within future seasons, as the few references left me wanting to know more about these changes to the historical background.
Bridgerton also managed to blend the regency setting with its modern production in an effective way. The impressive Regency balls (of which there were many) contained sequences of the characters dancing to violin arrangements of popular songs such as 'thank u, next' by Ariana Grande, and 'bad guy' by Billie Eilish, which was very enjoyable to watch. It is also a very sex-positive show, marking its difference from the Jane Austen adaptations which take place in the same era, although I would warn against watching some scenes with parents around (Episode 6, 'Swish', is particularly one to look out for).
Something I particularly liked about Bridgerton was its ensemble cast. While some of the Bridgerton siblings had more focus than others, all the adult members of the family had their own storyline and growth within the season, and the sibling dynamics between them were both humorous and natural. We also follow the stories of other characters within London society. Nicola Coughlan charmed as Penelope Featherington, one of the daughters of a neighbouring family and the best friend of Eloise. We see the Featheringtons face different struggles within the marriage market to the Bridgertons, particularly with the arrival of their cousin Marina (Ruby Barker), who comes with her own secret. Bridgerton also does not shy away from showing the lives of servants and people of various social classes within the era, which is not always seen within period dramas.
For me, Bridgerton provided just the kind of escapism I needed over Christmas time, as it is easy to lose yourself in the scandal and romance of Regency London and root for the characters to get their happy endings. Bridgerton is packed full of all the clichéd tropes and dramatic twists you can think of, and that is what makes it fun.
 Rating: 4/5
---
Check out our latest TV articles here:

Review: Call the Midwife Christmas Special 2020
Review: The Mandalorian – Season Two
The Queen's Gambit: Romanticisation of a Woman on the Edge