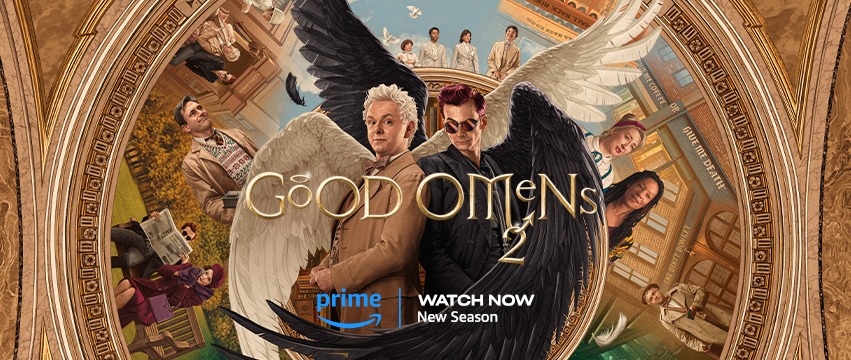 Culture Editor Ilina Jha weighs in on Good Omens Season Two – besides some light criticism, they endorse Gaiman's colourful and creative cast of characters and the fantastical world they inhabit
Neil Gaiman and Amazon Prime have finally answered our prayers. After four years, Good Omens is back with another season. After averting Armageddon, the angel Aziraphale (Michael Sheen) and the demon Crowley (David Tennant) are back to enjoying life on Earth with minimal contact from Heaven and Hell. That is, until Aziraphale opens his bookshop door one day to find the Archangel Gabriel (Jon Hamm) on his doorstep – naked, carrying a seemingly empty box, and with absolutely no memory of who he is or what he has done. Crowley reluctantly agrees to help Aziraphale hide the archangel from both Heaven and Hell while they figure out what is going on. Alongside this, Aziraphale's record shopkeeper tenant Maggie (Maggie Service) pines after coffee shop owner Nina (Nina Sosanya), and Aziraphale and Crowley take it upon themselves to set the two up.
The main narrative is interesting, with many questions being raised as to why Gabriel has appeared which Aziraphale and Crowley attempt to figure out. However, the main narrative progresses fairly slowly for the first four episodes, and only really picks up the pace and the action in the final two episodes. In comparison with the first season, it is less exciting and intriguing.
Thankfully, this main narrative is balanced out by 'minisodes' (incorporated into the main episodes) in which we are treated to more stories from Aziraphale and Crowley's past. These historical narratives are great fun to watch and are a highlight of the series for me. Indeed, I found myself disappointed sometimes when returning to the main narrative, because I was enjoying these historical stories so much.  
I enjoyed the many variations of the show's theme tune being played in different musical styles, and I loved the costumes, particularly the ones made for the historical scenes. The editing and use of special effects are also excellent. There are some good performances from the supporting cast – Hamm plays the happy amnesiac Gabriel so well it is hard to believe that this is the same cruel, warmongering Gabriel from season one. I have to give a special shoutout to Quelin Sepulveda, who boasts a fantastic performance of the sweet, naïve, and excitable Angel Muriel. I loved this new character, and I hope that this season is not the last we see of her.
But, of course, Good Omens shines as a result of the ineffable duo that is Michael Sheen and David Tennant. These two national treasures have terrific chemistry and bounce off each other brilliantly in their shared scenes. Sheen captures Aziraphale's angelic sweetness and inner conflict, while Tennant seems made for the performance of a darkly serious and hilariously comedic demon. His performance in the 'minisode' of episode three is a particular highlight for me. 
Overall, Good Omens season two is another wonderful show of ineffable fabulousness. You will be delighted to hear that Gaiman is already planning another season – which (as anyone who has seen the ending of this season will tell you) cannot come too quickly. But he has said that the way to make it happen is to keep watching the show and encourage new viewers. So if, like me, you are eager for more Good Omens, I suggest that you get out there and recommend this show to anyone you can! 
Rating: 4/5
---
Read more TV articles here: