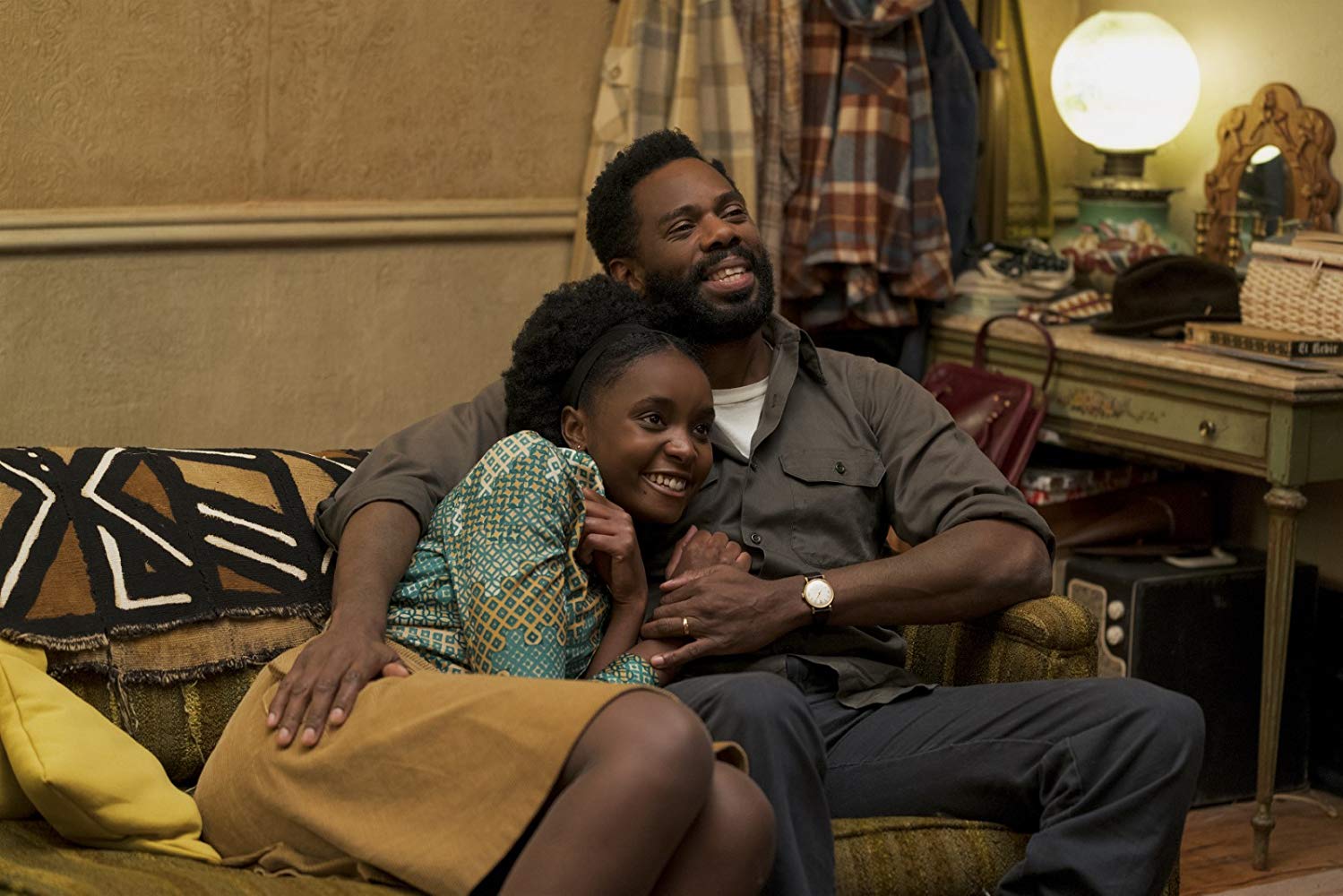 Film Critic Matt Taylor falls in love with Barry Jenkins' newest film, If Beale Street Could Talk – a stunningly romantic film
Finding the right words to describe Barry Jenkins' If Beale Street Could Talk is like finding the right way to tell someone that you love them. It is an extremely difficult task; there is so much to be said, yet none of it can be put into words that remotely do it justice. It's an incredibly apt feeling, given the transcendental nature of Jenkins' film – it takes everything we think we know about romantic cinema, and surpasses it all. His previous film, Moonlight, was a masterpiece. Beale Street is something more.
Jenkins' excellent screenplay is adapted from the James Baldwin novel of the same name: it follows Tish Rivers and Fonny Hunt, a couple living in New York, who, after Fonny is arrested for a crime he didn't commit, discover they are pregnant. Half of the film charts Tish's family trying to scrape together proof of Fonny's innocence, while the other half (in a non-linear fashion) gives us more background and context to Tish and Fonny's relationship. Moving enough as it is in its bones, the components from which Beale Street is built elevate it into excellence.
Perhaps the most important of these components is the film's electrifying performances. Every single cast member, no matter how big or small their role, gives it their all. The biggest credit must, of course, be given to KiKi Lane and Stephan James, who imbue Tish and Fonny with amazingly raw humanity. We engage instantly with the two of them, their fun and easygoing, yet passionate chemistry giving life to these wonderfully real characters. Each is superb, whether across from the other or on their own; James particularly stands out here, spending a good chunk of his screen time behind the window of a prison visiting room, but dazzling us whether he's behind it or not. Ever the optimist, Fonny is instantly likeable as a man trying to find independence and make a life for himself and Tish.
Lane is equally as good, if not better, as Tish, who's left scrambling to piece her life back together after Fonny's arrest. An abundance of false evidence (including a logistically impossible testimony given by a police officer) pushes her right to the edge, and the impending birth of her baby combined with Fonny's extremely unhelpful family give her cause for even more stress and worrying. Tish is our eyes and ears for the narrative, and Lane's gorgeously smooth voice makes her narration go down a treat.
Beale Street's other MVP is the Oscar-nominated Regina King, whose astounding turn as Tish's mother, Sharon, is among the film's highlights. Sharon is relentless in her quest for justice for her future son-in-law – she appears on a great many occasions to care about him more than his own mothers and sisters do. King is phenomenal in the role, and fully earns that Oscar nomination, as well as her win at the Golden Globes. The rest of the cast give us everything they can: Teyonah Parris is an absolute scene-stealer as Trish's sister Ernestine; Colman Domingo gives an unexpectedly tender turn as Trish's father; Brian Tyree Henry gives James another fantastic figure to bounce off as Fonny's childhood friend Daniel; Aunjanue Ellis is perfectly steely as Fonny's unforgiving religious mother; Emily Rios gives surprising compassion to her character (a mild spoiler); Michael Beach, Ebony Obsidian, and Dominique Thorne round out Fonny's family with a surprising mix of attitudes; and unexpected appearances from Ed Skrein, Dave Franco, Diego Luna, and Pedro Pascal serve to round out the cast in a surprising manner. Jenkins pulls everything he can out of each of them, and the result is a plethora of perfect performances.
It isn't just the cast that Jenkins excels at; his direction is utterly marvellous. Yet again, he pulls everything out of every single one of his workers. As such, partial credit here must be given to: DoP James Laxton, whose gorgeous camera work is some of the best you'll see all year; casting director Cindy Tolan, whose every choice is, as I've just said, spot on; composer Nicholas Brittel, whose score is achingly beautiful in its every beat, making particularly magical use of violins and cellos; Mark Friedberg, whose production design is nothing less than perfect, lending every scene a sense of true authenticity and realism; costume designer Caroline Eselin whose costumes pop with colour; author James Baldwin, upon whose book the screenplay is based; and Jenkins himself, whose screenplay is at once lyrical and real, and whose direction is unmatched in the way that it makes you feel.
It should be noted that Jenkins repeatedly flouts one of the main rules of cinematography; to never break the 180 rule of blocking. Allow me to explain; when filming a simple conversation between two people, convention dictates that one person should be on the left of the screen facing right, and the other should be on the right of the screen facing left. Shots should be cut between the two in this manner, and thus make sure the audience is aware of the geography of the scene. Jenkins repeatedly does not do this; what he opts for instead, is a 90-degree shot, directly facing the actor – a breaking of the invisible fourth wall.
When done wrong, this can ruin the illusion of film, completely rob it of its power. When done right, however, it can serve to elevate a moment into something ethereal – look at the final shot of Bradley Cooper's magnificent A Star is Born. The same effect is achieved here; instead of being pushed away by the unexpected gazes of James and Lane, we are drawn in further, absorbed into their humanity, part of their story, their relationship – we become one with them.
And that is perhaps Beale Street's greatest strength; its sheer humanity. It is woven into its very being, expertly portrayed in every way possible, quickly becoming a speciality of Jenkins'. I haven't even touched on the film's exploration of racial prejudice, of relationships, of families, of the struggles facing black people in late-20th century America, and that is because I simply do not have the words. Nothing I say here will remotely do Beale Street justice. Go and see it for yourself. I promise you won't regret it.
Verdict:
Barry Jenkins has done it again. Whoever thought he couldn't improve upon Moonlight was sorely wrong; If Beale Street Could Talk is everything Moonlight was and simultaneously so much more. Jenkins' beautiful film combines gorgeously subtle direction, superb performances, incredible production design, and a fantastically emotional score to give us one of the best films we will see all year. An absolute wonder.
Rating:
10/10