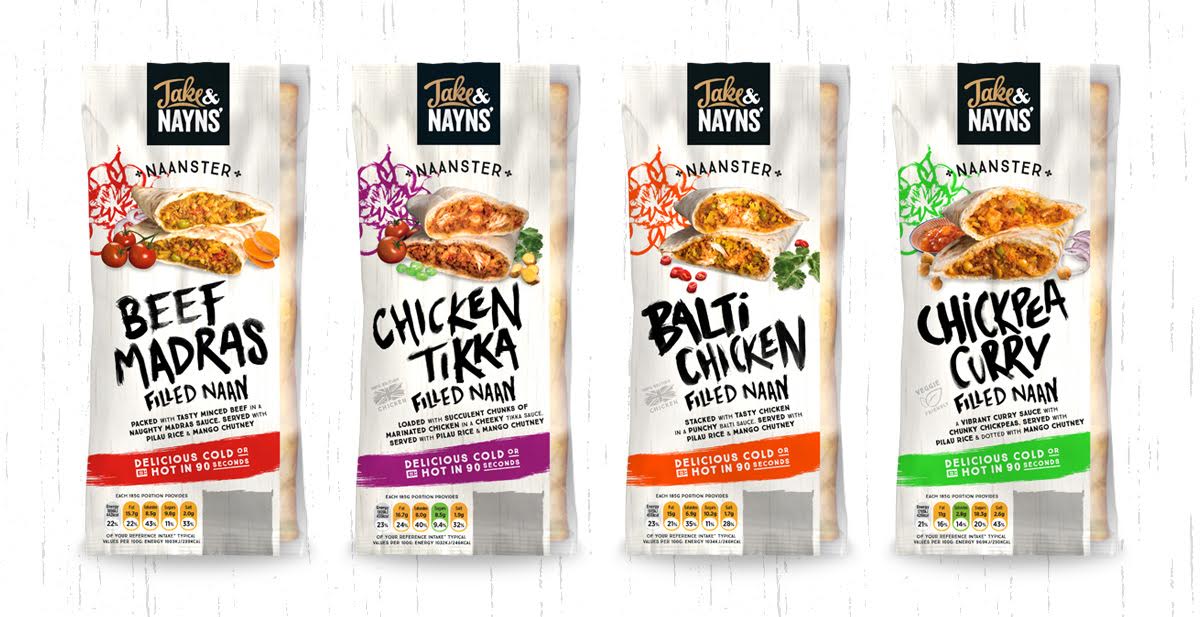 Food&Drink Editor Lydia Waller and Food & Drink writers Izzy Gipps, Katie Norris and Charlotte Gill review Jake and Nayn's new take on street food on the go, with their filled naan products
Jake and Nayn's are hot on the shelves of supermarkets such as Sainsbury's, Co-op, Spar and Londis, with their new revolutionary take on the meal-on-the-move: the filled naan! We all love a good naan with our cheeky takeaway at the end of the week, so imagine that indulgent bite into a filled naan with either Beef Madras, Balti Chicken, Chicken Tikka or Chickpea Curry, amidst the mid-week madness of a day on campus! Brothers Jake and Nayn are keen on making street-food speed-food, for the busy student or worker. At only £2.00, filled with 100% British Chicken Breast in their chicken flavoured 'Naansters,' these little packets of filling goodness, still maintain the fresh provenance of street-food, but cater to the convenience of a meal-deal sandwich-only cheaper! Each 'Naanster' is filled with their respective flavoured curry, rice, peas, spices and a good dollop of sweet mango chutney. Jake and Nayn sent us a few to try as a section and here is what we thought:
Chicken Tikka Naanster – Katie Norris
'I would recommend this as a great lunch-time treat at university – having rice, curry with a bit of a kick, and even mango chutney inside the doughy naan goodness! I suggest scouting out a microwave for this one too – I imagine it's just as good, if not even more appetising hot.'
Balti Chicken 'Naanster'– Izzy Gipps
'The answer for when you're craving that Indian but you're on the go or have already had dinner- the whole sweetly-spicy-chicken-chutney experience tucked into a soft doughy bed. The only thing that could make it better is more chutney.'
'Chicken Tikka Naanster' – Charlotte Gill
'The naan was really tasty and much better than I had expected. I would rather have one of these naans than the other types of pasty or sandwich that you tend to grab in supermarkets, and the ingredients seemed to be of good quality. I heated mine up, which only took 90 seconds in the microwave, and you do not even have to remove the packaging to do so, which is a bonus. All round my review is positive, and I would definitely eat one again if I needed a quick lunch. Hopefully the company can release more vegetarian options in the future, as so many people are cutting down on their meat consumption nowadays.'
Chickpea Curry 'Naanster'- Lydia Waller
'The filling is sweet, with a moderate yet tasteful spicy kick. It has a genuine authentic curry flavour and the addition of rice in the naan gives it a burrito-type feel and works really well as a filling and full lunch on the go, particularly on campus. The naan itself however, is very doughy and slightly stodgy when heated, not really providing that golden baked texture you would get with an authentic naan. However for an on-the-go fix that, is easy, tasty and filling, this would beat a meal-deal sandwich any day! A friend of mine also tried the Balti Chicken and said that it was tasty and efficient as a meal on the move, but the taste isn't revolutionary but very very satisfying for a swift dinner in-between Uni and extracurricular activities.'
Thank you to Jake and Nayn!