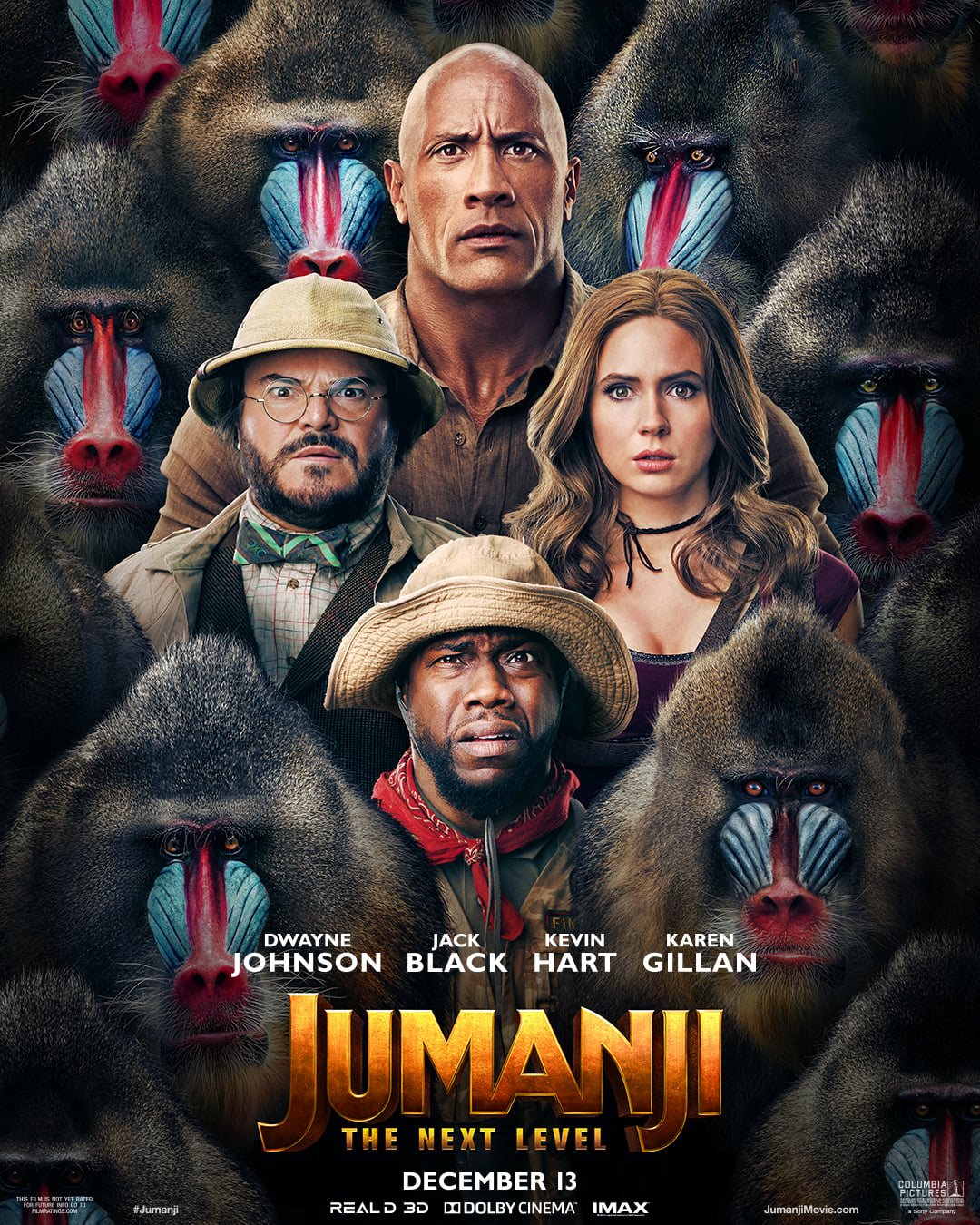 As The Next Level swings into cinemas, Film Critic Antonio Aguila checks out the latest instalment in the unexpected Jumanji trilogy
Jumanji: The Next Level, like its predecessor Welcome to the Jungle, showcases a likeable and talented cast of well-known actors performing simple roles (and Nick Jonas is there too). Welcome to the Jungle is a safe and fun family blockbuster with its primary  message being you only have one life. Although The Next Level's sequel-itis is pervasively visible it is still quite enjoyable. It has no clear message and the script is awkward, but the film still has hilarity and charm. One thing to mention is that its added-on characters are actually more interesting than the central cast. The Next Level takes the best of the first film and flips it on its head in a ridiculous display of ticking the boxes to a sequel. It's not quite The Room but it's still great. Also, if you're a fan of Danny DeVito this film contains the best It's Always Sunny in Philadelphia reference.
As previously mentioned, its new characters are more favourable. In fact, Dannys DeVito and Glover make up a substantial part of the film that involves two old guys being senile and useless. Whilst earlier on it is somewhat funny the gag tires out quickly, eliciting fed-up sighs, but then becoming funny again in an overdone/ironic way. Putting the jokes aside, the relationship between these two is the most compelling part of this silly movie. Two old best friends distraught with a one-way business decision made decades ago re-acquainting with one another in the context of the Jumanji game. The team-oriented tasks and events that bring them closer together are undoubtedly cliché, yet also satisfying to watch. Expect many generic twists and one unexpected ending that is actually quite wholesome. They bring a little bit of substance to a generally fun, dumb movie.
Differing from its predecessor with its decent balance of character and event to drive the narrative this film was severely lacking. Many characters lack an arc, even despite the fact that they up the ante with new skills for their video game counterparts giving way to an unfulfilled potential. As much as this lack of creative solutions and problem solving holds the film back, it is still a joy. Many of the first film's aspects continue to shine here. Ruby Roundhouse (Karen Gillan) is even more of a badass with better fighting scenes. Finbar Mouse (Kevin Hart) still explodes when eating cake but is now more cautious. In one of the film's few laugh out loud moments Kevin Hart re-encounters his greatest foe and has a mental breakdown slapping a tray of cakes out of a grandma's arms and spilling them onto the floor. Dr. Smolder Bravestone (The Rock) is embodied by the spirit of Danny Devito as a result of marketing genius.
Conceptually, The Next Level is somewhere between good and great. A generation gap separates the two already separated gentlemen and a group of friends, one of whom is feeling disconnected. However, there are not enough meaningful chats between members of these two groups. Yes, the CGI is nice, the action is great, the jokes are (ironically) funny, and the climax iss absolutely insane and fantastic, but it is still a little disappointing. Welcome to the Jungle was great because it was your ordinary blockbuster filled with action and excitement with one key scene with heart, like many blockbusters. For instance, the iconic 'we're family' scene in Fast & Furious franchise or the many remakes of Spider-Man and what it means to grow up and what it means to be a hero. Though blockbusters primarily function as simple, cheap entertainment you can turn your brain off to and have a good time, audiences still look forward to those key scenes. In Welcome to the Jungle, it was Fridge consoling Spencer in the last task who only has one life. He reminds him that that is the case in real life too. I could not find that hearty moment in The Next Level. It instead chooses to push the body-swap concept as far as it can really go resulting in quirky, messy interactions instead of giving enough attention to its generation gap.
Verdict:
Jumanji: The Next Level is both entertaining and lacking. Although it suffers heavily from sequel-itis, it is still silly, fun and has just enough charm. Despite the blatant character problems, those both old and new end up in just the right place.
5/10
Jumanji: The Next Level is in cinemas now.
Images courtesy of Sony Pictures. All rights reserved.