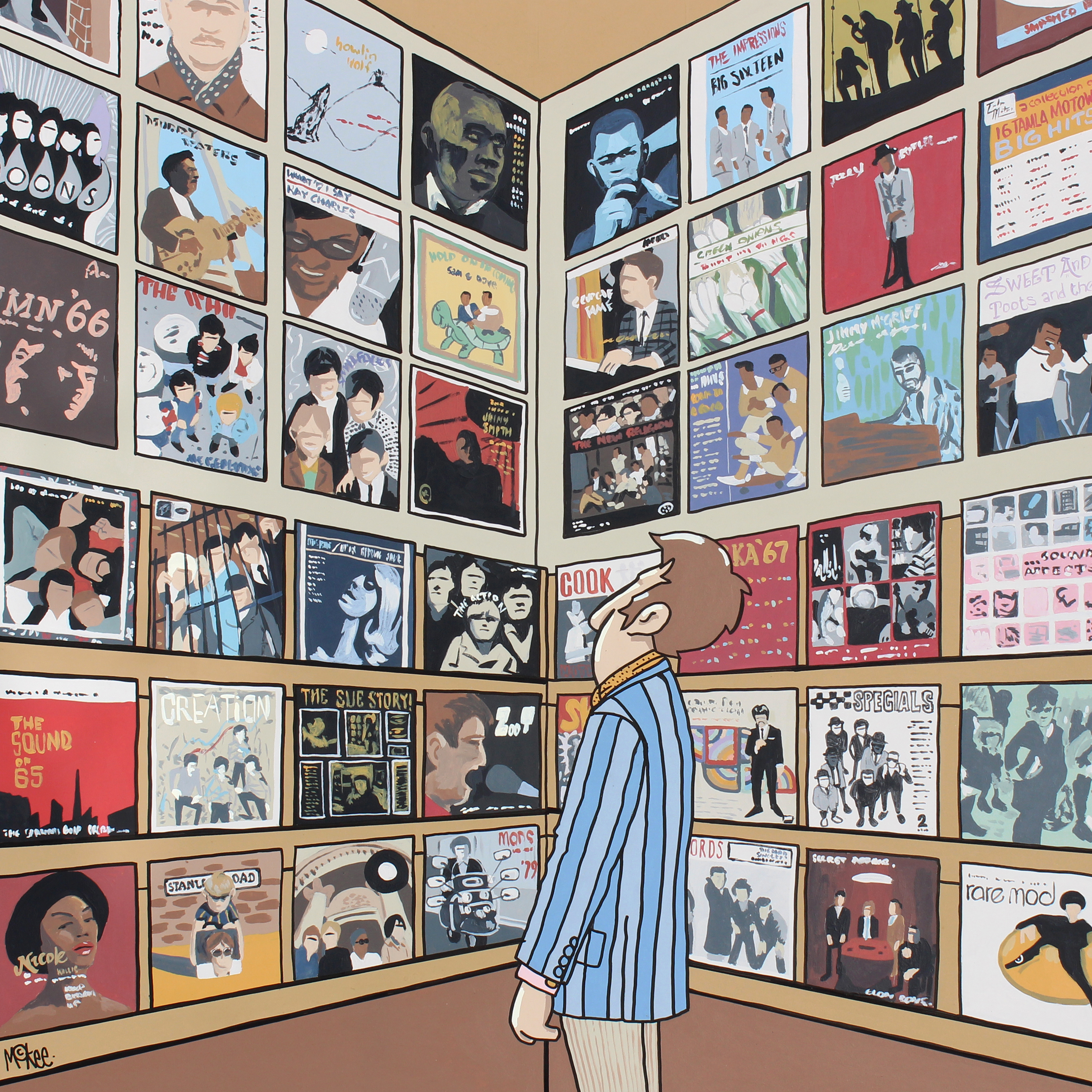 Life&Style Editor Frankie Rhodes takes a look around cartoonist Pete McKee's pop-up gallery in The Custard Factory, Digbeth
For those of us who have attended an exhibition or walked through a local gallery, we've all felt the harshness of the white walls and the unsettling expectation of silence. It seems almost as if artwork and solemnity go hand-in-hand. But when I walked into the opening night of Pete McKee's pop-up gallery in Digbeth, I was met not with silence, but with Radiohead playing on a loudspeaker, bright colourful prints, and cans of beer. 
Having grown up in Sheffield on a council estate, and started his adult life as a factory worker, McKee has always used his working-class background as an inspiration for his work. Through illustrations, large-scale murals and comic-book art, he has established a legacy reaching as far as New York City. In the past, he has produced work for Noel Gallagher and the Arctic Monkeys, giving working class icons a creative brand. And now, he's turned his attention to Birmingham, with a brand new print and wall-mural standing proud at Digbeth's Custard Factory.
McKee's Birmingham print depicts a couple embracing under a bridge beside the canal, looking to be in the Brindleyplace area. The male sports a plaster on his left eye, wearing a bottle-green tartan suit, whilst his gold-hooped girlfriend wears purple eyeshadow. It's a rough-around-the-edges homage to Birmingham life, appearing all the more endearing for its realness. 
In fact, this sense of reality is something apparent in all of McKee's works. The artist tackled honest, often marginalised topics with a dash of wit, as with the 'Dorothy's Friend' print, depicting two pastel-pink old ladies in a heart-warming snog. It felt fitting that McKee chose a variation of this image to be the wall-mural that graces Arch 21. Its bright, happy allure tells people that Birmingham's culture- including its gay culture- is something to celebrate and enjoy, rather than shun.
One piece that really attracted attention was 'Me and Thee,' which simply showed two hands clasped together- one with tattoos and the other with chipped red nail varnish- wearing silver bracelets. An added caption completed the alternative love story, declaring that 'we'll walk through the estate hand in hand.' There's a real skill in McKee's ability to create art that is humorous, yet not mocking, and that comes from his connection to the very subjects he illustrates.
This slideshow requires JavaScript.
Along with pieces that encouraged laughs, there were others that held a straight-faced prominence. 'National Hug Service' presented an old lady and her care-worker in an embrace, revealing a side of the NHS that the media rarely allows us to see. Another piece entitled 'International Rescue' saw McKee change his palette from pastel pinks and blues to brown and orange hues, to match the complexion of the 5 figures who stood proudly in a pyramid formation. Standing out from the pack, this illustration seemed to declare the value of all ethnicities- a message that certainly goes a long way in our multicultural Birmingham.
Other themes that McKee explored included music, with several prints depicting record stores, and other references to mod-rock. 'Three Minutes To Lift Off, Mr Stardust' depicted a ginger-haired man with his back to the frame, instantly recognisable as Bowie, not least because he was painted in multi-colour before a background of black-and-white. But it wasn't only the obvious legends that were celebrated- there were some hints to the more subtle highlights of British culture as well. This included the aptly named 'The Fish Supper,' showing a family crowded around a father-figure, buttering bread before a table laid out with cod and chips. At first, you just want to laugh, but then you realise the accuracy of the moment that McKee has captured, and you notice the genius behind his work.
It was interesting, therefore, that McKee was able to say so much, by drawing so little. As a minimalist cartoonist, he has stated that he paints only the details that are required to tell a story. Faces are sometimes left partially blank, and backgrounds are filtered out. Yet, through taking away the unnecessary things, McKee actually adds to his work, and it is this simplicity that gets people flocking to his exhibitions.
A film playing in the centre of the gallery confirmed the popularity of McKee's work, as it showed footage from previous exhibitions, with people of all ages interacting with his art. This emphasised his message that art is a shared experience, and one that should be for everyone. I left with a feeling that I rarely have after visiting a gallery- a feeling that I'd had fun. Overall, this pop-up gallery proved to me that Pete McKee's pop-up work is truly for the people, of the people. 
Pete McKee's pop-up gallery will be in Birmingham until the 7th July, and will come to Nottingham between 24th and 28th July. More information can be found here.