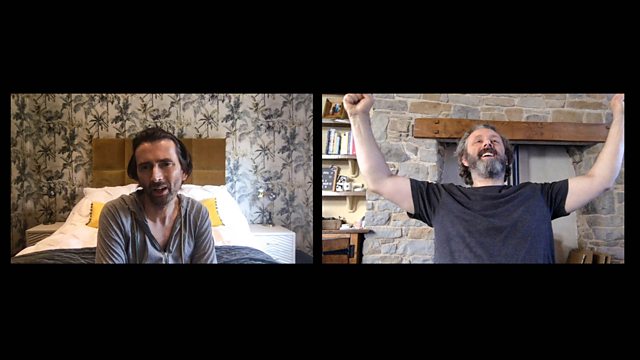 TV writer Ilina Jha reflects on Series Three of the lockdown comedy noting that, while it remains very entertaining, Staged has run its course
The lockdown comedy hit Staged is back for a third series, on BritBox instead of the BBC this time, with the cast once again playing fictional versions of themselves. In this series, Staged becomes even more meta. Michael Sheen (Michael Sheen) and David Tennant (David Tennant) have parted ways with their director Simon (Simon Evans) after two series of Staged. However, Simon proposes to them a Christmas special…and thus the show continues. Georgia Tennant (Georgia Tennant), Anna Lundberg (Anna Lundberg) and Lucy Eaton (Lucy Eaton) return as the longsuffering partners/sister (in Eaton's case) of these comically incapable men.
For anyone new to Staged, the first series portrayed David and Michael's (unsuccessful) attempts to rehearse a play during lockdown. Like many others, I thoroughly enjoyed this original series of Staged – set during the first lockdown, it provided warmth and humour that was very much needed during the pandemic. It was also groundbreaking television, produced remotely and filmed using video-conferencing technology. The second series made the show meta, as it followed director Simon's attempts to produce an American version of Staged season one. The third series makes the show even more meta.
Having not enjoyed the second series of Staged quite so much as the first, I was both excited and apprehensive about what the third series would entail. Thankfully, I enjoyed it more than the second series, although it still doesn't quite live up to the first series for me.
Performances are strong across the board. Sheen and Tennant have excellent on-screen chemistry and work wonderfully together to produce comedy gold. Additionally, Georgia Tennant is a standout performer for me in this series. Production-wise, as the world moves on from the pandemic, Staged does too; while there is still plenty of interaction via Zoom, we get more real-life encounters and camera filming this season. A highlight for me was the episode 'Who's Playing Who?' – although it is mocked by the characters themselves later on in the series, I actually really enjoyed this farcical episode.
As I mentioned earlier, the show keeps adding layers of meta. I can see why the people behind this decision thought it would be a good way to keep Staged going, and it is a humorous nod to the fact that the real-life actors are playing fictional versions of themselves.
However, it is hard to track any character development across the three series of Staged, because the characters and storylines keep being revealed to be fictitious. We only properly meet the 'real' David, Michael, Simon etc. in episode three of Staged series three – that leaves only four episodes for character development, and we do not get much. Despite these characters having supposedly played fictional versions of themselves in series one and two, they seem remarkably similar in character, making one question what the point is of making Staged more and more meta.
Judging by how it ended, this is probably the last series of Staged – and I think that is a good thing. The first series was a highlight of the pandemic in 2020, and the second and third series have been enjoyable enough, but I think Staged has had its run. Viewers who will miss the pairing of Sheen and Tennant will be able to see them working together again in series 2 of Good Omens.
Rating: 3/5 
---
Check out more from Redbrick TV here: 
TV Character Spotlight: Kendall Roy (Succession)