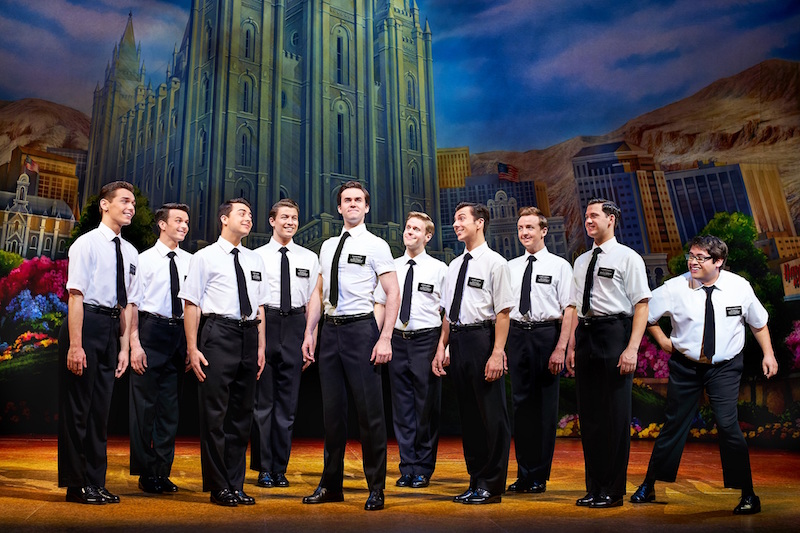 Culture Critic Lauren Novelli reviews the outrageously funny Broadway musical, The Book of Mormon
Hilarious. Catchy. Witty. Risky. These are four words that can be used to describe the Book of Mormon, which is currently at the Birmingham Hippodrome as part of its UK tour. Although potentially not one to watch with your grandparents, this musical will make your sides hurt from laughing whilst also teaching important lessons about friendship, acceptance and making the most out of various situations.
Not for the faint-hearted or easily offended, this much-loved musical presents important issues such as poverty, violence, privilege, HIV/AIDS and female genital mutilation in a non-aggressive way, beautifully combining what in another context would be distressing issues with seamless and natural comedy. This sometimes left the audience feeling visibly uncomfortable and unsure how to react however certainly gave them things to think about upon leaving the theatre!
One of the wonderful things about the Book of Mormon is that it strikes the perfect balance between poking fun at the Mormon religion (in a non-malicious way) whilst simultaneously making the audience fall in love the iconic characters and want to go on their journey with them.
The show tells the story of Elder Price, a Mormon who dreams of being sent to Orlando for his two-year mission, and his unlikely partner Elder Cunningham who tends to end up in all kinds of mischief wherever he goes. Whilst other Elders are sent to locations such as Norway and France, this chalk and cheese duo are packed off to Uganda to find oppressed villagers fearing vicious warlords who threaten their society. Elder Cunningham eventually becomes the unlikely hero and steps up to the challenge, but not before facing some rather large bumps along the road.
Connor Peirson's performance of Elder Cunningham stole the show with his hilarious portrayal of this loveable character. Other particularly eye-catching performances were William Hawksworth as Elder McKinley, who brought a bundle of fun and joy to the stage, and Nicole-Lily Baisden as Nabulungi, who gave a beautifully sweet interpretation of this naive character. Ensemble work is so important in this production and every member was completely in sync and really bounced off the lively audience making the night a fabulous one to remember.
Personal highlights of mine included the hugely clever and iconic 'Hello!' number that opened the show, as well as 'Man Up' which closed the first half and the highly energetic 'Spooky Mormon Hell Dream' which has to be seen to be believed! The polished and spirited performances from the cast members combined with brilliant set, ingenious choreography and clever lighting created the perfect immersive show.
The Birmingham Hippodrome once again provided a wonderful night out, ending in a deserved standing ovation from a very impressed audience. This musical masterpiece makes you laugh and cry meaning some risky decisions by the show's creators massively paid off.
With catchy songs that will leave you singing for days and dancing on the way home and for weeks after, make sure to catch the Mormons in action whilst you can!
The Book of Mormon runs at the Birmingham Hippodrome until 28th March.