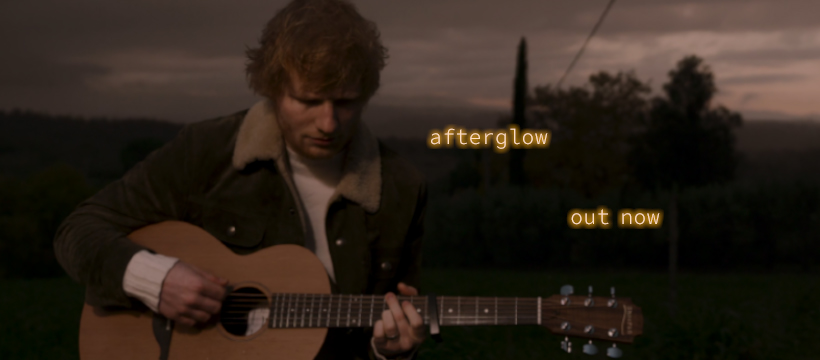 Music Critic Jemma Cuthbert reviews Ed Sheeran's latest single which sees the singer go back to his roots with a beautiful acoustic tune
On the 24th December 2019, Ed Sheeran took to Instagram to announce that he would be taking a break from music and social media, writing 'I promise to be back with some new music when the time is right and I've lived a little more to actually have something to write about'. A year later, it definitely appears as though he has done such, as on the 21st December 2020 he returned to Instagram with new cover art, writing that he has a 'Christmas present' for his fans which would be released the next day. So, on the 21st December 2020, his new single 'Afterglow' was released.
After not having released any new music for almost 18 months, this surprise announcement just a day before the release of 'Afterglow' came as a shock to his fans. In fact, it seems as though he could have taken inspiration from Taylor Swift, who released two surprise albums in 2020 which both led to global success.
With its sweet, soft melody, 'Afterglow' sees Sheeran return to his much loved acoustics. This seems fitting considering 'Afterglow' appears to be a love song for his wife, Cherry Seaborn. He writes 'We were love-drunk, waiting on a miracle  /  Tryna find ourselves in the winter snow  /  So alone in love like the world had disappeared.' Although Sheeran has not stated it himself, many people believe that the song is about a trip the two took to Antarctica, which is inferred through the references to the 'winter snow'. Moreover, the 'miracle' he refers to in these lyrics could be an allusion to his daughter, who was born in 2020.
An official performance video was simultaneously released with this single, which sees Ed Sheeran sitting amongst fields singing and playing his acoustic guitar at dusk. The simplicity of this performance video seems to perfectly capture the gentle and mellow song, and allows viewers to solely listen to the songs' heart-felt lyrics without any distractions.
The lyrical meaning, soft melody and surprise release of 'Afterglow' come together to make this a truly beautiful and special song. Sheeran has stated that 'Afterglow' is 'not the first single from the next album, it's just a song I love, and hope you love too' and that it is 'back to dad land for me now'. This suggests that it might be some time before he releases new music again, but perhaps when it is released it might come as a complete surprise, just like 'Afterglow'.
Rating: 8/10
Afterglow is available now via Asylum Records 
__________________________________________________________________________________________  You Might Also Like: