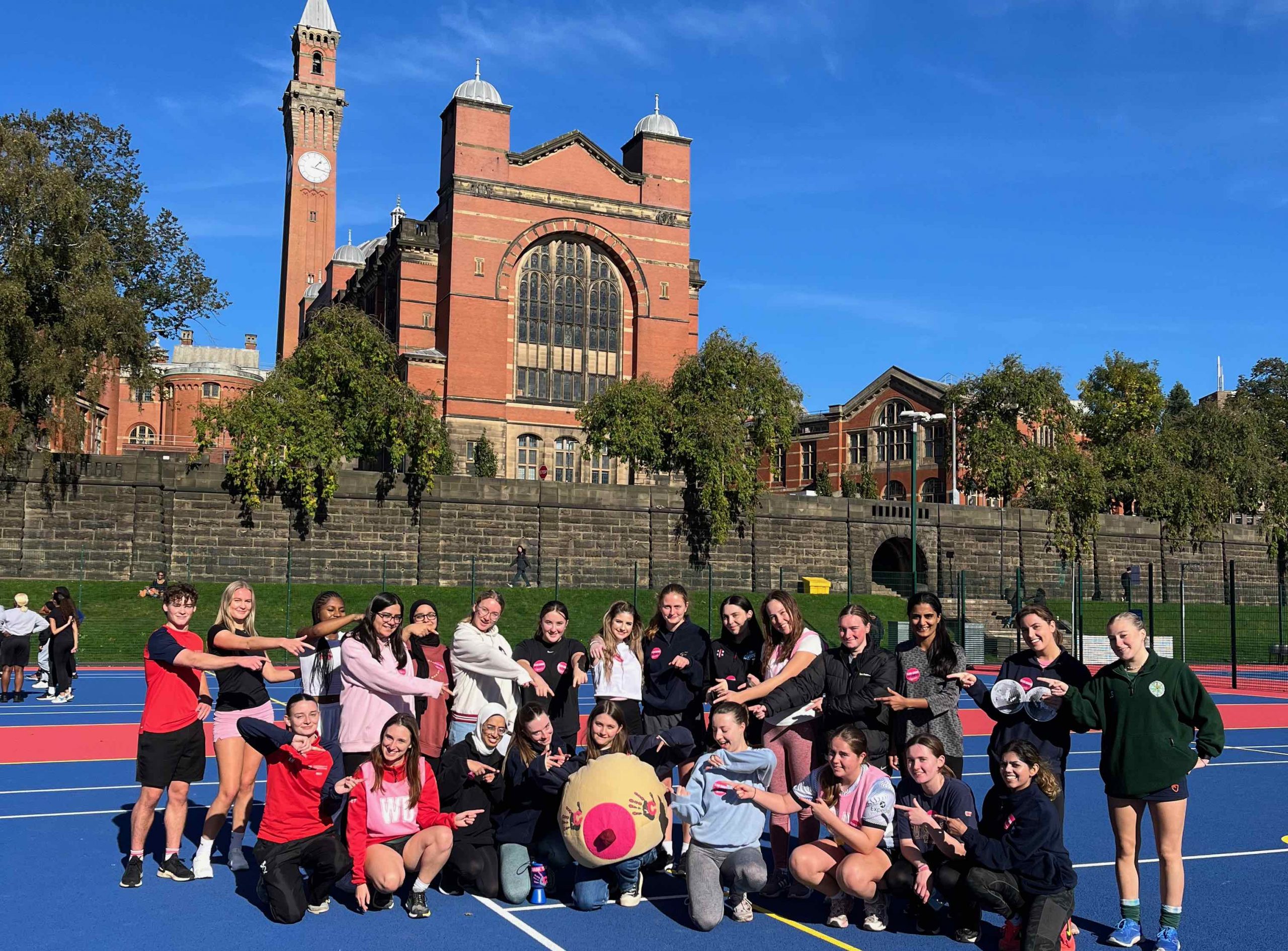 Print & Features Editor Jess Parker and Redbrick Writer Ellie Atkinson spotlight The University of Birmingham's Uni Boob Team this Breast Cancer Awareness Month
The University of Birmingham's Uni Boob Team represents Breast Cancer Awareness charity CoppaFeel on campus, encouraging students to know their normal, and understand that breast cancer can affect anyone of any age or gender. From campus to Instagram, we will be there to talk boobs and affect real change. Our aim is to empower students of every gender to regularly check their chests and know the signs of symptoms of breast cancer as early detection can save lives.
Committee
President: Juwayriyah Dhalech
Secretary: Fliss James
Treasurer: Ellie Atkinson
Social Media Manager: Jess Parker
Events Secretary: Lara Isaacs
Recruitment Rep: Emily Sandbach
Jess Parker – Social Media Manager 2022-2024
Hi, I'm Jess. I'm Redbrick's Print & Features Editor, but this is also my fourth year involved with our Uni Boob Team, and my second year on UBT's committee (briefly interim treasurer in my third year before moving on to Social Media Manager). As a Guild-based society, we aim to help young people know their bodies, know what is normal to them, recognise the signs of breast cancer, and raise money for CoppaFeel.  
Although we are a small society and committee, we have the ability to make a big impact on campus. With this year's newly expanded committee, we are looking forward to running a broad range of sober and non-sober socials throughout the year, and a series of regular fundraising events. October is breast cancer awareness month, so we have been pretty busy over the past few weeks planning and hosting events. This month, we have already run a charity netball match collaborating with Cricket, a boobie brew social, and a glass decorating activity. 
 Last year, we managed to raise over £1400 for CoppaFeel through a single event, our Sports Night Takeover. This fundraising opportunity led us to win CoppaFeel's BCAM award, and subsequently represent Birmingham on their Instagram page through a UBT takeover, showing our work to their follower base of over 213,000 people.
We are incredibly proud of the work that we are able to do at the University of Birmingham, and cannot wait to get stuck in this academic year!
Ellie Atkinson – President 2022/23 & Treasurer 2023/24
Hi, I'm Ellie, last year's UBT president and team leader and this year's treasurer.  CoppaFeel was co-founded in 2008 following Kris Hallenga's diagnosis of secondary breast cancer at the age of 23. Along with her co-founder and twin sister Maren Hallenga, CoppaFeel set out to educate and remind every young person in the UK that checking their chests isn't only fun, but could also save their lives.
Like many, and without the work of charities like Coppafeel, Kris was unaware that breast cancer could affect young people. The early detection of breast cancer can have tremendous survival rates, a fact that drove Kris and Maren to educate and empower as many young people as possible.
Years later, Coppafeel continues to celebrate and inform young people up and down the country, with an army of Boobettes, 45 Uni Boob Teams, and thousands of supporters that are helping to reduce the stigma surrounding breast cancer. They prioritise a sense of community and centre their fundraising around creating a safe and friendly space to encourage conversation.
Although UoB's UBT is a small part of this growing charity, their work is essential to maintaining the fantastic work that Coppafeel do. This team of hardworking individuals organise a varied host of events and fundraisers to support a fun space on campus that promotes diversity and inclusivity.
Upcoming Events
'Halloween Brum Crawl'
26
th
October – across city centre –
In association with Women in Politics
Pottery Painting
19
th
November – Creative Coffee Hub
How to Get Involved
We do this by hosting awareness events and stalls on campus, encouraging people to chat about breast health. We also host fundraising events for CoppaFeel and host fun socials for our society members! You can sign up to join the society on the Guild of Students website. 100% of our £6 fee is donated to CoppaFeel!
Be sure to follow our Instagram page @UOBUBT for regular updates on how you can get involved and for details on any upcoming socials or events. Additionally, we can send you a free, monthly reminder directly to your phone! Expect boob puns, song lyrics and everything you need to turn checking into a healthy habit!
Text 'UBT BRUM' to 82228 for monthly reminders to check your chest!