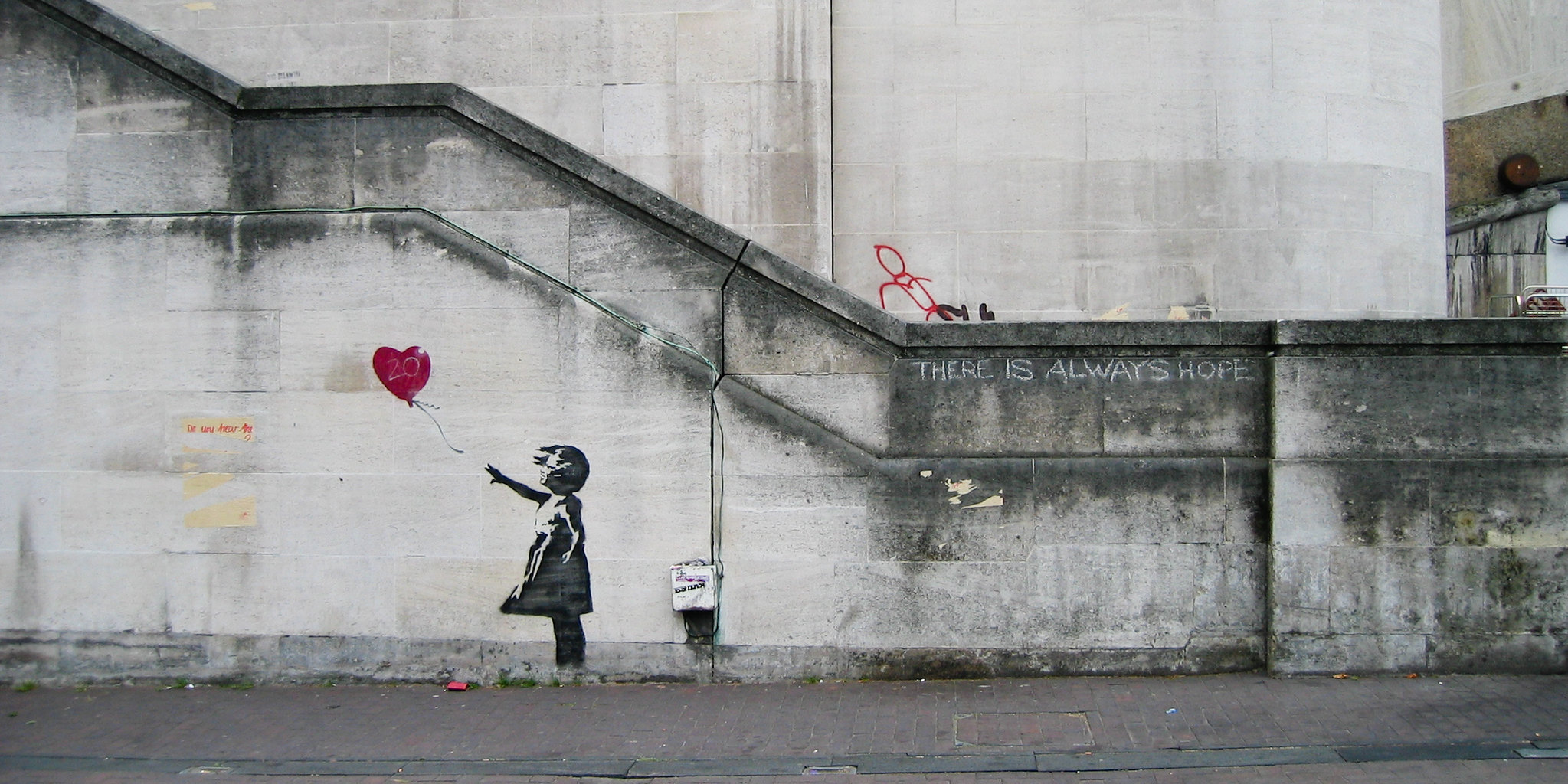 As a new Banksy appears on the Tube, Culture writer Emma Curzon takes us back through some of his best and most poignant works
Another Banksy recently sprung up on the Tube, seemingly commenting on the current pandemic, and debate around face-masks. It seems a new Banksy appears almost every month, and the notoriously mysterious graffiti artist has covered topics from the arms fair to gay rights.
One of Banksy's recent artworks, posted on Instagram on 6 June, was an appropriate and timely work in support of the Black Lives Matter movement. Depicting a vigil with a framed photo, flowers and a lit candle, the painting shows an U.S. flag hanging above the display- and being slowly burnt away by the candle's flame. The artist included a message to make it doubly clear where he stood. "People of colour are being failed by the system. The white system," it read. "This is a white problem. And if white people don't fix it, someone will have to come upstairs and kick the door in." 
To depict (and implicitly endorse) the immolation of an American flag would be shocking if almost anyone else did it, but for Banksy such acts are par for the course. His name invokes a decades-spanning catalogue of politically charged, often controversial works- not to mention the occasional headline-grabbing stunt. His stringently guarded anonymity, meanwhile, only serves to enhance his appeal.
In 2015, for example, the artist made his Black Lives Matter painting look like a cheap postcard with Dismaland. Set up on the beachfront of Weston-super-Mare, the dark twist on Disneyland was filled with original artwork by Banksy and by 58 other artists, a bus full of violent objects like riot shields and rubber bullets, and a mock-up of the famous Sleeping Beauty Castle that appeared to have been ravaged by a fire. Following the pop-up's month-long run, the Dream Boat sculpture became a raffle prize to raise money for Help Refugees (and, according to dismaland.co.uk's site description, 'the specially trained surly and unhelpful staff were relegated to Virgin customer services').
Banksy is most famous, however, for his stencilled graffiti, which can appear without warning just about anywhere, such as on the London tube. The most famous of his works deals with the Israel-Palestine conflict. Love is in the Air (Flower Thrower), showing a masked protester hurling a bouquet of flowers, appeared 2003 on Jerusalem's West Bank Barrier wall. 
This has been followed up with multiple other works in the area, including dystopian Christmas sculpture The Scar of Bethlehem. At first glance it's a simple, classic Nativity scene but, instead of the classic star shining above the baby Jesus, a vaguely star-shaped bullet hole has been blasted into the imposing, brutalist wall looming over the small figures. 
Yet The Scar of Bethlehem is almost genteel in comparison to Napalm, which even now still rates as one of his most unapologetically harrowing works yet. The 2004 motif depicts a jolly Mickey Mouse and Ronald McDonald, happily skipping along, hand in hand with… the crying, naked young girl from the infamous 1972 Vietnam War photograph, showing the horrific aftermath of a napalm attack. A clear indictment of the U.S.'s involvement in the conflict, the mural belies the cheery, land-of-the-free image of America that's been woven into popular culture for countless decades, juxtaposing the child-friendly cartoons with a real-life child's horrifying traumatic experiences. 
The 6 June vigil painting is not Banksy's first anti-racism piece, either. In 2017, he borrowed the figure of a jet-black, skeletal man and his dog from Jean-Michel Basquiat's 1982 painting Boy and Dog in a Johnnypump. Painted onto the wall of London's Barbican Centre, the figure is now being dispassionately frisked by two white police officers in bulletproof vests, presumably reflecting the fact that black people in the UK are 40 times more likely to be stopped and searched than white people. Add in the "hands up" position of the figure, plus the fact that Basquiat was himself African-American, and the implications become even more glaring.
None of Banksy's works, however, have invaded the public consciousness quite so much as Girl With a Balloon. Having first appeared in several locations around London in 2002, the iconic motif encapsulates perfectly the artist's fluctuation between "wholesome" innocence, defiant agitprop, and pranks that fall into the "so weird it must be true" category. The artwork's original run had no obvious political message, but in 2005 a variation on the design appeared on the West Bank Barrier, with the girl and her balloons appearing to fly over it. In 2014, the motif was reworked again so that the girl became a Syrian refugee and, three years later, the original was voted Britain's favourite artwork. 
By this point, Girl With a Balloon seemed to risk abandoning her subversive street art origins to become conventional, almost tame- until 2018, when her creator did the unthinkable. A 2006 original print came up for auction at Sotheby's, and was sold for £1.3 million… at which point the artwork promptly "self-destructed", dropping into a shredder concealed inside the frame. Amusingly the buyer was still happy to go through with the sale, possibly because their purchase, now retitled Love is in the Bin, had ironically been rendered more valuable by its half-shredding. In true Banksy form, the stunt grabbed headlines and dominated art world discourse for weeks, as well as setting a record with Love is in the Bin technically being the first ever work of art to be created live at auction. 
After such an outlandish, unexpected middle finger to the art establishment, a potentially controversial Black Lives Matter-themed painting is, by the artist's standards, almost laughably conventional. Surrounded by its peers, it risks being little more than an everyday return to form for  a man who claims to have once broken into London Zoo and painted "We're bored of fish" on the wall in the penguin enclosure. And with the world rather preoccupied by both the Covid-19 pandemic and the same anti-racism protests that Banksy was supporting, there's little room- or patience- for the occasional anonymous graffiti stunt. 
Still, if this artist's track record has taught us anything, it's that he and his work aren't going anywhere.
---
Still craving art? Check these out:
I Thrive on Solitude: Tracey Emin's Blue Period?
Review: (Virtual) Sights of Wonder