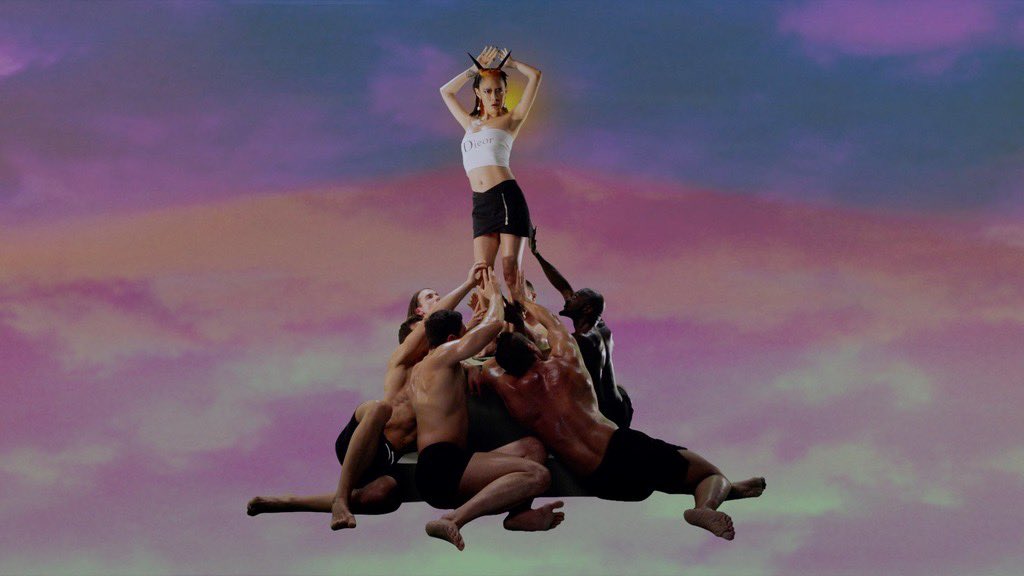 Life&Style's writers revisit some of their favourite music videos to discuss their iconic looks and aesthetics
Jade Matlock – 'Comme Des Garçons' (Rina Sawayama)
For effortless mastery of the 90s homemade aesthetic, look no further than Rina Sawayama's video for 'Comme Des Garçons'.With three distinct looks, Sawayama takes conventionally masculine presentations of fashion and style, such as suits and iconic haircuts made prominent by men in film, and accents them with flamboyant femininity. These androgynous styling choices are a testament to the message of the song, in which Sawayama expresses her disinterest in having to adopt masculine traits to appear confident.
Contrast between symbols of dominant masculinity and Sawayama's utilisation of feminine accessories, creates a jarring presence in the video. Most of the time is spent alternating between two outfits: a lace corset complimented with shoulder reaching latex gloves and neon blue eyeshadow; and an oversized dress shirt complete with a tie and suit trousers, brought together with a greaser haircut and intricate facial makeup. Each look seems to present the ways in which men and women convey power through fashion: the 90s latex dominatrix subculture and the staple of workplace masculinity. Between the two seems to be Sawayama's 'fashion demon' attire, with various monochromatic branded t-shirts being paired with flame accented trousers and horns fashioned from her hair.
The fashion of 'Comme Des Garçons' is a perfect demonstration of the power that fashion has in expressing what words cannot – an individual can be powerful regardless of their gender, championing fashion as creative expression rather than a strictly gendered construct.
Frankie Rhodes – 'You Belong With Me' (Taylor Swift)
2009 saw the release of one of the best music videos of all time, and also one of the biggest dramas. It was during Taylor Swift's acceptance speech for the VMA Award for 'Best Video For a Female Artist', that she was notoriously interrupted by Kanye West, who argued that Beyoncé deserved the title for her 'Single Ladies' video. Yet, we shouldn't let this scandal distract us from just how brilliant Taylor's music video actually is- with a noughties aesthetic that has inspired millennials ever since.
The video for 'You Belong With Me' follows a geeky, bespectacled high-school Taylor as she crushes on her neighbour, a dreamy young man who is currently dating the most popular girl in school (also played in the video by Taylor.) She sports checked pyjamas and colourful hoodies as she dances around her bedroom, with her over-sized spectacles paving the way for the 'fake glasses' trend that dominated 2010. As the evil rival girlfriend, she wears a hot pink sweater, cheerleading outfit and skimpy prom dress, perpetuating stereotypes of the popular noughties teen that we notice in movies such as Mean Girls.
For Taylor's ultimate transformation from geek to chic, she pitches up at prom in a simple yet beautiful white dress, accentuated with jewels on the hem and earrings. But my favourite shot has to be of her loose pigtails as she plays in the brass band, perfecting that nerdy-yet-cute style that New Look and H&M have been trying to perfect for years. Her music video might not be the fierce, perfectly choreographed feat of Beyoncé's 'Single Ladies', but it still manages to be an example of classic noughties fashion, with a soppy storyline to match.
Hannah Massey – 'Cornerstone' (Arctic Monkeys)
Arctic Monkeys' iconic 'Cornerstone' is a song that is heart-rending in both lyrics and composition, and yet is paired with a video so comically sincere it became a meme amongst fans. This humour can be found throughout the band's music and their videos, but 'Cornerstone' is particularly characteristic: we see Alex Turner, dressed in a simple red turtleneck, with overgrown and messy Humbug hair, singing into a tape recorder whilst staring inquisitively at the camera.
This look has become emblematic amongst Arctic Monkeys fans, leading to fancy dress recreations every Halloween, and this is ultimately because of the awkwardness with which Turner wears it. The video is littered with cringe-inducing 'dance' moves, if you can even call it dancing at all. Turner pirouettes towards the camera looking thoroughly uncomfortable and strokes the wall, crooning 'so close that the walls were wet'. These comical scenes have led to the video's notoriety. Immediately recognisable at first glance, it is a look that inextricably carries a certain level of satire – I for one have never seen a red turtleneck and white headphones the same since.
Romana Essop – 'Sorry' (Justin Bieber)
After spending the latter half of his teenage years facing huge criticism from those in an out of the music industry, Justin Bieber hit back with his fourth studio album, Purpose. Following the relatively forgettable release of compilation album, Journals, a year earlier, Purpose was in many ways considered a comeback album for the pop singer. 'Sorry' was just one of the album's hugely successful singles that has become one of the defining songs of 2015. This was, of course, accompanied by an equally iconic music video, which is Bieber's most viewed video to date, and has amassed a billion views more than that of his infamous 'Baby'.
The fashion and aesthetics of this video has no doubt been central to its success. In a bold move, Bieber chose not to feature in the video, which is instead led by a group of female dancers performing a somewhat bizarre but nonetheless brilliant routine. The troupe, who also feature in a specially made video for 'What Do You Mean?', are only elevated by memorable styling. Every dancer showcases bright colours that echo 80s era looks, whilst promoting sports brands, crop tops and striking prints that were at the peak of their popularity at the time. Of course, the video would not be complete without the large, distinct sunglasses worn by every dancer. These accessories perfect their outfits, and tie the crew together, creating one body of dance party excellence.
Check out our other fashion features:
Fashion in Film: Iconic Movies That Never Go Out of Style
Dressing for a Pandemic: Post-Lockdown Fashion Predictions