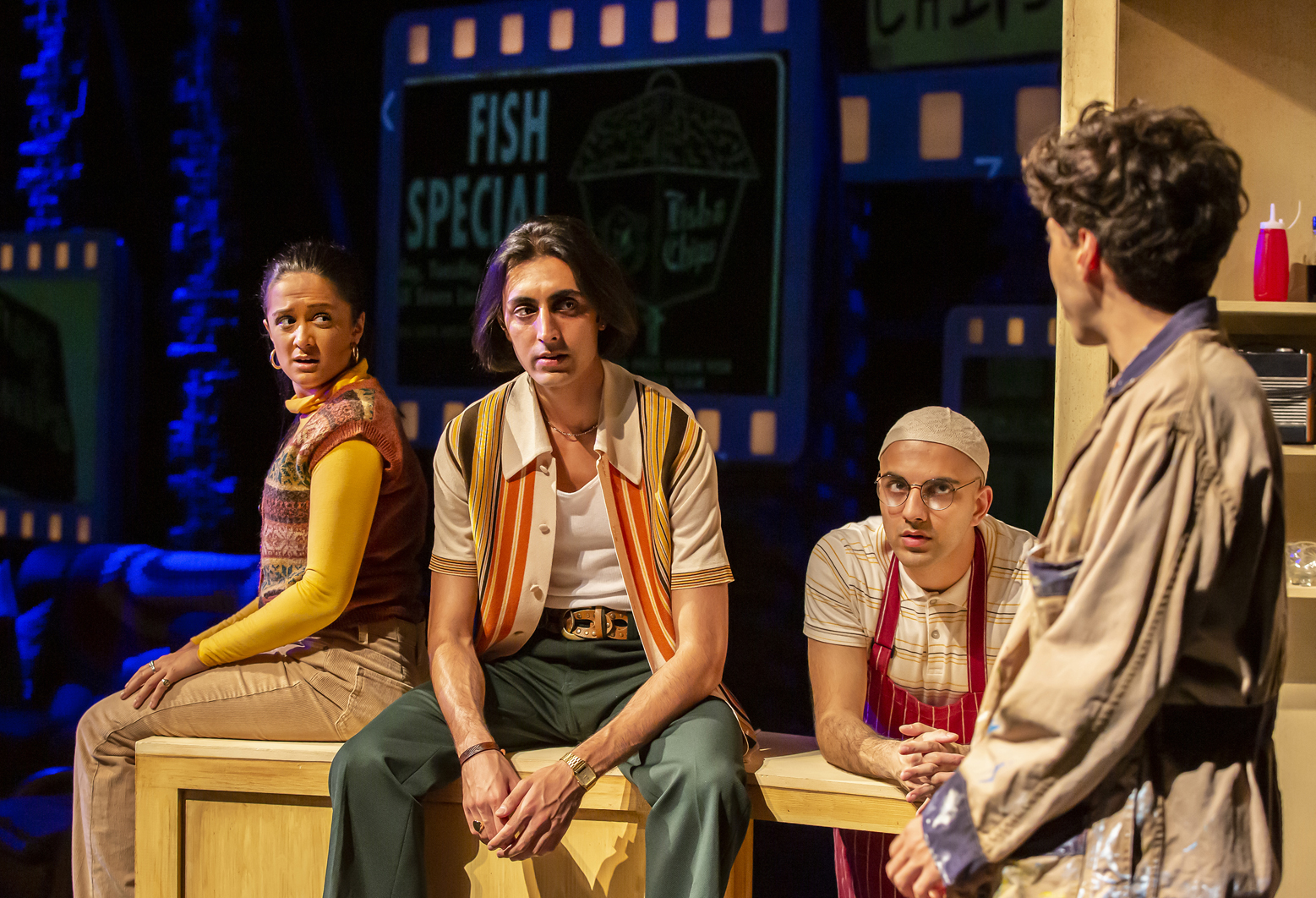 Deputy Editor Jasmine Sandhar reviews East is East, praising most of the cast's acting and its relevance despite it being set nearly 50 years ago
Content Warning: This article contains themes of internalised racism and violent confrontation between a couple which some readers may find distressing. 
What better way to celebrate the 25th anniversary of Ayub Khan Din's beloved comedy-drama than bring the production back to its first-ever stage? Although East Is East has become something of a national treasure – having sold out three London runs and been adapted into a BAFTA Award-winning film – there is no place quite like home, and this was more than evident from the audience's roaring reception of the performance at the Birmingham Repertory Theatre last Friday night. 
Set in a 1970s Salford, the play follows the trials and tribulations faced by a mixed race household; however, everything we see is through the focal lens of Sajit Khan, a 12-year-old boy who refuses to remove his Parka jacket (a nostalgic nod to the era) and frequently runs off to the recluse of the coal shed with resentment. This is portrayed rather cleverly in two ways: first as a prop, with the Polaroid camera constantly dangling around Sajit's neck symbolising his perspective of the scenes – this became wholly apparent at the end of the show, when he broke the fourth wall to snap a shot of the audience – and secondly through the set, with a backdrop composed of hanging digital screens in the shape of film stock projecting images of the local city's surroundings, which are presumably taken by Sajit, the 'photographer' himself.
Despite this important angle, most of the plot is driven by head-of-the-family George Khan, whose explosive actions send repercussions rippling through everyone else's lives. Whether he is insisting that Sajit's 'tickle-tackle' situation is resolved, moaning about the length of Meenah's school skirt, or negotiating the conditions of his son's arranged marriages, George's obsession with traditional Pakistani values tramples over everyone and everything like a Juggernaut. Tony Jayawardena managed to capture this overbearing temperament perfectly, utilising the physical body language of a neat, military-style salute step to signal his consistent slamming of the front door, and verbally exaggerating the expletive "bloody" to escalate the hilarity. In fact, the exclamatory profanities are characteristic to all members of the cast (bar perhaps Maneer Khan) and add an unbridled sense of humour that always left the audience in fits of laugher. This was particularly the case with Meenah Khan, played by the brilliant Amy-Leigh Hickman from Ackley Bridge, whose scathing interjections never failed to put her brothers in place.
Another strong female character is obviously the mother of the family, Ella Khan, who is the only obstacle able to butt heads with George. Although victimised in the violent confrontations that impulsively erupt with her husband – which were actually extremely difficult to watch and bred an uncomfortable silence that suffocated the theatre – Ella is not afraid to stand her ground, in attempts to reason with her husband's extremity and defend her children. Unfortunately, some of this valour was detracted from due to actress Sophie Stanton's recurrent line blunders, giving the impression that Ella was a stuttering mess in certain crucial moments she should not have been. 
Nevertheless, as a collective, the cast managed to successfully extricate the deeper, more serious themes embedded within the play. For example, Gurjeet Singh (who plays Tariq Khan) managed to inject the venom needed into his habitual slurs, thus exposing the internalised racism he was facing, and Assad Zaman (who plays Abdul Khan) brought tears to my eyes with his heartfelt anecdote about struggling to find acceptance in both the white and Pakistani communities with his mixed identity. Navigating one's way through a country and culture so different from one's own is a challenge that can seemingly never be overcome – even as a third-generation immigrant, there are times I struggle to define myself and understand where I belong. Din has managed to give voice to that indescribable experience through this ground-breaking, autobiographical work of art, which is still relevant (especially given the current UK immigration schemes in relation to Afghanistan), despite being set nearly 50 years ago. 
Overall, I cannot help but welcome the return of East Is East under director Iqbal Khan. It is refreshing to see some modern revisions, such as the funky yet intense fusion music from composer Felix Dubs, but also comfortingly be reminded of the classics – most notably, the hysteria of Saleem's vagina sculpture in a disgusted Mr Shah's lap will never grow old!
East Is East plays at the Birmingham Repertory Theatre until 25th September 2021.
---
Enjoyed this? Read more theatre reviews on Redbrick Culture:
Theatre Review: Blood Brothers