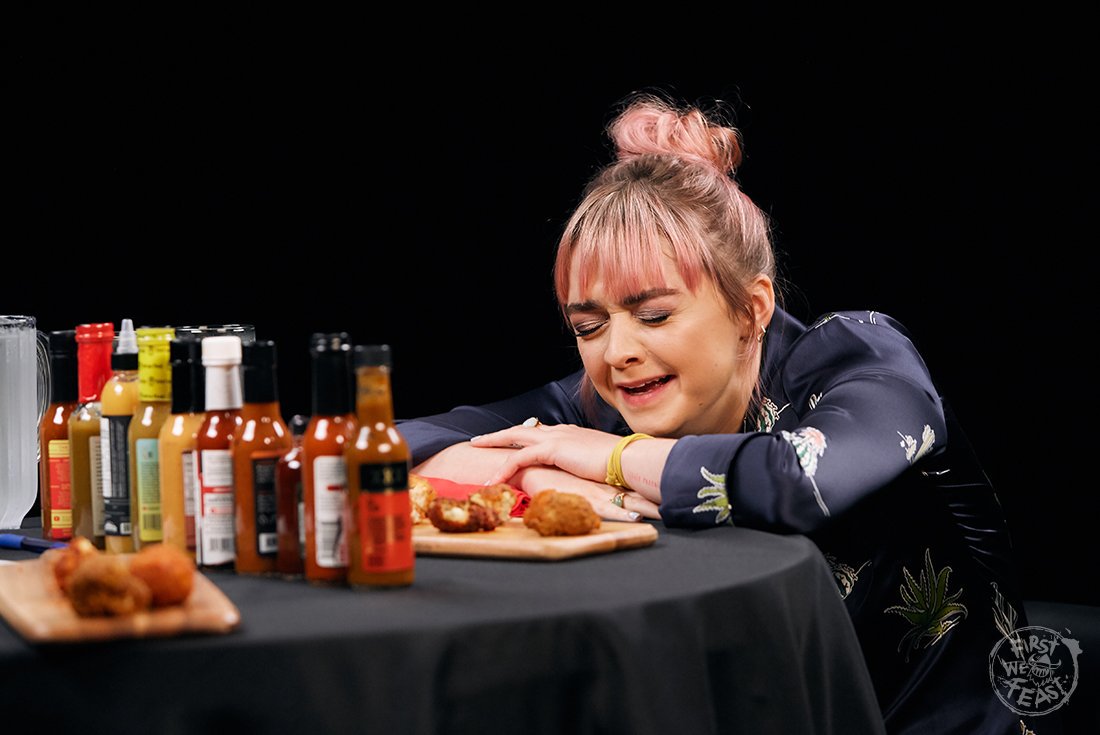 TV Critic Anoushka Nair delves into how Hot Ones spices up the increasingly plain talk show format
A lot of talk shows these days can tend to be a bit samey, cringey, and frankly boring. Watching a white guy who wears the same navy suit each week, ask a well-established celebrity – who likely has critical acclaim and humanitarian achievements to their name – who their favourite Kardashian is, can arguably get pretty old. These shows also often miss the mark when trying to highlight a celebrity for their achievements and their genuinely interesting qualities. One show, on an alternative platform, that I would argue constantly hits all these markers is Hot Ones.
Hot Ones is a YouTube web series hosted by Sean Evans on the First We Feast channel. The show invites celebrities to discuss their careers, upcoming projects, and even some more personal information. The twist, that sets this apart from the typical talk show trope and elevates the format to an arguably superior level, is hot wings. Host Sean Evans and his guest are separated by two platters consisting of ten chicken wings each that range in terms of spiciness. Their respective sauces are lined up in the centre of the table, displaying the brands that will gradually increase in heat and ultimately scorch the tongues of the interviewed guests (as well as the interviewer) as they get on with a lighthearted chat. 
Hot Ones first aired in 2015 with guest, Tony Yayo, and other lesser-known celebrities, and has now evolved to consisting of A-list guests such as Idris Elba, Halle Berry, and The Jonas Brothers. The primary appeal of the show is the talented host and Illinois native, Sean Evans. With a Webby Award for Best Web Personality/Host (2018 and 2019) in tow, Evans exudes enough personality to invite audiences back and make his guests comfortable, providing a conversational tone to the entire show as opposed to the cookie-cutter, cringy format used on television. Additionally, Evans is quick-witted and avoids the awkward back and forth of unnecessary praise. As an interviewer, he is dedicated to his guests and does extensive research into each one in order to pose compelling and original questions. 
Along with the invited guest, the show's main stars are the sauces. For any foodies, hot sauce fanatics, or just individuals looking to spice up their lives, the show educates its audience about different hot sauces and the Scoville scale (the measurement of spice), ranging from 'Tabasco' and 'Sriracha', to 'Angry Goat Hippy Dippy Green' and 'Karma Sauce'.
Finally, the show is uncensored and hence so are the guests. Perhaps the only negative point of the show is that it is targeted towards a more mature audience, potentially teens and above, and may not appeal to a more aging audience due to its many references to popular culture. Nevertheless, it does provide quality content that may be appreciated regardless. As its name would suggest, this web series is a 'Hot One' to look out for and, perhaps controversially, puts mainstream talk shows to shame. Get onboard the show's weekly upload schedule and prepare to immerse yourself into a world of 'hot questions and even hotter wings.'