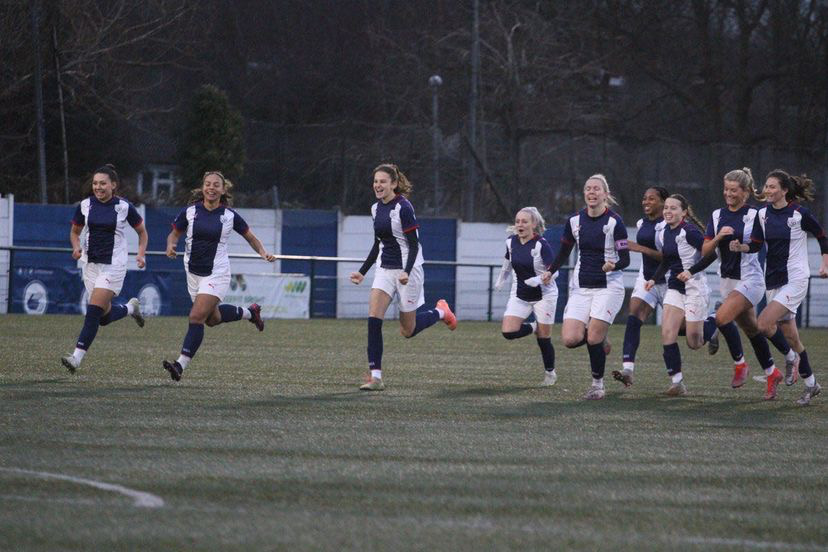 Sport Editor Lauren Coffman speaks to West Brom's Evie Gallop as her side prepare to host Coventry United in the Women's FA Cup fifth round
This weekend, 16 sides from the FA Women's Super League down to the National League will battle it out for a place in the Women's FA Cup quarter finals. Among the teams vying for a place in the hat are none other than West Midland's side West Brom, who welcome FA Women's Championship side Coventry United on Sunday 27th February 2022.
Reaching the fifth round marks a superb achievement for the FA Women's National League North side, who have only reached this stage once before since their founding in 1989. The Baggies are the last team standing from their league, and one of only three teams from the English third tier left in this year's competition. The other two, Southampton FC and Ipswich Town, have drawn each other in the fifth round, ensuring a Women's National League presence in the Women's FA Cup quarter finals for the first time since 2018.
Discussing her team's success, West Brom midfielder Evie Gallop exclusively told Redbrick, 'Growing up playing football, it's just been so great watching the FA Cup and being involved in the early stages, but on a personal level for me this is the first time I've got to the fifth round, so to be part of a team to do that is really exciting. I think everyone is just absolutely buzzing that we got there, and we'll see what happens next.'
West Brom's journey to this stage involved a tough fourth round contest, as they edged past fourth tier Exeter City via a penalty shootout. Despite their best efforts neither team were able to break the deadlock over 120 minutes, but the Baggies ultimately showed their class from the spot to seal a memorable victory.
𝐎𝐔𝐑 𝐅𝐀 𝐂𝐔𝐏 𝐉𝐎𝐔𝐑𝐍𝐄𝐘 𝐒𝐎 𝐅𝐀𝐑…

A win on penalties against @ExeterCityWFC in round four, set up this weekends tie with Championship side, @CovUnitedLFC.#WBA | @VitalityWFACup

— West Bromwich Albion Women (@WBAWomen) February 24, 2022
'Drawing Exeter, with them being in the league below us, we kind of had the pressure to win the game, which added to the intensity of it,' Gallop reflected. 'Obviously we made it a little bit more difficult for ourselves than we would have liked, but to be able to step up and get the win on penalties is something really promising for our club, so we are really happy we did that.'
The Baggies now face Championship side Coventry United this Sunday, a draw that Gallop and her side were pleased with. She told Redbrick, 'We were really hoping for a home tie, it means someone has to come to us and perform where we are used to playing, so as soon as we heard our name come out first that was a first buzz.'
Coventry United have had a challenging couple of months to say the least, having been saved from the brink of administration only to receive a points deduction from the league and have their subsequent appeal denied. This has left them propping up the Championship table on minus four points, and facing an uphill struggle to avoid relegation. Regarding their upcoming opponents Gallop said, 'It's going to be a very exciting game. They are a team that's trying to perform in the Championship but are struggling a little bit. They are in the league above us so the pressure is on them and we can take the excitement of the FA Cup into the game.'
Gallop added, 'It's kind of a Midlands rivalry as well so we'll bring everything we can to the game. Before Coventry went up to the Championship they were in our County Cup and there was always a big competition [between the two teams] around that, so to take that to the next level is going to be exciting for us.'
West Brom come into the tie fresh off the back of securing their place in this year's County Cup Final. A comfortable 4-0 win over Stourbridge will provide the Baggies with a morale boost ahead of Sunday, and sets up an thrilling finale against division rivals Wolves, who are striving for promotion in the National League North. Meanwhile Coventry United have not played since their 1-1 draw with Charlton Athletic a fortnight ago, due to the international break. Whilst they may not have momentum on their side this will have given the visitors plenty of preparation time on the training pitch in the lead up to Sunday.
The Baggies will be hoping for another FA Cup triumph to mark the start of a memorable week, as they prepare to play a landmark first game at The Hawthorns, home of their men's side, just seven days later, facing Midlands rivals Derby County in another crucial league clash. Discussing what is set to be a historic day, Gallop told Redbrick, 'Our manager that's come in this year, Jenny [Sugarman], she's been really good at trying to build the link with the men's team, which is a huge thing for women's football. I think if you can build bridges and get that support it's going to help us progress and get that funding behind us to help get up to that higher level.'
West Brom host Coventry United on Sunday 27th February at Coles Lane, Sutton Coldfield, with kick-off set for 2pm. Tickets can be purchased for both the Women's FA Cup tie and their upcoming league fixture at The Hawthorns on their website https://www.wba.co.uk/tickets/match-tickets or on the gate.
---
Like this? Check out more from Redbrick Sport:
Forest Knock Out Holders In Explosive FA Cup Tie
Match Report: Aston Villa Women vs West Ham United Women