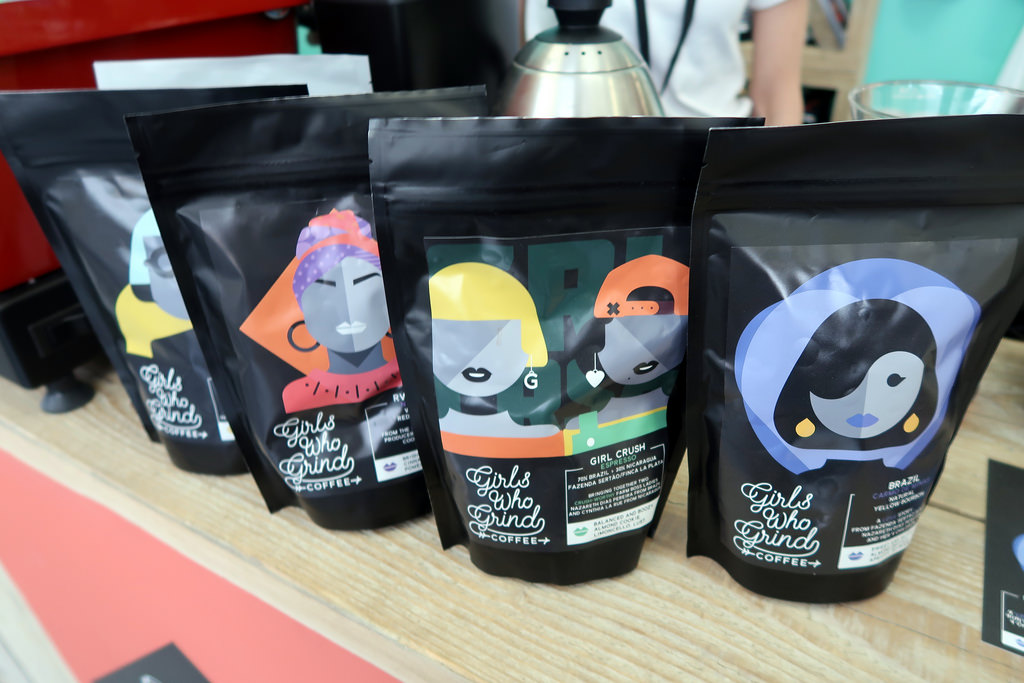 Food & Drink Editor Lydia Waller celebrates a current example of all-female powered brands and production lines in the coffee industry, Girls Who Grind Coffee
In the weeks around International Women's Day, my mind has been buzzing about all the women I can see in my social media pools, national news consumption and general surroundings. We are most definitely caught in a cultural moment of female-awakening and a recognition of the power and capability of the female force, amongst the #MeToo rhetoric. As an avid foodie, news about independent food and drink start ups is so exciting for me, and when they are driven by a force of feminism, catering to empower women across the globe with their production companies and businesses, my sisterhood soul is well and fully nourished- just like when I discovered 'Girls Who Grind Coffee.' 
'Girls Who Grind' is a wittily named, punchy brand of coffee roasters, founded by two women, Fi O'Brien and Casey Lalonde- setting up a coffee brand that empowers females in the male-dominated world of coffee; despite the farm work and unskilled labour in the production of coffee, being disproportionately carried out by women. 'Grind' carries punny yet powerful connotations of what the role of women in the coffee industry and society holds- having its associations with working on the grind, as these labouring, roasting and barista girls do; also its sexual connotations of women being 'grinded' on, therefore acting as a commentary of correction for the use of the verb 'grind' in application to women, and lastly and most obviously, the women who are literally grinding coffee, for this awesome, woke and wonderful company. O'Brien and Lalonde founded their own small roastery in the little corner of the South-Western English world, that is Scudamore.
From this small patch of countryside, these 2 innovative women have founded their own roastery that only buys their beans from female farmers and producers; only working with female cooperatives, to empower the women at the forefront of their company with their branding, and the women in the background, working on the farms and producing the coffee beans. This threading of the omnipresence of the female in their company, is so powerful and prevalent, particularly in the way they speak about their company. O'Brien in an interview with WeHeart, states their roasting machine is named 'Aunt Edie,' (even the mechanics in their company are symbolic of female power), which they use to make floral or chocolatey and richer roasts, by either roasting lightly or longer, describing their different blends and moisture with so much detail and passion, you really get a feel for their dedication to their craft. They make exceptional coffee, by exceptional women- branding each of their 5 blends after women who inspire them. 
For example, one roast is entitled 'DR Congo Coffee' which supports Rebuild Women's Hope Program, an organisation that transforms lives of Congolese women through entrepreneurship and economic training in the coffee industry. Even from their launch as a brand at a House of Vans Breast Cancer Awareness evening, they have been supporting and donating to non-profit organisations that empower women across the globe, through the world of caffeine. GWGC support female coffee producers from Nicaragua, Ethiopia, Colombia and The Dominican Republic of the Congo, demonstrating inter-sectional feminism in the most effective and creative way; 2 white western women, using their position of management and imagination to reach out to the less represented grafters of coffee across the globe, who have less say and less pay.
This female directed commercial conversation, through working with female managed roasteries and coffee producers, is an endorsement of working with autonomous women and agents over their own work and story. O'Brien and Lalonde are illustrating the power in 'reversism' of injustice; when women aren't allowed to have a say in an industry where their labour is priceless, they can and will reclaim the resources and liberate and celebrate their silenced sisters with it.
The goal of representation, working and willing women across the world who are producing the world's morning coffee fix, is epitomised in their punky, bold and dynamic branding. The company's branding is mainly crafted by O'Brien's husband Ben, which in itself, also demonstrates effective feminism with male allies, helping empower the representation of women, using their skills and efforts. Ben and O'Brien have described the brand as 'tattoo type,' (perhaps mimicking O'Brien's own very cool ink)- it's gutsy, grabbing and gorgeous. O'Brien opted for a black basis to their brand, as she feels "too many female brands use pink," choosing not to endorse the reclaiming of effeminate assigned colours to her girl-power aesthetic. Girls Who Grind have designed a 'girl' for each coffee, imitating the woman who inspired or literally brings, the blend. The pop-art-esque cartoon figures of the stylish and edgy packaging, are said to mimic the women who have "long-inspired" 'Girls Who Grind'- such as "Vivienne Westwood" and "Michelle Obama."
It is brands and company founders like these, that are materialising daily gender-equity. From their recognition and research of their under or mis-represented sisters across the globe, such as the 3 Boza Sisters, from 'Finca San Antonio Amatepec,' who grew up on a family coffee farm but were not provided teaching in the trade because of their gender, but now run the whole show, that are initiating an emancipation of unrecognised, grafting, crucial women, in industries and spheres that are relevant and accessible to them. The power of food and independent food businesses are perfect for enabling a change in the narrative around what roles women have in global and daily production and resources. One cup of coffee can represent the women scientists who calculate and create the perfect roast, shade and note for the coffee; the women who grind, who serve the coffee with a smile everyday on your way to work- all of those valuable women who go uncelebrated because of the hipster cliche of coffee roasting and management, as a typically male sphere. Using the medium of food and drink, that is so relevant to everyone's lives on the daily, practises integrating empowerment of women, every day. 
From 'Girls Who Grind Coffee,' to Ellen Bennett, the creator and founder of the Hedley and Bennett apron that all the disproportionately male professional chefs wear, women are creating and supporting businesses in the food industry, that celebrate and empower women working at the front and in the background of the food sector, constantly. Women in the kitchen has been a historically problematic and misogynistic trope, but women such as 'Girls Who Grind' are reclaiming that narrative to inject some bad-ass empowerment of women and their key role in the world of food.