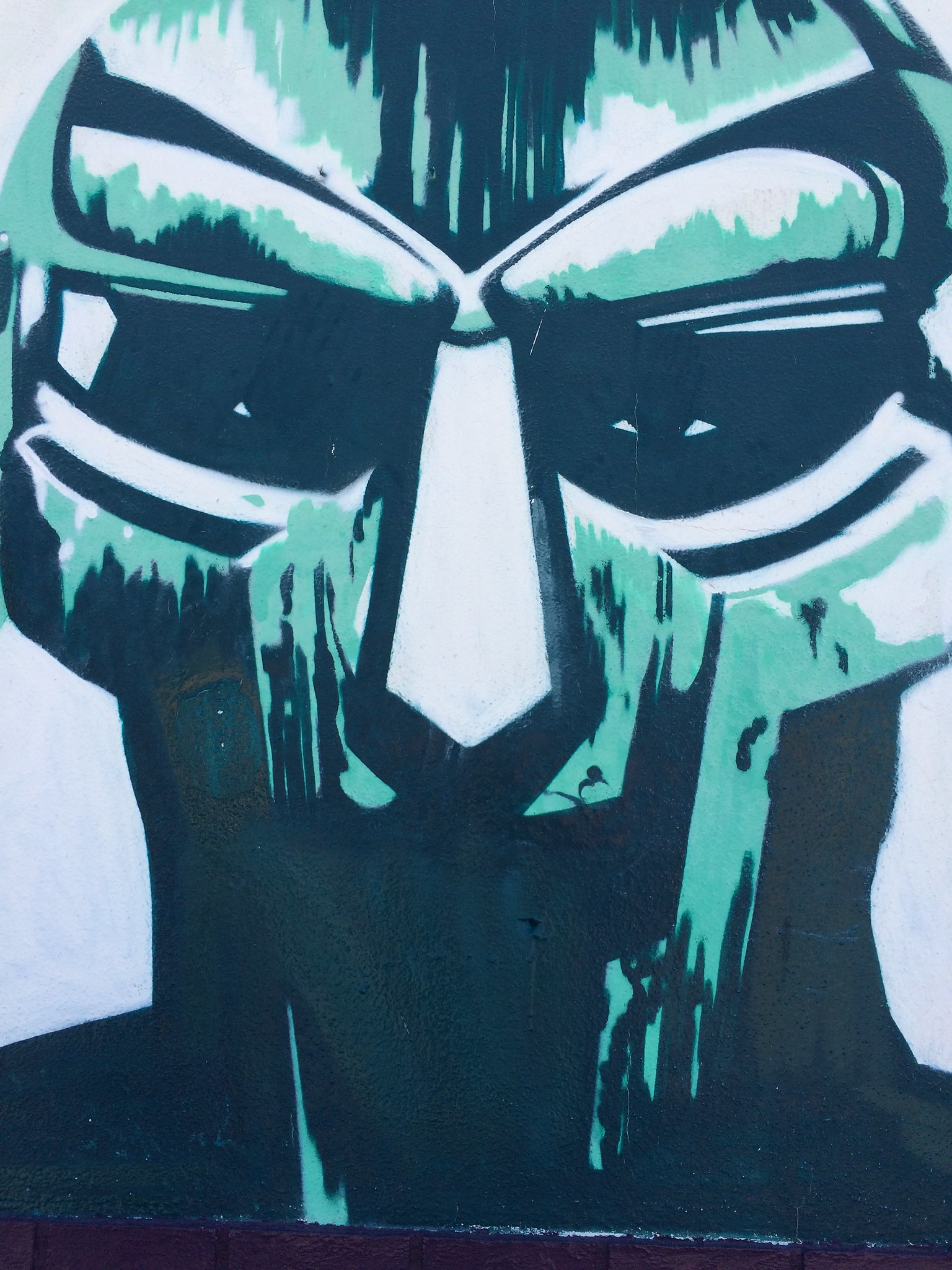 Music Critic Ben Forsdick pays tribute to the late rap legend MF DOOM by ranking the influential artists work
On New Year's Eve 2020, news broke of the death of Daniel Dumile, known to most as the rapper MF DOOM (yes, I will be using all caps). At 49 years of age, his untimely death provoked an outpouring of tributes, with DOOM resultantly being the artist who many listened to last in 2020. DOOM was one of the most significant musicians of underground hip hop throughout the last twenty years. His legacy is immense. Resultantly, as a tribute to the late masked villain, rather than simply review one of his classics, we're going to examine the bigger picture by ranking DOOM's studio releases, from worst to best. For the sake of both comparative fairness and brevity, this list will only contain solo records, or collaborations where DOOM handles the vast majority of rapping. So, instrumental projects will not be included, nor will records where DOOM is mostly acting as the project's producer. Likewise, KMD records and the collaboration with Czarface will be excluded (although that Czarface collaboration is one of DOOM's most underrated). This leaves us with nine albums. The ordering here is part personal preference and part cultural impact and influence. However, DOOM has never released an awful record and as long-time fans will recognise, the pure quantity of great records on this list will swiftly demonstrate that DOOM's CV puts most other rappers to shame.
9. Key to the Kuffs
Many would agree that one of DOOM's weakest releases was his 2012 collaboration with Jneiro Jarel. While Key to the Kuffs is not on the scale of other DOOM releases, it does have his characteristically intricate flows and wordplay. However, the vagueness of the themes of freedom and allusions to Britishness that run throughout the album are unlikely to have listeners studying DOOM's bars. The Jneiro Jarel produced beats are comparatively uninspiring too. There are highlights to this record, one of which being the Beth Gibbons feature on the track 'Gmo.' Yet for the bulk of the record, Doom comes across as a little underused, leaving the listener a touch underwhelmed.
8. Venomous Villain
The second of two records DOOM released under the pseudonym Viktor Vaughn, Venomous Villain is a record whose brevity is its greatest flaw. The flow from track to track on Venomous Villain is fantastic and the variation across the record means it is a thoroughly entertaining listen. 'Doper Skiller' with Kool Keith is one of the most fun collaborations DOOM has ever recorded. However, the beats are by no means as nasty and hard-hitting as on other DOOM projects; understandably undesirable for those who enjoy DOOM at his most raucous. However, the biggest issue with this record is it could have been so much more. At 35 minutes in length, Venomous Villain could have seen DOOM's flows and lyrics played out over a more substantial tracklist, but this short of a DOOM record simply leaves the listener wanting so much more.
7. Take Me to Your Leader
Take Me to Your Leader is perhaps one of DOOM's more underappreciated records. It is undeniably one of the lesser talked about DOOM albums and has not permeated wider hip hop in the way an MM…Food has. Take Me to Your Leader is a bit of a strange release for DOOM. The record is fairly short and features significant use of sampled skits. Some of these more leftfield production choices may result in Take Me to Your Leader being perceived as DOOM's weirdest record, which could polarise some fans. The joy of this record is in its unpredictability. Any album with tracks as varied as the five-minute sample based 'The Final Hour' and the brilliant storytelling of 'I Wonder,' is always going to perplex; but this an interesting one if you are not objectionable to some fast-paced stylistic changes within the space of 42 minutes.
6. Vaudeville Villain
Yes, the other Viktor Vaughn album is a little lower than some might expect on this list. Despite this, Vaudeville Villain is a superb record and remains one of DOOM's and hip hop's greatest. Sound-Ink label members handle the majority of the production and the result is somewhat of a mish-mash of sounds. Nonetheless, Vaudeville Villain features some of DOOM's best lyrics, best flows and most catchy and enjoyable songs. The title track is a blisteringly savage banger and similar can be said for the following track 'Lickupon.' Both the 'Open Mic Nite' skits on this record show how effortlessly DOOM was able to integrate himself within samples of spoken word passages, leaving these skits with the weird quality of standing out as tracks in their own right. Released during DOOM's most productive of periods during the early 2000s, the album is still just short of an hour, a testament to both the quality and quantity of what DOOM was able to achieve during this time.
5. Born Like This
Born Like This is often the unfortunately forgotten DOOM record. Released in 2009, the album does find itself separated from those early 2000s records that made DOOM the great he was. Do not let this indicate that Born Like This is anything short of an excellent record. 'THAT'S THAT' is easily one of DOOM's most complex performances and features both string arrangements of intricate flows that very few rappers are talented enough to achieve, which is all the more satisfying given how DOOM's bars detail the comparative weakness of his contemporaries. The borrowed J Dilla beat on 'LIGHTWORKS' is not only a creative one, but also a bold instrumental for DOOM to perform over. Indeed, this record is DOOM pushing himself to the very limit. It is exciting, daring and just about everything that a DOOM album should be.
4. The Mouse and the Mask
In terms of consistency in delivering banger after banger, DOOM's 2005 collaboration with producer Danger Mouse is as good as it gets. Danger Mouse's beats on this record feature hooks that stick in the brain with adhesive levels friction. From the Nova Local sample on 'The Mask' to the Talib Kweli feature on 'Old School Rules,' every moment on this record is begging for a recipient crowd to collectively respond. DOOM himself sounds excellent alongside these samples and features too, performing with each of these with great chemistry. The only aspect of this album preventing higher placement is that it is mostly a collection of great songs. It is not the cohesive experience of a record like Madvillainy, but if you are simply looking for a collection of near perfectly constructed hip hop tracks, The Mouse and the Mask is a record that does very little wrong.
3. Operation: Doomsday
In 1999, the rapper formally known as Zev Love X obscured his complexion behind the mask and MF DOOM was brought to life. Operation: Doomsday is the first record that saw Daniel Dumile take on the role of the villain and it stands up against many of the classics that followed. This record is DOOM operating as a one-man (villain) production and rap machine. Some of DOOM's most notable tracks are on this record; 'Doomsday,' 'Rhymes Like Dimes' and 'Red and Gold' are all essential DOOM tracks. For a debut record, the maturity behind DOOM's stylistic choices and themes is far beyond what most would have excepted. If there was any doubt of DOOM's skill as a rapper, 'Tick, Tick…' may be his best performance on any track period. How DOOM had the audacity to rap over a beat that is constantly accelerating, and decelerating, is extraordinary enough. The fact he made it work borders on miraculous.
2. MM…Food
Were this list based on personal preference alone, MM…Food would likely take the top position. Rife with food related double and triple entendres, this record sees Doom deliver some of the most entertaining bars of his career. MM…Food is split into three parts, with the middle section operating essentially as a sample oriented, elongated interlude, which hilariously details the positives of edible food wrappers (here is the 'rapper' double entendre). Of course, edible wrappers reduce waste and Doom is no different as an (in)edible one. This album is fairly tight and waste-free for its 15 tracks and 48 minutes, as Doom threads lyrical puns throughout one of his catchiest sets of beats. There are the classic rock inspired guitar leads on 'Rap Snitch Knishes,' the beatbox sampling on 'Hoe Cakes,' and the track 'Deep Fried Frenz' is a brilliant set of verses about the unreliability of friendships. It is quintessential Doom throughout and understandably one of the rapper's most celebrated records.
1. Madvillainy
It had to be Madvillainy that took the top position, if only for the reality that this record transcends DOOM as an artist and has become one of the most loved records ever to be recorded. 46 minutes and 22 songs, mostly two minutes in length, are woven together, courtesy of Madlib's unparalleled skill for cohesion. The record is almost entirely Madlib produced yet the silent communication between DOOM and Madlib on this record makes it sound like the two of them are one. Few sets of tracks come together as easily into one holistic record. Despite the short songs, there is still a healthy handful of memorable ones. 'Accordion,' 'America's Most Blunted,' 'Curls,' 'Fancy Clown' and 'All Caps' are DOOM at his absolute best. For the ambition and cultural impact alone, the highest placement on this list had to go the record which is MF DOOM as his most villainous.
__________________________________________________________________________________________   You Might Also Like:
Single Review: Bleachers – chinatown (feat. Bruce Springsteen)