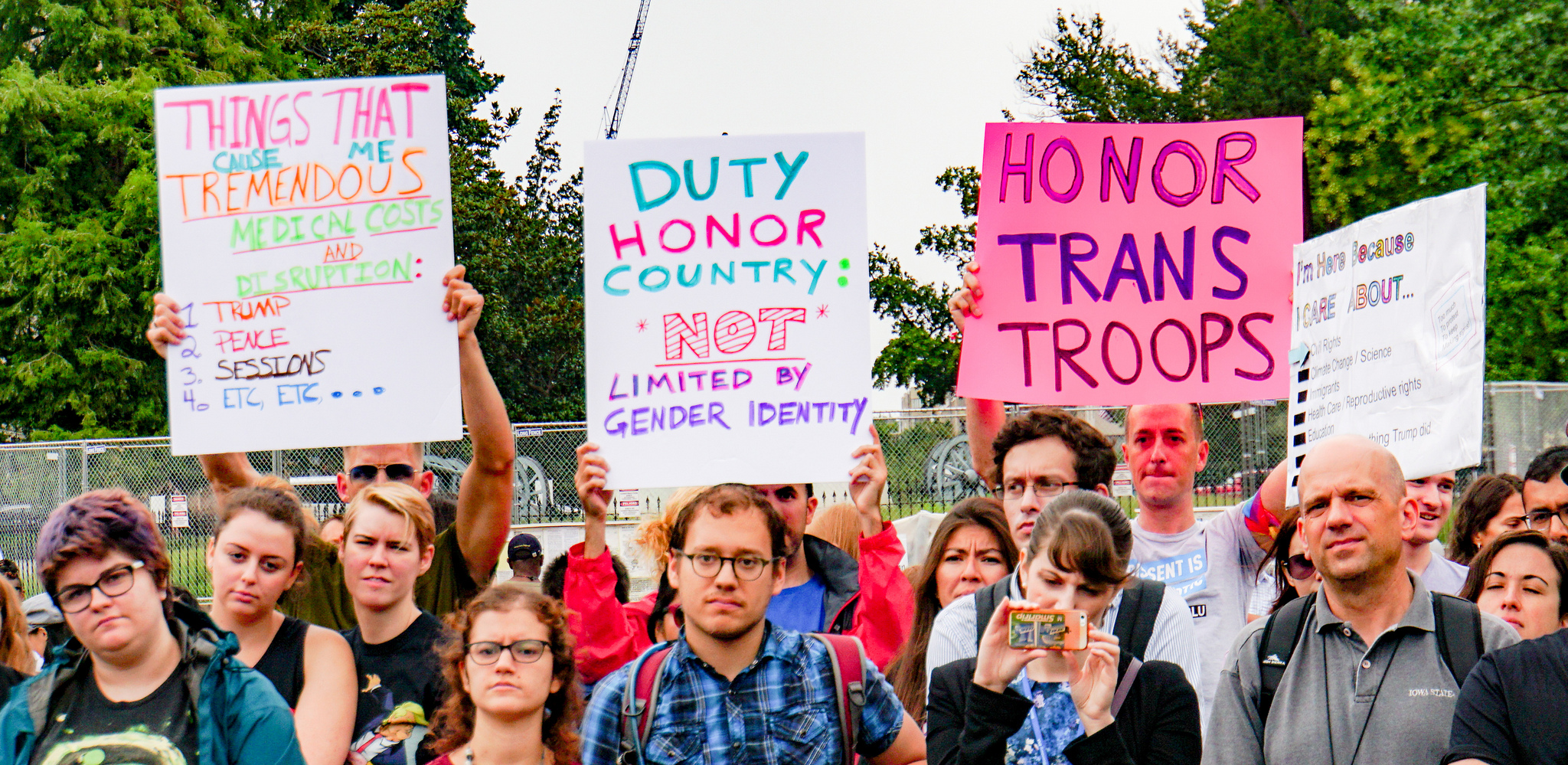 Holly Pittaway discusses the emerging activism against the US transgender military ban
When President Trump announced his plans to instate a ban on transgender people serving in the US military in July 2017 via Twitter, I thought it was just another version of his 'we will build a wall' promise (as in, it would never actually happen) – but this week I have been proven wrong. Despite the fact that the policy was temporarily blocked by Judge Colleen Kollar-Kotelly in October of the same year, on Tuesday 22nd January 2019, the Supreme Court voted 5-4 in favour of a 'trans military limit,' a ruling that marks the beginning of the undoing of more than 70 years of military legislation. If proceeded with, will have massive implications for trans identifying military officers, not only threatening their livelihood and career, but also casting them out as social pariahs.
Obviously, this is a step back in time for the United States – it was only two years ago that the law was changed under the Obama administration, as before July 2017, service members could be legally discharged from their ranks based on how they chose to identify. This regression is a reminder of the discrimination faced by African Americans, women, and gay people, who were all only allowed to serve in the armed forces relatively recently – less than 100 years ago, Army Chief of Staff, George Marshall wrote in a memo declaring his apprehension towards black service members, saying that their inclusion in the military 'was fraught with danger to efficiency, discipline and morale.'
In 1992, a report from the Presidential Commission on the Assignment of Women in the Armed Forces surfaced that suggested women should be banned entirely from serving, with one committee member imploring that an all-male military would better protect the country. Throughout the 1990s, the now-infamous 'Don't Ask, Don't Tell' campaign ensured openly homosexual people were kept out of the army, for fear that such behaviour would cause disruption and be detrimental to unit cohesion.
Of course, we know now that allowing African American, women, or gay troops into the armed forces has not had the apocalyptic effect that many of these campaigners warned it would – but who's to say this legislation is safe in the wake of Trump's transgender policy reversal?
Trump's main reasoning for the trans ban is an economic one; according to the POTUS, transgender soldiers drum up 'tremendous medical costs and disruption.' However, a 2016 RAND survey tells quite a different story, estimating that out of the c.1.3 million active-duty militants, only between 2,000-11,000 of these are transgender, and the average health care cost demanded by these individuals only constitutes a rise of between $2.4-8.4 million (that's 0.04-0.13% increase from the norm) in government spending – considering the Pentagon has just unveiled its proposal for a $686 billion military budget in 2019, I'd say transgender medical costs are hardly 'tremendous.'
But many people have suggested that the ban goes further than just being a money-saving method, and is in fact, part of the Trump administration's plans to wipe out the term 'gender' from UN Human Rights documents in an attempt to 'define transgender people out of existence.'
In October 2018, the White House announced that it was considering narrowing legal gender definitions to be based solely 'on a biological basis that is clear, grounded in science, objective and administrable,' according to the Department of Health and Human Services. For me, and I hope for many others, the implications of this statement are concerning; it's estimated that between 0.5-0.6% (1.4 million) of the US total population openly identifies as transgender (although this figure could be larger since many people may have chosen not to disclose this information), all of whom could soon be out of a job just because they don't fit the biological mould. Such legislation has even had an impact on the way people go to the toilet, for example, see the recent controversy surrounding the topic of transgender bathrooms at Virginia High School. So, if this is truly the direction Trump's administration seeks to go in, the near future could look bleak for a staggering number of people.
But before we jump the gun and start collecting tins of beans and preparing for doomsday, there is a flicker of hope that has not yet burnt out. According to a poll conducted by Quinnipac University on 29th January, 70% of Americans asked said that they were against Trump's trans policy.
Transgender activists have also refused to fade into the shadows, with many speaking out against the administration; Sharon McGowan, legal director of Lamba Legal, an LGBT rights group, spoke out this week saying, 'I'm absolutely optimistic with respect to the long-term prospects the question is: how long is the long term?.' McGowan's sentiment is one shared by many other lawyers and activists working on the cause who are holding out hope for the future, sure 'they will prevail' against Trump. Unfortunately, only time will tell what the future for transgender Americans holds, and until then, all we can do is keep the conversation going.