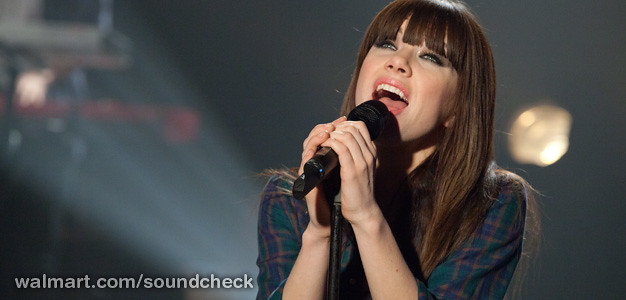 Music Editor Freddie Clark is underwhelmed by Carly Rae Jepsen's latest album by comparison to her previous music, but holds out hope for her future.
A lot of what Carly Rae Jepsen revealed about Dedicated during interviews involved what it was originally supposed to be: an "understated disco" album, provisionally titled Music to Clean Your House To. This doesn't exactly paint a picture of a tirelessly determined Jepsen, working to build upon the profound legacy of her previous efforts. The forlorn but self-aware romanticism of E•MO•TION gained the album cult status and united a devout fan base that, if memes are to be believed, are willing to arm both themselves and Jepsen should the need arise. Jepsen has often refused to be pigeonholed by past successes (see 'Call Me Maybe'), but I was nervous that this album was planned under the auspices that she was now content with her niche in the 'poptimist' movement. Thankfully, the artistry that led her to E•MO•TION has ensured that Dedicated evolved into something beyond just hoover disco.
Nothing on Dedicated reaches the unbridled joy of past singles like 'Run Away With Me' or 'Cut To The Feeling', but there is still a willingness to push boundaries within her sound. Some of the album's best songs come out of changes in sonic palette. The horn stabs and muted guitar picking on 'I'll Be Your Girl' are unmistakably ska. After its 3rd wave finally dissipated around the millennium, ska was quickly reduced to a parody of itself. Despite now mostly being confined to the festival fields of August, Jepsen has mined the genre for a surging pop instrumental to carry her envy. Upon first listen, it's all a little jarring, but by the end it's impossible not to be swept along by the tidal wave of seething jealousy and joyous brass. If you loved it when Amy Winehouse came out on stage with The Specials at V Fest, you'd appreciate Carly's attempts.
The brilliant collaboration with Jack Antonoff on 'Want You In My Room' is Dedicated's best offering. A pitched vocoder chorus along with Jepsen's playful attitude feels like the closest we'll get to Chromeo producing a Cyndi Lauper song, a long-term musical fantasy of mine. There is intoxicating, wide eyed tension and release on 'No Drug Like Me', and a sultry, sycophantic, and unexpected flip of Harry Nilsson's song from the Popeye movie in 'Everything He Needs'. Jepsen is frequently as raspy and alluring as we've ever heard her. However, while her foray into the overtly sexual provides songs that confidently stand apart in her catalogue, some of the lyrical subtlety of her best songs has been sacrificed.
The strength of the album's first half unfortunately gives way to some inconsistency in the second. The central repetition and squelching bassline of 'The Sound' feel exhausted by the time it's stumbled to the 3-minute mark. 'Right Words, Wrong Time' falls into a trap common to some of CRJ's deeper cuts; she writes a fairly infectious chorus and is satisfied to fill the time between them with short verses of underwritten clichés. Lines like "Hate the traffic in LA / I drove through it all to get to you" make the crescendos feel unearned.  To contrast, 'Feels Right' is a great nu-disco funk song with a daring stretched chorus vocal from Jepsen. It's a shame how mired it feels by the surrounding tracks that will rob it of being better remembered.
Most disappointing of all is 'Too Much'. It's a song that sounds a little too much like Jepsen's best impression of those bland chart toppers that consist of stale romantic platitudes about house parties, and a watered-down dancehall beat (Justin Bieber and Ed Sheeran currently have a No.1 single off the back of this sound, CRJ should know better). Her ability to earnestly convey the most overwhelming emotions usually help more underwhelming lyrical moments feel sincere and cathartic. Instead, 'Too Much' seems trite and lacking in ambition.
There is a strong argument to be made that Dedicated's mediocre tracks swamp those that could shine brighter. Having said that, it must be noted that the rightfully celebrated E•MO•TION also suffers from a similar unevenness in its second half. I won't be alone in feeling that the far more concise seven B-sides released shortly after were even more compelling. We've seen occasional mediocrity forgiven before and Dedicated's plurality of early good-to-brilliant songs will undoubtedly be what is remembered.
Carly Rae Jepsen has always searched for quality within quantity with both her last album and this one emerging from a pile of over 100 demos each. You really can't fault Jepsen for repeating the process either. E•MO•TION made unrequited love sound both despairing and jubilant, was conceptually realised, and attempted to reintroduce sax solos into the pop lexicon. This, along with its eager adoption by critics and the LGBTQ community alike, provide a legacy that would cast a large shadow over any subsequent album. Dedicated could never have the same seismic effect on her career but it has removed any remaining doubt about her mainstay status. It doesn't manage to reach the cohesive, worship inducing heights of its predecessor, but that doesn't mean it's not a pretty great collection of synthpop songs by itself. Better still, if history has taught us anything, patience will reward us with a set of sparkling B-sides to pair with Dedicated's undeniable highlights, and the impressive pop canon of Carly Rae Jepsen will only continue to expand.