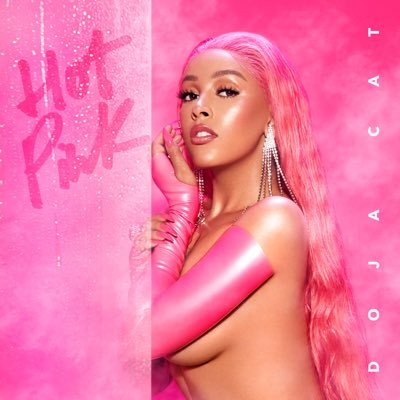 Doja Cat's sophomore album takes what made her notable and turns it to eleven Music Critic Roberta Carro reviews
Leaving behind the kooky stoner Microsoft-Paint aesthetic that propelled her into the spotlight in 'MOOO!', the new Doja is more versatile than ever. Her audacious knack for wordplay and her ability to go from chill, ultra-soft vocals to semi-frantic verses cements her voice as what sets her sound apart. But it's her sarcastic and endearing goofiness that hails her as the queen of post-ironic pop.
Indeed, effervescent album opener 'Cyber Sex' establishes Doja as a budding pop star. The cutesy vocals and bubbly beat that sounds like it came straight out of a video game are a celebration of Doja's divinely feminine persona. But as much as the track make you feel like floating away on a pink fluffy cloud, the lyrics are unabashedly sexual and are bursting with witty bravado. Blink-182-sampling track 'Bottom B**ch' further demonstrates Doja's confidence to say whatever she likes. The song blends a clever mix of different styles, turning a nineties guitar riff into a trap beat. Some may call her commercial, but Doja is simply proving her ever-thriving duality.
Next, we have a groovy nod to the 70s with 'Say So' as she seamlessly switches between floaty vocals and skilfully contained flows over a disco-inspired beat. 'Rules' and the Gucci Mane featured track 'Like That' moves us onto hip-hop and R&B. Ignoring the slightly ineffectual Gucci verse in 'Like That', yet again Doja weaves effortlessly from rap into a soft, seductive chorus over a soulful upbeat groove, reminiscent of the early-noughties. In 'Rules', Doja unashamedly tells a man to 'Play with my p*ssy, but don't play with my emotions.' The track masterfully pairs an atmospheric old-western bass with Kendrick-type flows, and lyrics that are full of raunchy quips and rhymes.
The second half of the album sees a softer, more vulnerable side to the usually assertive Doja. In R&B ballad 'Streets', the mood is sumptuous and sensual as she sings over a slow-groove beat that plays out like a telenovela. It feels like we're being let in on a secret as Doja abandons the boldness of her trademark invincible attitude. She's even sexier and more serene in 'Better Than me', however her sass trickles back into play, reminding a man that there's no one better than her. Her voice is gentle, sweet but always coy, enveloped in a psychedelic guitar instrumental.
Admittedly, some of the final tracks of the album, notably 'Talk Dirty', and 'Shine' aren't as memorable as the others. Yet, Doja does not fail to end with a bang in 'Juicy'. The track is fun, playful and devilishly flirtatious and we'll even ignore the fact that Tyga's verse on this version kind of ruins the flow.
Overall, 'Hot Pink' oozes feminine power and proves that Doja Cat is truly a master of versatility. The album is creative, adventurous, scandalous and sets Doja as a strong contender as one of today's most unique new artists.