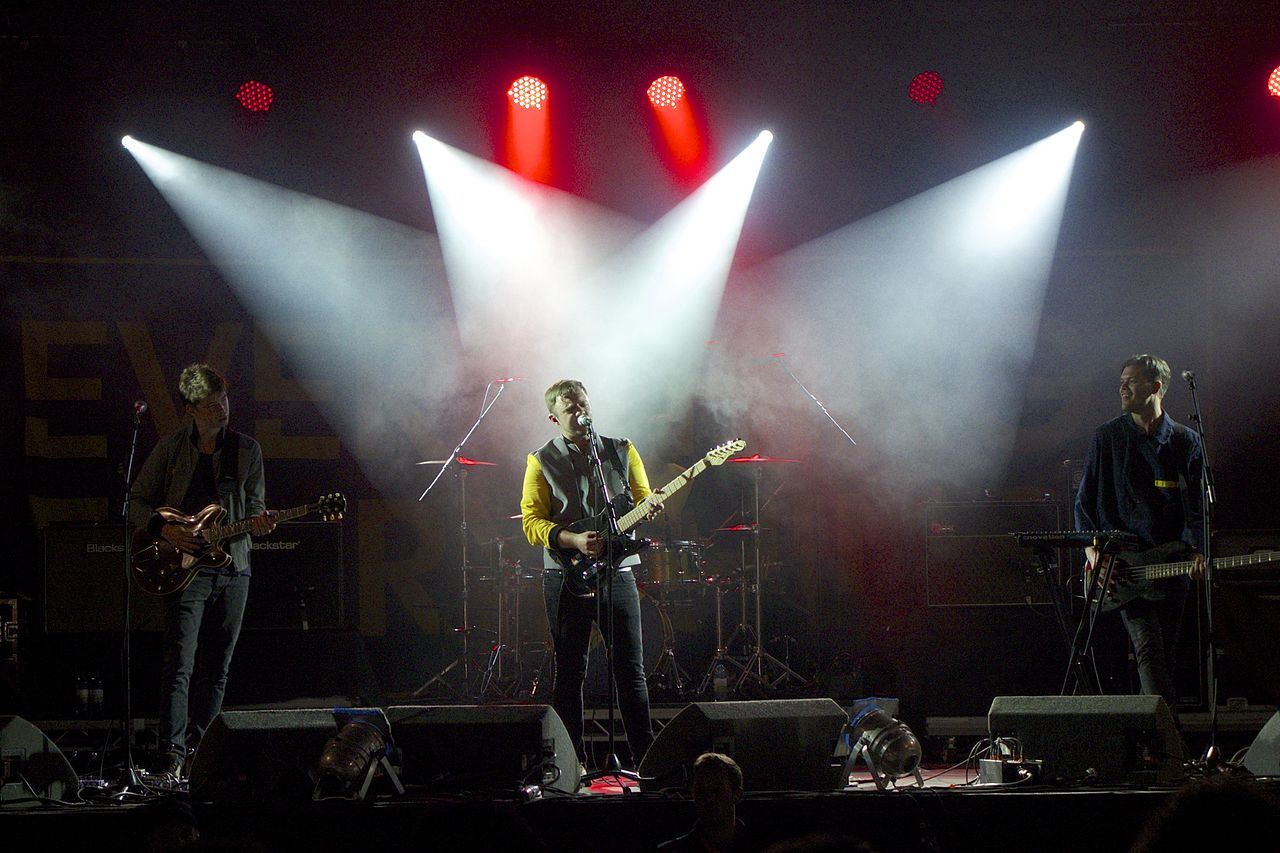 Everything Everything's latest release is a combination of good ideas and intentions with mixed results which may fail to please many of their existing fans Music Critic Ben Forsdick argues
With thirteen years under their belt and five albums released, Everything Everything are nearing veteran status within the UK Art Pop scene – with the past decade seeing a series of British bands breakthrough and gain fairly notable attention on a global scale. Wild Beasts, Alt-J and Glass Animals are all contributors to a movement that, with varying successes, has been involved in the more progressive side of 20th century pop music. Some of these groups have discographies that are as quirky and intriguing as they are inconsistent. Alt-J's An Awesome Wave is still very much the trio's most celebrated album, in the same way that Glass Animals are mostly praised for their sophomore release, How to be a Human Being. On the other hand, Everything Everything are one of the groups whose praise is more consistent. Their first couple of records introduced us to the busyness of the band's instrumentals and the wailing falsetto of vocalist Jonathon Higgs. The moment of inspiration then came with the band's third album Get to Heaven, easily one of the most colourful and expansive pop records of the 2010s. This led to the more thoughtful and mature A Fever Dream, an album that saw the band tone down some of their more chaotic instrumentals for somewhat of an ambient approach. It was a direction that did not always pay off, but still led to some admirably ambitious and lavish compositions.
Now with RE-ANIMATOR, there is a shift in aesthetic once more. The Manchester based four-piece are now far from the sounds of Get to Heaven and while there are similarities between this record and A Fever Dream, the large, epic compositions are seldom present. Instead, it is introspective and glossy songwriting that Everything Everything toy with. The approach is, in some cases, more compositionally straight forward, but do not let that give false implications that they play this album safe. In fact, they do the opposite.
While it may sound like this record is a watered-down reincarnation of its predecessor, this combining of alternative rock and electronica calls back to some of the more progressive groups of the 2000s. Previous Everything Everything records have featured a strong Radiohead influence, but never to this degree. If the band were listening to other material during the writing of RE-ANIMATOR, it failed to have any impact. There are moments when the similarities border on too derivative. The band thus create a peculiar aesthetic of sounding updated from their former selves, but in a deeply nostalgic bubble. For example, the closing moments of 'Lord of the Trapdoor' build in a very similar way to the Radiohead cut 'The National Anthem.' It is often like listening to a glossier and more hopeful version of Thom Yorke, which is not necessarily a bad thing. Indeed, some of the best tracks from A Fever Dream are the more restrained ones like 'Put Me Together' and the title track. When Everything Everything get this right, the results are exceptional. The song 'Moonlight' is superb and easily up to the standard of some of the band's best material. The instrumental is led by a hypnotically prominent bass riff and gentle, ambient guitar lines that perfectly compliment Higgs' vocals; and the lyrics to this track are deeply sad yet lowly. Lines about being 'caught on the horns,' which reference a sense of helplessness in a turbulent world are crushingly beautiful. This track exemplifies why we should not be opposed to what the band shoot for on this record. However, it is far from a consistent listen.
The quality of songwriting fluctuates wildly throughout this album and there is no greater example than on lead single 'In Birdsong'. Everything Everything often write long, ambient songs with repetitive hooks that constantly build in order to regularly surpass the five/six-minute mark. However, the elongated nature of this track is forced into a closing few minutes of ear-piecing synths. The song may have been viable as a three-minute deep cut; but for a lead single it was a severe disappointment. Once again, this songwriting approach is not something to be fundamentally against. A Fever Dream closes with 'White Whale,' a song that builds in a far more tasteful way. Likewise, one of the band's most well-known cuts from Get to Heaven, 'No Reptiles,' is built upon these same compositional foundations. In the case of 'In Birdsong,' the execution simply is not there. The closing track 'Violent Sun' is similarly flawed. The relenting vocals create a decent hook but the grandeur of previous Everything Everything closers is not apparent. The song also cuts off suddenly in a cumbersome manner that does not make for a satisfying ending to the record.
The biggest positive to take away from RE-ANIMATOR is that Higgs' vocal lines are still some of the most captivating around. He is entertaining throughout this album and his own stylistic moments still present themselves, even with the sonic change of direction. 'Lost Powers' is a surprisingly musically upbeat opening track with a group sung chorus that draws the listener in immediately. The band still has the ability to write strong hooks upon which instrumentals may be layered and meticulously tweaked. It is also admirable how the group continue to juxtapose their bright instrumentals with deeply saddened lyrical themes. This is a trait that can be seen extensively on Get to Heaven and is seemingly now ingrained in the band's songwriting style, regardless of the sonic approach. Higgs' eccentric octave leaps are centred on the track 'Big Climb.' It is not one of the band's most exciting moments of writing, although the track is still well constructed. If this album is a sign of the direction the band wishes to take, 'Big Climb' is probably the style that they should endeavour towards.
The fundamental issue is that for every song like 'Big Climb' and 'Lost Powers,' there are experiments and ideas that fail to land as convincingly. 'Planets' is a synth driven track that sounds like something The Killers may write if they attempted a more experimental route. There are some fun guitar lines during the chorus as Higgs' falsetto once again takes control of the track; but the lyrics are a distraction. Everything Everything have historically been lyrically creative. In particular, the way the group have previously approached difficult topics with a humorous personality has been one of their most appealing features. This is the first time that the humour may have taken one step too far. 'To the bigots in the bat cave/I think some of you are permanently off my Christmas list,' is extremely odd as an opening lyric and not in the way that the band may have intended. Whereas some Everything Everything lyrics have the ability to simultaneously sound funny and profound, this sounds more like a 16-year-old politics student attempting win an argument with a witty but ultimately irritating false proclamation.
This is a problem that carries into 'Arch Enemy', who's warm synths make for a tolerable instrumental. However, the lyrics are esoterically clunky. 'Dinosaur, now awake/Sphinx of grease, faceless bloat' sound like words Dr Seuss would write. Melodically, there is merit in this song as the hook is strongly performed and well written, which goes some way to proving that this record is essentially a series of good ideas that are rarely completely and successfully executed.
There are more understated tracks like 'It was a Monstering' and 'Black Hyena' which are some of the Radiohead inspired moments that don't succeed in the way 'Moonlight' does. These tracks are by no means terrible but are mostly forgettable within the track listing. Their absence would do little to change the album for better or worse. If this is an aesthetic that appeals to you, then these cuts will likely be worthy of deeper attention. However, for the most part they have a minor impact on the overall album.
There is little more to say about what is a fairly concise record. RE-ANIMATOR can be best viewed as a mixing pot of good intentions and admirable ideas which lead to varying results. The change of direction is one that could see certain fans lose interest in this album or see others' love for the group increase exponentially. However, the reality for many will be that the primary emotion evoked by RE-ANIMATOR will be one of indifference.
Rating: 5/10
RE-ANIMATOR is available now via infinity industries LLP
_________________________________________________________________
You Might Also Like:
A Press Conference for Still Woozy on the Release of New Single – BS