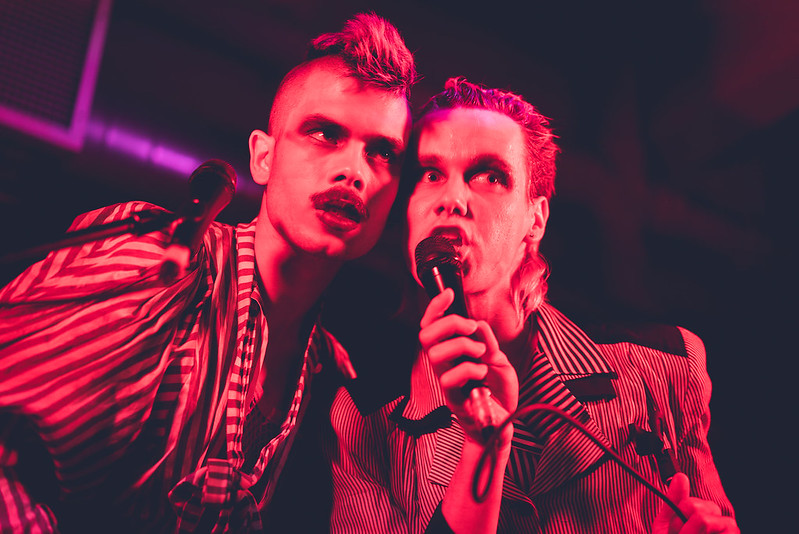 HMLTD's debut album is one that will keep fans enamoured for a long time to come, Music Critic Jade Matlock writes
Fresh from a copyright brawl with Ronald MacDonald, HMLTD have pulled no punches with their eagerly anticipated debut. The London based band formed in 2015 but had kept fans waiting for their first studio album for five years. With more synth, leather and glitter than anyone could have possibly imagined, West of Eden is an avant-garde experiment in the boundaries of musical genre. 
It is no surprise that HMLTD's sound is notoriously hard to label; from experimental rock, to EDM, their music canvases each of the far corners of genre and takes no prisoners in the process. 'LOADED' is perhaps one of the most prominent rock tracks on the album. Their lyrics are quick to discuss their quarrels with their former record label while heavily distorted synths frame the narrative. The song's continuous peaks and silences help to build an apprehensive and tense atmosphere that appears to flow through the entirety of the album.
While 'To The Door' is familiar to many avid listeners of the band, there is a uniqueness to it that never seems to fade. In what can only be described as the artistic world's most ambitious crossover between Travis Scott's trap beats and Django Unchained, nothing quite lives up to the anthem's electric energy, but that certainly hasn't stopped them from trying. 'Satan, Luella and I', another former single, strips back the adrenaline and instead chooses to let layers of melodic madness take the spotlight.
Perhaps where HMLTD's talent is most on display is in their cohesive ability to build tension. The transition from 'Joanna' to 'Where's Joanna?' demonstrates this perfectly. The former uses delicate music-box melodies and gentle instrumentation to lure the listener in, with the repeated piano riff building an almost palpable longing for the radical breakdown that listeners are so used to. The latter uses distinctly more distorted and staccato melodies to further the suspense of the former and bring it to a disjointed, but melodically dense, conclusion.
This album is a triumph in experimentation. Their sound seems to have culminated into an amalgamation of synth driven melodies, howling lyrics and an indulgent helping of glam rock and glitter. HMLTD executes one of the most seamless musical endeavours of the year to date. While the band argue that 'Nobody Stays In Love', it can be said that this album will enamour its listeners for many years to come.
West of Eden is available now via Lucky Number Music Limited