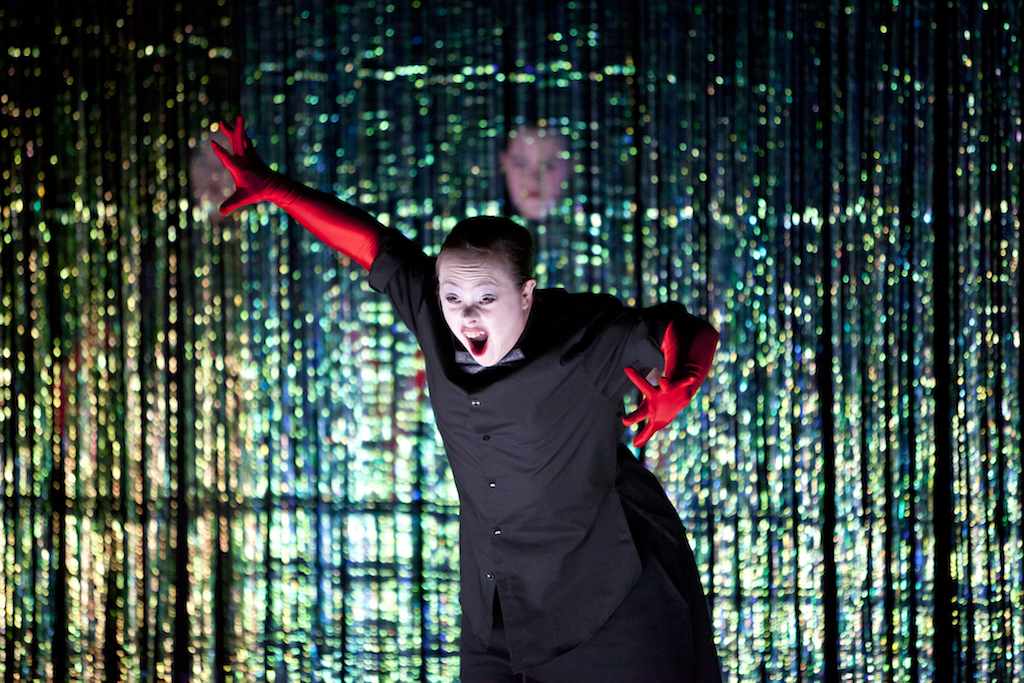 Culture Editors Luca Demetriou and Grace Baxendine both review and interview the inspirational Anjali, a dance company celebrating the creative potential of people with learning disabilites
Review of Anjali Dance Company's Genius and Beethoven – Luca Demetriou 
The Birmingham Hippodrome was honoured to feature Anjali Dance Company for their production of Genius, a double bill performance that comprises two original works by award winning choreographers Gary Clarke and Lea Anderson. Bringing dance development opportunities people with learning disabilities across venues in the UK, Anjali Dance Company is unrivalled. One of the first companies providing a framework in which people with learning disabilities can create professional work, they have been making high-quality performance for 20 years. 
Having toured in the UK and abroad in 2017 and 2018, Genius returns, revised and refined. 
The first of the double bill performances is 'Bloodsucker', previously named 'Nosferatu', choreographed by Lea Anderson. This piece was highly stylised, redolent of German expressionist theatre. With exquisite staging, the dancers performed in a three-sided box that was enclosed with iridescent lametta, transporting the audience into different carnivalesque senses. Through lighting from this genius stage styling, each lighting reflected off of the lustrous metallic foil. Aesthetically charged, each performer wore striking satin formal red gloves that allowed the dancers to foreground their expressionist movements. Based on the vampire Nosferatu from the renowned film, the performance involves five distinct tales of horror. Engaging in expressionist dance theatre and mime, this piece negotiates between different styles to present a stylised performance that required learning 72 cues. 
'Beethoven' was the second in the double bill performance comprised of touching and humorous sketches looking at the personal and musical life of Ludwig van Beethoven, choreographed by Gary Clark. Gothic, cinematic and highly theatrical, dance gestures were prominent in the making of this performance. The sequences used the memories of the performers in order to generate highly emotive stylisations, calling on naturalistic methods to inform stylised dance practices. Creating beautiful silhouettes, this piece featured formal dance aspects interlaced with theatrical expressions. One particularly captivating part was when all the dancers were sat in a line, holding each other, connected. They vacillated forward and back, breathing in sync, enhancing the sequence as they became one body. This recalling of emotional memory as a means to express the performance is clear as Clark comments: Each company member brought their personality, skill, and above all their hearts and generosity to the process, which resulted in some strong, poignant and beautiful work". 
This epitomises the Anjali ethos that the dancers evoke. Representing differently abled bodies on stage is vital but doing so poignantly articulates something human about these performances. They were tender and thoughtfully performed. Each company member had something to say: and that was asserting their aesthetic voice on stage, claiming space and expressing emotions through movement just as anyone else. 
In a Q + A post-show, company member, Alex Hyde, stated that performing with Anjali enables them to 'feel powerful to express feelings through dance'. This is an important aspect of Anjali, in not only producing work that allows the audience to feel something, resonate and empathise but for the performers to feel liberated and autonomous.
---
Interview: Artistic Director of Anjali – Grace Baxendine
The artistic director and founder of Anjali, Nicole Thomson, permitted an interview with Redbrick and shed light on its early days, its challenges and its bright future.
How did you come about founding Anjali?
I had been inspired by seeing the work of Strathcona Theatre Company in London, which produced professional-quality performances with actors who had learning disabilities in the 1980s. At the time, nothing existed that was equivalent in dance. I began teaching integrated dance classes for people with and without learning disabilities in the mid 90s, and by the end of the decade had pulled together our first company of dancers and obtained funding to develop our work.
Did you come across any resistance at the time? I can't imagine there were many companies for people with learning disabilities?
The biggest challenge was, and has always been, obtaining funding to develop the work and provide security and continuity for those involved. Professional open classes are not often accessible to our dancers, so their training with us needs to be consistent. The project-by-project funding model used by other small-scale dance companies therefore doesn't work well for us.
We often face misconceptions. There is unfortunately still a prevailing attitude around disabled-led art work which results in the majority of our audiences being incredibly surprised at what our dancers have achieved. This can also make it hard for us to broker new partnerships in the arts sector, although attitudes and awareness are definitely shifting.
Beethoven was a beautiful piece. What is special about Genius? Could you tell us a bit about the premise?
Thank you! The idea behind Genius was to explore what it means to be genius, who can be genius and why. For Beethoven, based on the personal life of the legendary composer, choreographer Gary Clarke was particularly struck by the fact that this incredible artist had a disability which most people would assume to be an imperative to the craft to making music. This was something that our dancers could respond to quite personally.
Can you tell us a bit about the dancers? How they have come on since the beginning of joining etc? How you come about scouting them?
Our dancers have gained in personal growth, confidence and artistic skill during their time with us. Alongside performing with their colleagues, and creating their own work, they have also spoken at conferences, appeared on TV and co-delivered workshops across the country. They have performed with Anjali across the UK as well as in Spain, Portugal, Germany and most recently Mexico.
People with learning disabilities can sometimes be isolated. Dance provides a safe and non-judgmental space in which everyone is accepted and valued, and in Anjali the dancers have the company of like-minded people and positive support in a nurturing and creative environment. Their mental and creative horizons are broadened, they acquire or improve life skills such as working as part of a team, they develop confidence and social skills, they are able to form bonds and friendships, and they have their talents as performing artists respected and appreciated.
We have a progression route that runs from Open Classes, to a youth company, and finally onto the main company. Most of our dancers have come to us via that route, however is is also possible for a dancer to join the main company directly should their previous experience be appropriate.
How and why did you get Lea Anderson and Gary Clarke on board the project?
Through discussion with the dancers we collectively decide what kind of work we'd like to produce, and particular artists we'd like to work with. It's important for us to test out working with a choreographer before we commit to a full commission, so we tend to hold a number of workshops with choreographers, checking that we're the right fit for each other, ahead of scheduling in a creative period.
The dancers were particularly interested in working with Lea and Gary due to their skill in portraying character and drama through dance. We also hoped that they would create two contrasting pieces, so that our audiences could enjoy a varied programme, and they certainly have done so!
How were they to work with as choreographers? 
Both Lea and Gary were great to work with. They're very experienced artists, skilled in working with dancers to craft choreography and produce what they're looking for. It's important for Anjali that the choreographers we work with communicate effectively, have ambition and high expectations, and Lea and Gary definitely have these attributes.
What does the company's success mean for disabilities in the arts? Do you think that, for example, some of your dancers would be accepted into a mainstream dance company or is there still a long way to go?
There is definitely still a long way to go, however there are many more integrated groups of both professional dancers and community classes than there were when Anjali began. There are now options for our dancers to work in dance outside of Anjali, although still limited. Hopefully we have contributed to this through demonstrating what is possible given appropriate context, support and training, and through inspiring people across the country to reconsider misconceptions and traditional models.