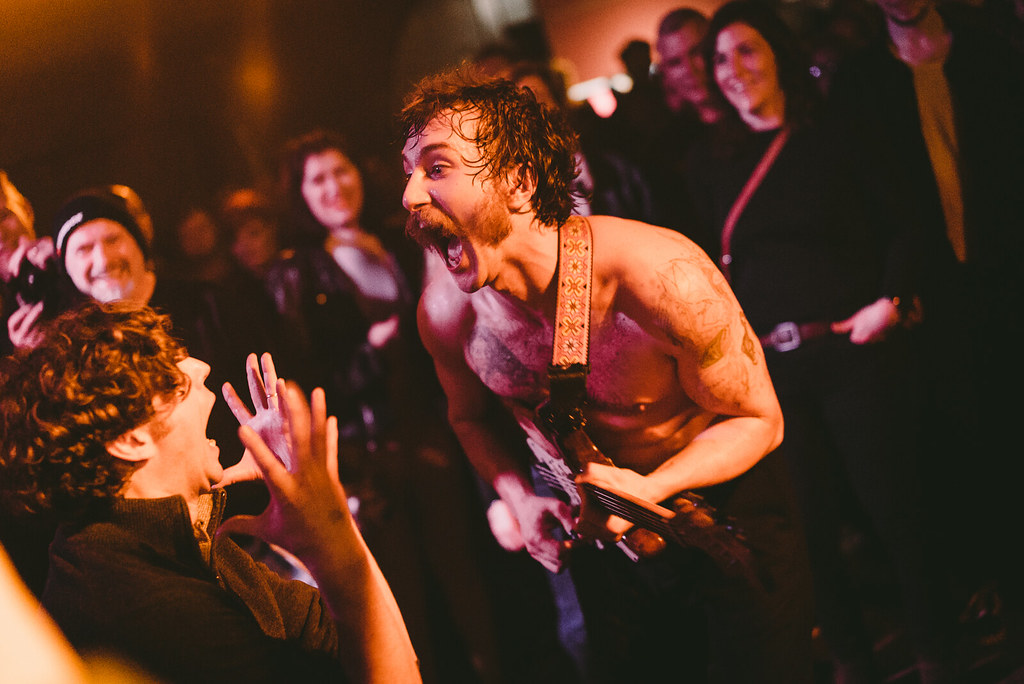 Music's Seb Rolley considers the extention of toxic masculinity by the music industry, and how bands like IDLES are beginning to reconsider this old fashioned approach.
The recent loss of Keith Flint of The Prodigy felt like a terrible blow to music as a whole. As a long-term fan, I, alongside countless others, was forced to confront the fact that a man who had seemed so vital and full of energy had been driven to a place where he felt the only option was to take his own life. It is almost inescapable now that there is an epidemic of mental health issues among men, perpetuated by a hyper-masculine culture of silence and repression.
Whilst subversively masculine figures such as The Cure and David Bowie have existed in our collective consciousness for decades now, these figures have always felt apart from the norm; they were existing in parallel with the masculine mainstream, but never truly able to fully challenge it. 'Boys Don't Cry' might be one of the most recognisable songs of the 70's, but it feels like the impact of its message was never truly realised. Whilst ostensibly about a breakup, Robert Smith underlines the song with the expectations of men to simply walk away from situations without expressing their true emotions. Whilst the message of 'Boys don't Cry' was certainly received by many, it often feels like its listenership is not equal to its impact. To be honest, how someone can listen to The Cure and not cry is beyond me.
Currently, it feels as though no band are so self-aware in changing the image of masculinity in music as much as IDLES. Having approached topics ranging from art appreciation to the damage of austerity on their debut album Brutalism, the band's second record Joy as An Act of Resistance became much more preoccupied with issues of social justice and personal struggle. Singer Joe Talbot's interviews surrounding this record (I would highly recommend Loud and Quiet's Sweet 16 Podcast episode with him) don't shy away from his struggles with mental health and the positive effect of therapy on that. Hearing someone talk so openly and genuinely on this in the public space was incredibly refreshing for me and helped me speak out about my own experiences more openly with those around me.
A standout track from the record, 'Samaritans', is a pummelling, anthemic destruction of the culture which tells men to 'man up' and 'grow some balls'. The combination of the conviction and ferocity of the song's delivery and its laceratingly witty lyrics make it an incredibly powerful reminder of the repressive voices which create toxic masculinity. Whilst IDLES certainly have masculine elements to their music and characters, they approach this masculinity with maturity and sensitivity, promoting positive mental health and self-love.
In their mission to redefine the American boyband, Brockhampton are also redefining what it means to be a group of young men making music together and the values which define that relationship. After allegations of abusive behaviour surfaced about vocalist Ameer Vann in May 2018, the group wasted little time in kicking him out of the group, losing one of their key members in the process. This move was a clear statement on the way the group wished to portray themselves, clearly distancing themselves from the abuse which has so far seemed to be so closely tied to masculinity in music.
The release of 'The Dirt', a Netflix produced Mötley Crüe biopic shows the endurance of outdated and damaging ideas of what it means to be a man. Throughout the film, the members of the band abuse their way through countless nameless women with absolutely no empathy for these people or each other, playing it off as just a wild and crazy rock star lifestyle. How, in 2019, a film that portrayed the disgusting hyper-masculine actions of four of music's most alienated and tragic figures (albeit by their own doing) as part of a cool lifestyle was able to get funding and production is beyond me. This proves that despite the emergence of voices like IDLES, we still have a long way to go before we can be rid of the toxic culture which defines much of films like 'The Dirt'.
In an increasingly socially aware world, we have the opportunity to change the image of masculinity for creatives and develop a supportive environment for those struggling with mental illness. Clearly this issue neither starts nor stops with music, but in changing the narrative within our art we can hopefully signpost the kind of change that we want to see in wider society.
For help with mental health visit: