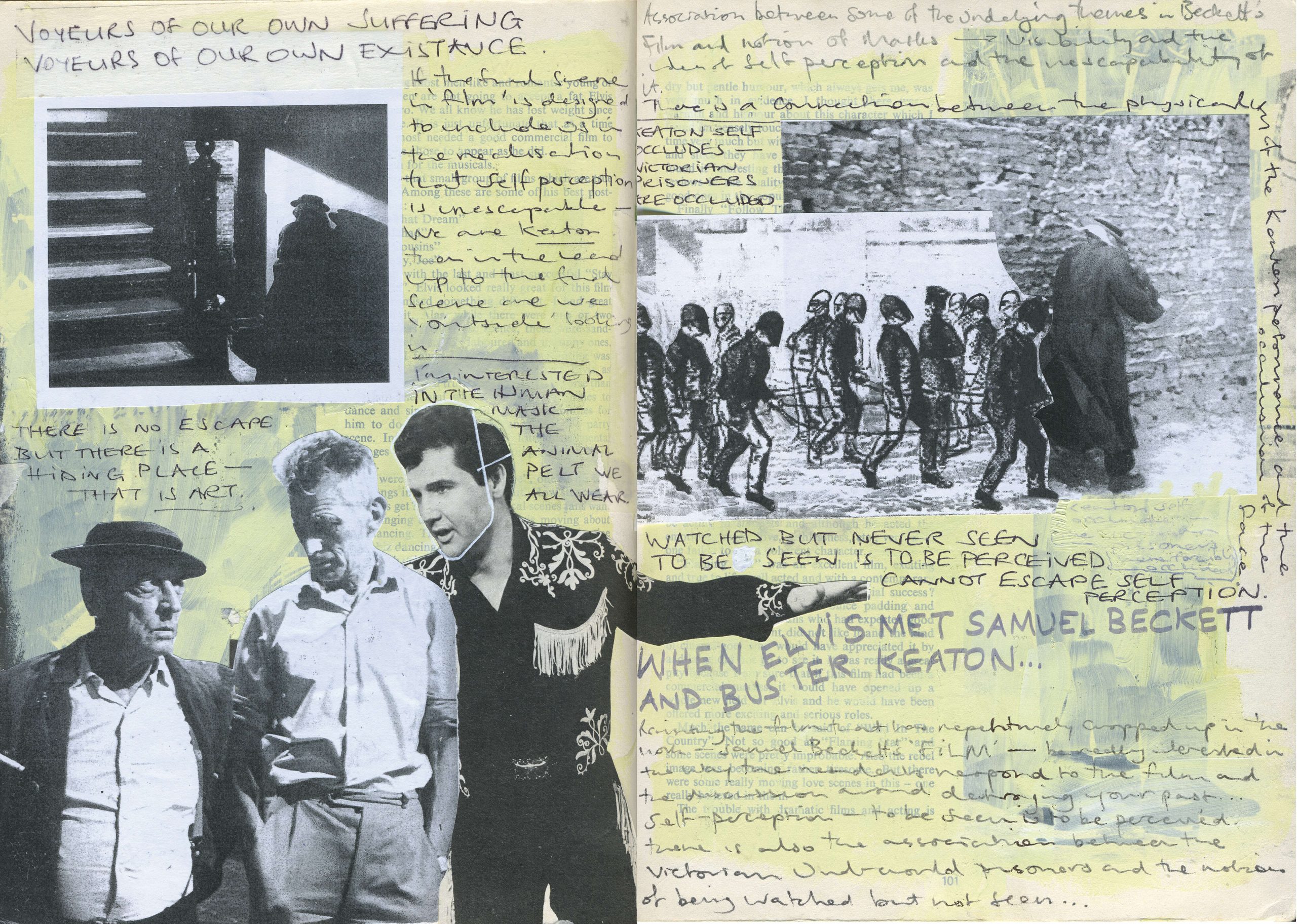 Culture editor Ilina Jha discusses and explores the ideas and inspirations that have formed Dean Kelland's latest exhibition: Imposter Syndrome, praising the project's ability to humanise those involved.
Imposter Syndrome: the answer to the question "What do the inmates of HMP Grendon and the artist Dean Kelland have in common?" (not that any of you were asking, I suppose). Kelland's four-year artist's residency (2019-2023) at HMP Grendon, funded by the Marie-Louise von Motesiczky Charitable Trust, has brought artist and inmates together for artistic collaboration in surprising ways. Imposter Syndrome is the culmination of this residency. During the press tour of Imposter Syndrome on Tuesday 19th September, Kelland talked about his experience creating art with the prisoners over these four years.
HMP Grendon is a Category B, all-male therapeutic prison, which uses psychodrama, group therapy, and art therapy to facilitate the rehabilitation of men who have committed serious offences. Kelland worked separately from the professionals delivering these therapies; however, the prisoners' experiences and understanding of these sessions informed the artwork they created. Imposter Syndrome features the use of printing, sketching, and filmmaking to created Pop Art-inspired artwork.
For example, a notable feature of Imposter Syndrome is Kelland's use of pop culture figure Elvis –a man chosen by the inmates of HMP Grendon themselves. Kelland explained that the men identified Elvis as an 'ideal man' partly because of his own life struggles that they could identify with. David Bowie is also a key figure in the exhibition's artwork, as he challenges some of the masculine ideas embodied in Elvis. This is all part of Kelland's and the prisoners' work exploring ideas of masculinity and its problems, and is a prime example of how the men at HMP Grendon actively shaped Kelland's artwork to reflect their personal experiences. It is evident that Imposter Syndrome is not a one-man project, but a true collaboration.
Nowhere is this more evident than in the filmed performance of So the Days Float Through My Eyes. In this short, silent film, a group of HMP Grendon inmates are all wearing David Bowie masks, which not only adheres to the masking theme that pervades Imposter Syndrome, but also serves the practical (and important) purpose of keeping the prisoners anonymous. The men hold cards featuring lyrics from Bowie's song 'Changes' (1972), taking it in turns to walk forward and reveal their card before walking out of the frame. Kelland explained that the men chose the lyrics they were going to hold up as personal reflections of their own experiences. For me, So the Days Float Through My Eyes is one of the most powerful pieces in Imposter Syndrome, because it humanises the men and helps us to understand the struggles they have been through, whilst also keeping them anonymous for both their sakes and their victims' sakes.
Another highlight of Imposter Syndrome is Tin Soldiers – an installation of collages that the prisoners and Kelland created together. The inmates colour-washed and marked pages of Kelland's favourite childhood book, The Steadfast Tin Soldier (1838) by Hans Christian Anderson, and the men chose printed masks of prominent men (real and fictional) that mean something to them. These figures range from famous singers George Michael and Bob Marley, to comedian Bob Mortimer, to artist Grayson Perry, and to fictional character The Joker. The colour-washing over book pages, along with the joined dots and masks, created a striking layering effect in each collage. Furthermore, it was fascinating to see the range of different figures that the men had chosen, whether it was because they admired them, had a personal connection with them, or found them to be challenging and controversial figures.
Overall, Imposter Syndrome is a fascinating and complex exhibition of diverse artwork that humanises the prisoners of HMP Grendon. The art created by Kelland and these men gives us an insight, however brief, into the prisoners' experiences and helps us feel more empathetic towards them. In a world where prisoners are so often demonised, even when they have expressed remorse for their crimes and are seeking rehabilitation, Imposter Syndrome is an urgent and vital exhibition.
---
Enjoyed this? Read more from Redbrick Culture here!
Theatre Review: The Woman in Black