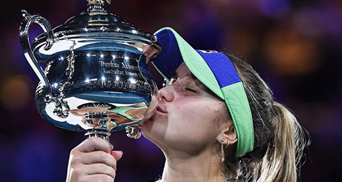 Max Kelly reviews the first tennis major the new decade, as a new name and a familiar face took home the singles titles in Melbourne.
At the Australian Open last week, the world saw both a new face and an established great crowned champions. American Sophia Kenin overcame a revitalised Garbiñe Muguruza to take home her first-ever Grand Slam title, whilst Novak Djokovic lifted the cup for a record eighth time.
The Australian Open has long been renowned for searing heat and beating sun, but this year was slightly different. The pre-tournament excitement was marred by the spread of bushfires in southeast Australia which is where the annual tournament is hosted. Several qualifying round matches were abandoned due to poor air quality, with Slovenia's Dalila Jakupovic being forced to forfeit her qualifying match after succumbing to a fit of coughing on-court.
As the tournament progressed, heads started turning to some incredible on-court performances.
The tennis world waited with bated breath as a first-round match pitted 15-year-old Coco Gauff up against her idol, Venus Williams, in a repeat of their 2019 Wimbledon first-round match. Gauff steamed past Williams in straight sets and raced through to the round of sixteen, where she finally met her match in the form of eventual champion Sophia Kenin.
On the men's side of the draw, American Tennys Sandgren, with an ATP world ranking of 100, made it past more established names such as Fabio Fognini and Sam Querry to take his place in the quarter-finals. Once there, however, Sandgren crumbled under the immense pressure of playing crowd-favourite Roger Federer, even after being just a tiebreak away from victory.
As the tournament came to a head, there was a clear favourite in each of the women's semi-finals. However, neither Ashleigh Barty nor Simona Halep could translate their far superior world rankings into a place in the final. Instead, the final was contested between two-time grand-slam champion Garbiñe Muguruza and Sophia Kenin, who had never got past the fourth round in a Grand Slam prior.
After three enthralling sets of tennis, a flurry of unforced errors committed by Mugaruza in the third set eventually handed the title to the American. The latest in a long line of upcoming talents in the women's game to be thrust into the limelight, Kenin is certainly a player who looks to be sticking around.
On the final day of the two week tournament, Novak Djokovic faced off against Austrian Dominic Thiem in the championship match. Despite Thiem's ranking of fifth in the world, it was only his third appearance at a Grand Slam and his first at Melbourne. In the first three sets, however, Thiem had a firm grip on the match and one hand on the trophy. Djokovic had other ideas though. The Serbian fought back with vigour and tenacity, profiting from mistakes made by a weary Thiem, to win the match in five sets. An eighth triumph for Djokovic extends his lead as the most decorated men's player at Melbourne. Thiem, however, will rue the missed opportunity to get his hands on a first grand slam.