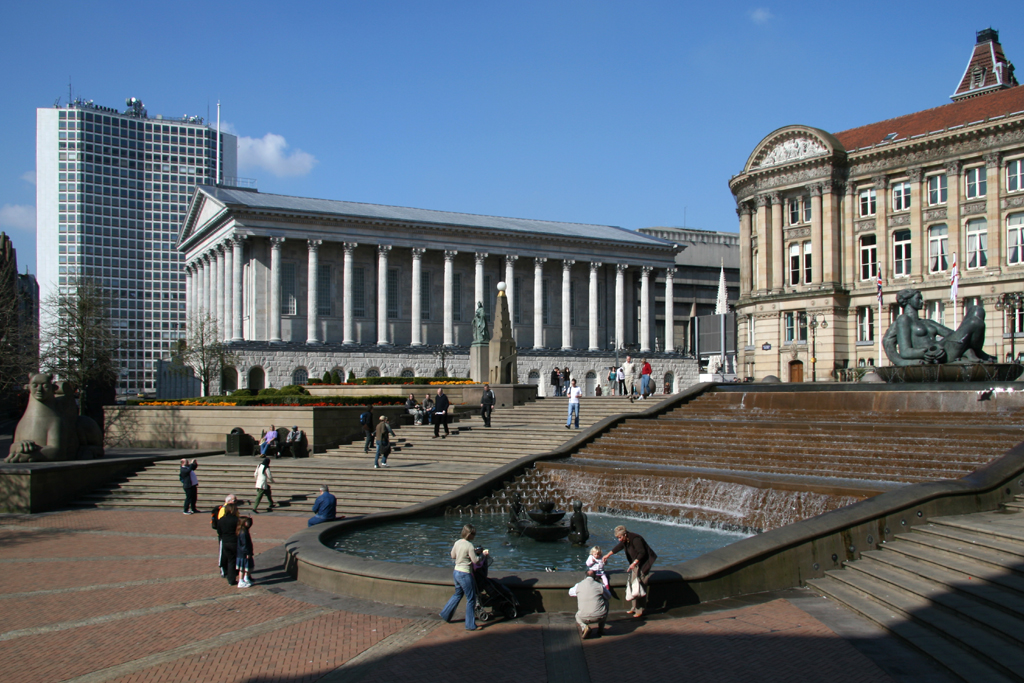 Peaceful protests are taking place in Birmingham in support of the Black Lives Matter movement, which is campaigning against violence and systematic racism faced by Black communities
These protests are in response to the Minneapolis protests which began after the killing of a black man, George Floyd, in Minneapolis by Derek Chauvin, a white police officer.
Floyd's death has reignited anger across the world over police brutality towards black people.
This follows similar cases such as those of Michael Brown in Ferguson, Missouri, and Sandra Bland in Hempstead, Texas which have driven the Black Lives Matter movement.
The first Birmingham protest – both in solidarity with the USA and in protest of police brutality in the UK – took place at 13:00 on 3rd June, in Victoria Square.
A second protest was also organised and took place yesterday at 16:00 in Centenary Square. This information has been circulating on social media under the hashtags #BlackLivesMatter and #JusticeForGeorgeFloyd.
This comes after the Independent Office for Police Conduct (IOPC) recently launched an investigation into racially motivated police brutality in Birmingham.
This inquiry began in April following videos which appeared to show a police officer dragging a black man off of his bicycle and, the next day, beating a 15-year-old boy in Newtown, just north of the city centre.
Another episode of police brutality occurred on 27th February in Handsworth when bystander Trevalie Wyse, a black man, witnessed a car crash and was subsequently shot with a stun gun for failing to get on the floor.
The IOPC told the Guardian that a "full, fair, and thorough" inquiry would take place.
Concerns have been raised that the protests may not comply with government guidelines around social distancing.
However, the infographics stress the peaceful nature of the protests and the need for social distancing, suggesting that protestors should wear protective masks if possible due to the large numbers expected to attend and the continuing threat of coronavirus.
As of 31st May, there are 3,231 confirmed coronavirus cases in Birmingham, out of a local population of 1,141,816, according to the BBC.
Preet Gill, MP for Birmingham Edgbaston, recently said that '[police] brutality must stop!' in a tweet reacting to footage from the Seattle protests showing armed police violently restraining protestors.
Gill observed that 'when people […] are having their human rights violated we cannot stay silent.'
On Tuesday, West Midlands Mayor Andy Street tweeted a statement in support of the Black Lives Matter movement, saying 'I stand appalled at the scenes in the US and offer my support and solidarity to everyone peacefully standing up for their community.'
He also said, 'I want to offer my support to those who are planning a peaceful, socially distanced, protest in Birmingham this week. The whole of the West Midlands stands with you. #BlackLivesMatter'
The University of Birmingham (UoB) also issued a statement, saying 'the recent events in the United States have shocked and upset our staff and student community and we stand with our staff and students across the globe in opposing racism.
'We are committed to creating and maintaining an inclusive learning and working environment, where equality is promoted, diversity is valued and discriminatory behaviour is not tolerated.
'We recognise that members of our community may want to take part in safe, socially distanced and peaceful public protests and demonstrate their support for the Black Lives Matter movement.
'We do also encourage any staff or students who are upset or distressed by these events to access our support services including Pause, Workplace Wellbeing or the Chaplaincy team who are offering a listening service for any members of our community.'