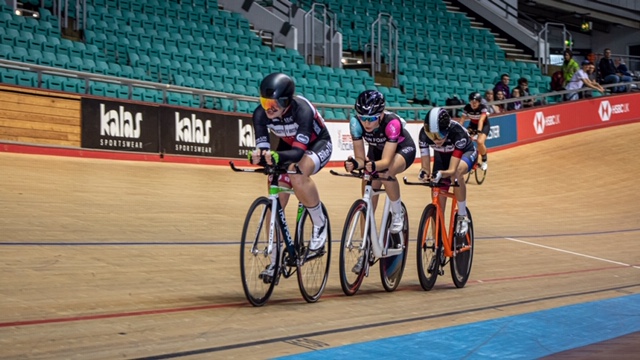 Sport Writer Elliot Keen recaps a successful weekend for UoB at the BUCS Track Championships in Manchester
The weekend's proceedings began with qualifiers for the individual events. Birmingham's Louise Scupham produced an impressive display in the Women's Flying 200m Time Trial (12.960) to secure seventh place and qualification into the quarter finals.
Birmingham was well-represented in the Men's 1km Time Trial, with Tiago Fougo, Matt Clegg, Curtis Maltby, Jonathan Allen, Hal Ryan-Gill, Chris Hicks, Tom de Vrijer and Patrick Mackie all clocking respectable times in the event. In the Women's equivalent, Poppy Wildman was unlucky not to finish higher, as she suffered an issue when her bike was released from the gate that the commissaires failed to spot.
Birmingham's success in the individual races reached a maximum when Gaby Homer earned a place in the Minor Final of the Women's Individual Pursuit with a time of 3:44.246, just 3.62 seconds off the time of the eventual gold medallist Francesca Hall of Loughborough. Gaby proceeded to catch Loughborough's Bobby Clay in the IP Minor Final in just under three-and-a-half minutes, winning a bronze medal in the process.
Sunday brought the first of several team events. Birmingham clocked a time of 3:42.815 in Team Pursuit qualifying, which put them into the Minor Final against Cardiff's women's team. Cardiff rode with ruthless efficiency, leading to Birmingham finishing over nine seconds down on the Welsh university. Regardless, it was a commendable performance from a team containing Emily Larwood, Gaby Homer, Louise Scupham, Madeleine Gammons and Nicola Greenwood. In the Men's TP, Birmingham entered two teams, though unfortunately neither was able to finish in the top four.
Support for riders from the UoBCC team was audible during every event, with friends and family accompanying the squad to the velodrome in Manchester. Cheers and screams of "UP UP UP" echoed around the venue on several occasions during Day 2, not least during the Women's Elimination race – in her third and final event of the weekend, Madeleine Gammons raced to victory on the final lap and won Birmingham's second medal of the weekend.
Tiago Fougo survived several close calls in the Men's Elimination Final before winning a bronze medal – after being boxed in on the inside for several laps, Fougo put in a huge effort to place himself on the front of the pack until he crossed the line in third on the second-to-last lap.
The big winners were Loughborough – whose team won the overall women's prize – and Nottingham, who blew away the opposition in both Team Pursuit finals, setting two BUCS records in the process. Overall, the weekend can be considered a success for Birmingham, with the club taking away several medals having produced numerous strong individual and team performances.