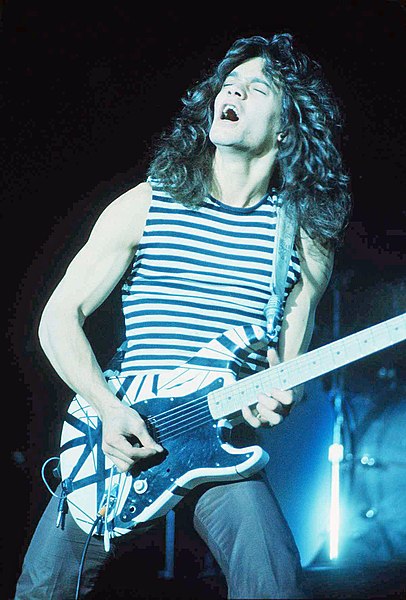 After the very sad passing of lead guitarist Eddie Van Halen, Music Editor Bethany-Jo O'Neill takes a look at what is widely regarded as the greatest guitar solo of all time, Van Halen's 'Eruption'
42 years after its release, there still has not been a guitar solo that comes quite close to that of Van Halen's 'Eruption.' The technique, the sound and the complete, jaw-dropping emotion Eddie Van Halen expresses is untouchable. As a guitarist, this is a track that all musicians idolise. BBC News recently ran an article with a quotation from Joe Satriani as its headline: 'How Eddie Van Halen "scared the hell out of a million guitarists".' Never has a statement been more true. Eddie Van Halen had a talent that was so rare and after his incredibly sad passing earlier this month, I wanted to take a look at one of the tracks that made him a mainstay of guitar folkore.
'Eruption' begins with an emphatic drum crescendo and a ringing chord strum which momentarily fools the listener into thinking they are about to experience a multi-instrumental, fast paced, energetic rock song that the band are most famous for. Fast paced and energetic are definitely two adjectives twinned with 'Eruption,' however, the thick texture of the song comes from just one man and his guitar – Mr Eddie Van Halen and the Frankenstrat.
To take a brief detour, I want to focus on that guitar for a second. It is a thing of beauty. Through combining the best features of the two most popular guitar brands, Fender and Gibson, Eddie Van Halen achieved the perfect sound he was craving. He then also gave the guitar its unique and iconic finish, painting it himself by hand. Incredible.
Back to 'Eruption.' The technique involved in the song is outstanding. Alongside the perfect use of whammy bar and the fast, alternate picking, the guitarist adds in that something extra which elevates the track to new heights – two-handed tapping. Although not inventing the technique himself, Eddie Van Halen gave it its heightened popularity. Two-handed tapping involves using your strumming hand to tap on the fret board at the same time as the fingering hand instead of picking notes. This creates a unique sound that is almost a cross between rock 'n' roll and classical genres. It gives an added dimension to arpeggios and manufactures a harmony that on first listen seems impossible from one guitar. Eddie Van Halen makes the impossible possible on this track.
Not only is 'Eruption' the perfect addition to the already fantastic 1978, self-titled album, Van Halen with how it exquisitely flows into the iconic riff of 'You Really Got Me,' live versions are just as astounding. The album version is one minute and 42 seconds of absolute, jaw-dropping insanity, but the extended live versions can only leave the audience with a smile and a sense of complete adoration. The video below begins with the calmer side of Eddie Van Halen where he has a cigarette in his mouth which promptly gets slotted under the strings at the head of his guitar. When the playing gets faster, so does he. There are iconic rock 'n' roll split jumps, head banging and bounding around the stage – everything you would expect from a member of Van Halen. Watching this video is inspiring and extremely scary all at the same time due to just how good Eddie Van Halen was.
To finish, I will leave you with a quote from Mr Eddie Van Halen himself regarding 'Eruption.' 'Whenever I hear it, I always think, "Man, I could've played it better".' How baffling is that? If it were at all possible to play that track any better, I do not think the world would have been able to cope. Rest in peace, legend of rock 'n' roll.
Rating: 10/10
---
You Might Also Like:
Album Review: Marilyn Manson – We Are Chaos
Reading and Leeds Festival 2021: The Lack of Gender Diversity