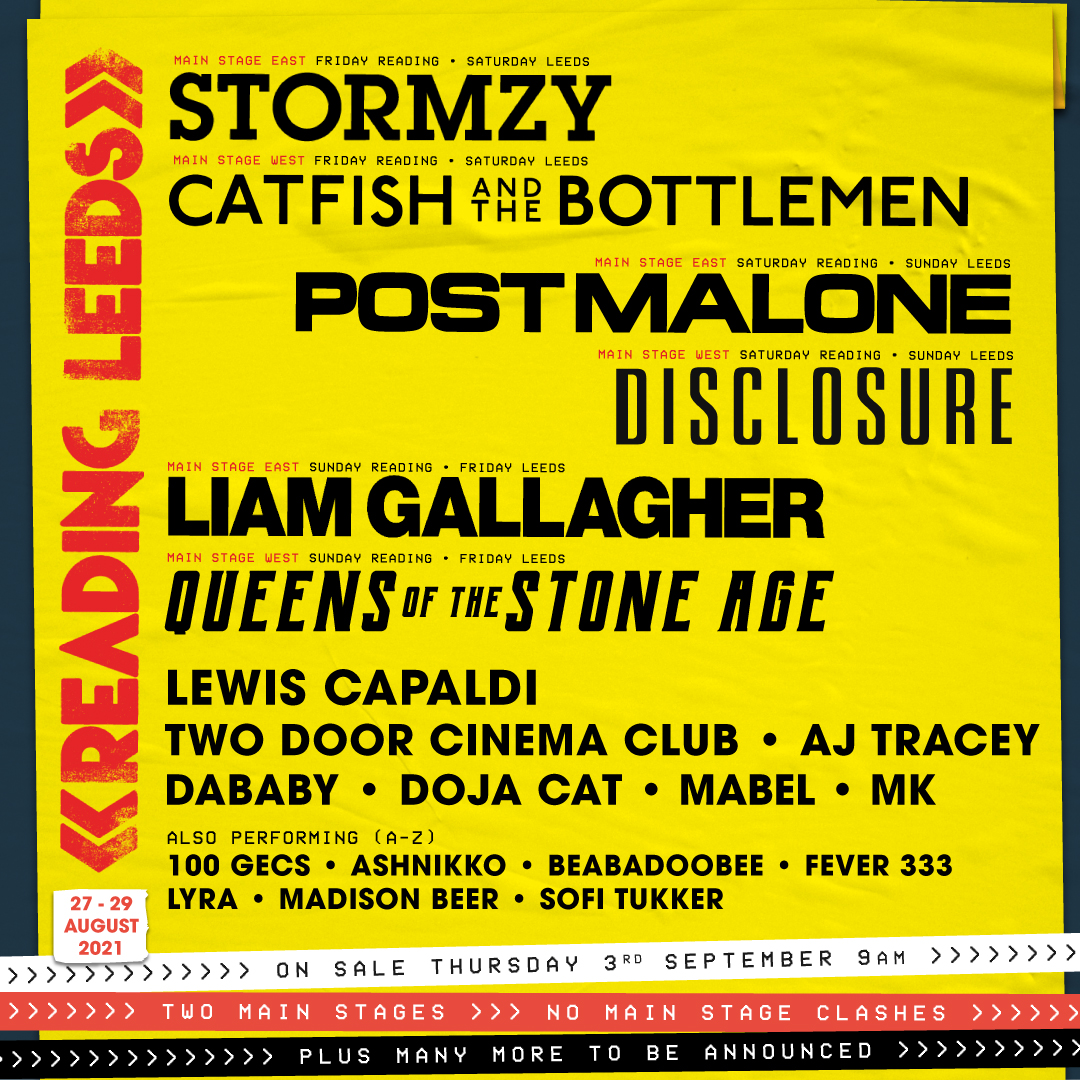 Following the backlash from the 2020 line-up, Music Critic Minnie Life shares her disappointment at the latest Reading and Leeds Festival announcement, arguing that marginalised voices need to be heard from the headline slots
On the 31st of August, Reading and Leeds festival announced what they promised to be one of their biggest line-ups to date, teasing eager festival goers with a shake-up comprised of two main stages and double the headliners. Prior to these announcements, many felt optimistic that given the plethora of top acts, the festival giants may be able to rectify the mistakes many felt they made with their 2020 line-up. They came under fire last year for featuring no female or non-binary headliners, and a mere 20 female or non-binary acts out of 92 in total. This was something that left many feeling bitterly disappointed, myself included. But when I read that we would be getting double the headliners, I felt hopeful that this could all be changing. Surely at least one of those six would be a non-male artist, right?
However, I was left once again disheartened at the lack of gender diversity displayed on the latest Reading and Leeds' line-up, with all six headliners once again being entirely male. Post Malone, Liam Gallagher, Catfish and the Bottlemen, Queens of the Stone Age, Disclosure and Stormzy are all due to grace the festival's two main stages next August Bank Holiday weekend. Now I am sure these acts are all worthy of, and have earned, their headline spot, and this article is not intended to discredit male performers. In fact, I am especially happy for Stormzy. He is a Black man with working class roots, consistently landing himself headline spots on the biggest stages in the world, and as proven by his headline Glastonbury slot last year, he knows how to put on a show. But the question must be asked- where is everyone else?
In my opinion, there is no shortage of extremely talented female and non-binary musicians who can pull large numbers of ticket buyers. Take Billie Eilish for example, who just last year drew the largest crowd in Reading and Leeds history during a mid afternoon set on the main stage. I was there during Billie's performance and it was nothing short of electric. People of all genders threw themselves into her hit-riddled set with a gusto that is rarely seen on a blisteringly hot festival afternoon. Her performance was perhaps my favourite of the weekend- and it was not even a headline slot! This is why I personally do not buy the frequently used excuses of 'female artists just do not sell tickets' or 'women just are not good enough to headline,' because they have proved time and time again that they can, they have and they will do it again. And yet, festivals like Reading and Leeds are not booking them. Why?
As much as I would like to say I am shocked and appalled, I can not say I am. The reality is that in Reading and Leeds' 25-year history they have only given their coveted headline slots to two female-fronted acts (Bjork in 1995 and Paramore in 2014). This is not a new phenomenon either; women have been calling out these issues for years. However, the reason why this year particularly stings is because of the high level of criticism their 2020 line-up garnered. Charli XCX when asked about the line-up stated that 'This conversation has been going on for so long…the line-up came out and everybody was like, 'There aren't enough women on this line-up'. Nothing has changed. Nothing.' Therefore, in my opinion (in what organisers promised would be their 'most epic' event to date) 2021 would have been a great opportunity to rectify these mistakes. However, these criticisms seem to have gone ignored once again, and I for one am getting frustrated.
I love live music; it has been a part of my life for as long as I can remember. Making that post-GCSE pilgrimage to Reading Festival back in 2016 was a hugely enjoyable experience, and I feel incredibly lucky that I have been able to attend so many live music experiences before and since then. Additionally, as a young woman attending these sorts of events, I think it is crucial to be able to see and hear female voices up on these massive stages. I would go as far as to say that most of my all-time favourite live performances have been delivered by women, and I see no reason why the majority of them could not take their place on the kinds of stages they are being omitted from time and time again.
For instance, my last gig before Coronavirus hit was seeing Halsey at the O2 at the beginning of March, and it was astonishing. Her vocals, visuals and choreography all blew me totally away and for me she is one of the strongest in the game right now. Granted, it was an arena full of her fans, but the sold-out crowd did not let up from start to finish, and neither did she. Personally, I see no reason why someone like Halsey (an artist with a multiplicity of radio hits spanning a multitude of genres) could not in future fill one of those Reading and Leeds headline slots.
Another female musician whose performance stuck with me recently was Solange at Lovebox 2019, who was in the Friday headline spot. It was the most ethereal set I have seen in a long time, and it proved that when you give these important slots to these powerhouse female performers, they can create spectacular musical experiences. Solange's set at Lovebox was particularly important, given that her discography centres specifically around Black female empowerment. Additionally, the entirety of her dance troupe and band were all Black, something that is rarely showcased on the world's biggest stages. Giving spaces (such as festival main stages) to marginalised voices where they can express themselves freely is absolutely crucial. This in turn creates a more appealing environment to live music fans of all genders, races, sexualities and abilities where they feel they can enjoy live music safely and can feel seen on the stage they are looking up to. Therefore, when festivals like Reading and Leeds fail to do this, they can end up creating an atmosphere where certain groups find themselves feeling unwelcome and unrepresented within live music communities.
Now, I am not saying it is all doom and gloom for Reading and Leeds 2021. I am excited to see what the likes of Charli XCX, Doja Cat, Mabel, beadadoobee and Sigrid do with their performance slots. It is also exciting to see women like Laura Les of 100 gecs adding to the steadily growing number of transgender musicians continuing to be booked for bigger and bigger festivals and stages. I am also not saying that this is an issue perpetrated solely by the Reading and Leeds organisers. Instagram page @bookmorewomen have been consistently highlighting the disparity in gender representation across festivals worldwide. They do this by posting pictures of festival line-ups with the male acts removed entirely, thereby highlighting the minimal number of women and non-binary performers appearing on these posters.
So, what can be done to fix this? Next year's line-up is most likely already booked and ready to be announced, so realistically not much can be done to influence change until 2021 is done and dusted. And realistically, this is the kind of change that needs to come from the very top of the music industry. There is only so much live music fans can do besides voice their dissent, both online and with where we choose to spend our money. However, one thing I would love to see more of is promises from bigger desirable acts, particularly male acts, to only attend and play festivals with a certain percentage of women and non-binary people in their line-ups. This was something the 1975 pledged to do off the back of the backlash that took place surrounding Reading and Leeds' infamous 2020 lineup. If more and more top male artists agreed to do something like this, I believe real change could be enacted.
The diversification of these spaces is something that is well and truly overdue, and the festival industry needs to wake up to the reality that women and non-binary people have been sidelined at their events for far too long. I hope that in the coming years, we start to see a shift in the right direction.
---
You Might Also Like:
Reading and Leeds Festival: The Lack of Female Artists
Album Review: Halsey – BADLANDS (Live from Webster Hall)
The Absence of Transgender Musicians in the Mainstream