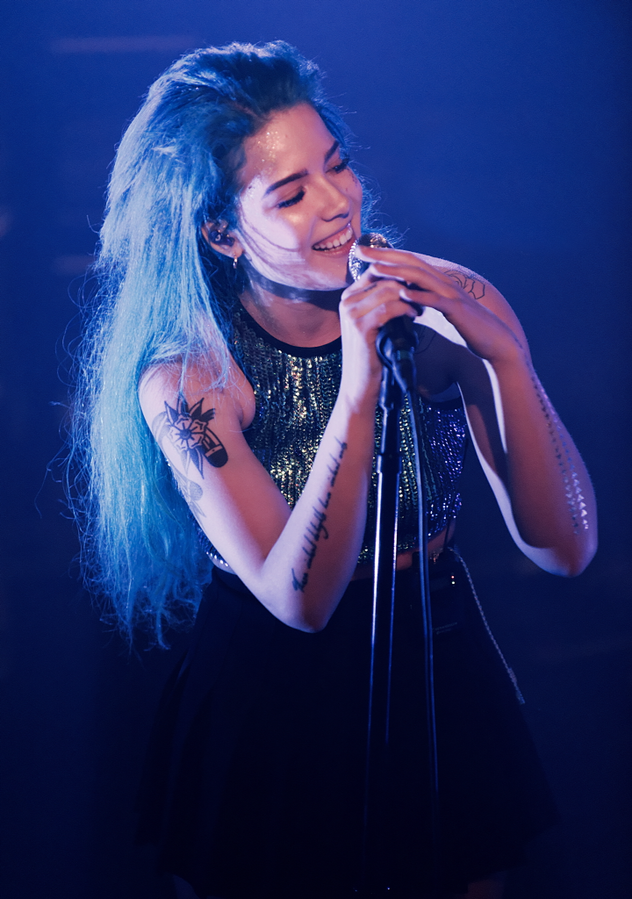 Halsey's live recording of debut album BADLANDS makes for a nice trip down memory lane, but perhaps does not stand apart as a piece in its own right, Music Critic Samantha Andrews writes
Five years ago, Halsey took us to the dark and gritty BADLANDS that was her debut album. Fans were taken by her raw sound, alternative influences and vulnerability, whilst the visual and lyrical concept of the Badlands became an iconic symbol within Halsey's career. Five years later, Halsey has celebrated the anniversary of this album by releasing BADLANDS (Live from Webster Hall). In the live set, recorded at the release of the album, she plays the album in full as well as including moments of speech and tracks from her early EPs. This is an album that brought a lot of nostalgia for me, and whilst it may not stand alone as a piece of art, this album is the perfect walk down memory lane. 
Halsey's live performance in BADLANDS (Live from Webster Hall) is a testament to her passion. Though not the most musically or vocally sophisticated (which she even jokes about during a speech on 'Some Kind of Stardust – Talking Break'), you can feel the raw energy of Halsey's music pierce through. In singles such as 'Colors' and 'Ghost', there is an immediate sense of power to each of the tracks on the album when they are played live. Halsey's energy certainly seems to thrive off of the live crowd she is in front of and this elevates songs such as 'Hurricane' and 'Gasoline.' They are charged with momentous sound effects and guitars, and you can feel the atmosphere build within the live setting. 
For devoted Halsey fans, BADLANDS (Live from Webster Hall) will be a beautiful and nostalgic experience. Older tracks such as 'Is There Somewhere' and 'Trouble' particularly stand out as deeper cuts that serve as a reminder of Halsey's beginnings. The artist has since strayed a bit from her initial sound as her music has developed, but with BADLANDS (Live from Webster Hall) she reminds us of her roots. 
Other moments really benefit from the live nature of the album that allows for new twists on songs to be taken. In 'Coming Down' Halsey strips the song back to a beautifully acoustic rendition. It is a sombre and melancholic moment within a set full of energy and power that stands out for its simplistic beauty. Similarly, 'Young God' is introduced with a simplistic piano melody that is charming and adds an element of whimsy before such a heavy song. The spontaneity of the live setting enables for Halsey to experiment with different takes on songs and BADLANDS (Live from Webster Hall) has allowed for these versions to be heard. 
Another really beautiful element of BADLANDS (Live from Webster Hall) is being able to hear songs live that Halsey has since packed up and left in her past. For example, 'Strange Love' and 'Roman Holiday' are often hailed as fan favourites from the original Badlands album, and it is really interesting to hear them within a live setting. They definitely call back to her initial, moody, alternative sound and yet still carry a certain sense of energy. Specifically, 'Roman Holiday' live becomes an almost euphoric sound. The only downside is not being able to physically experience that atmosphere in the crowd. 
In moments, BADLANDS (Live from Webster Hall) seems to lack in coherence. I can imagine that for an album that was so rooted in its visual aesthetics, the live show would only amplify that, and this is lost in the live recording. Yet, the live recording does manage to capture a certain energy and passion that plays out as a dynamic between Halsey and her fans. Which, at its core, is what BADLANDS (Live from Webster Hall) is about. It is a nostalgic walk through her past and it is the perfect complement to the five-year anniversary of her debut album. 
Rating: 6/10
---
You Might Also Like:
Album Review: OSEES – Protean Threat
Live (Stream) Review: IDLES
Album Review: Bright Eyes – Down in the Weeds, Where the World Once Was
Album Review: Kelly Lee Owens – Inner Song