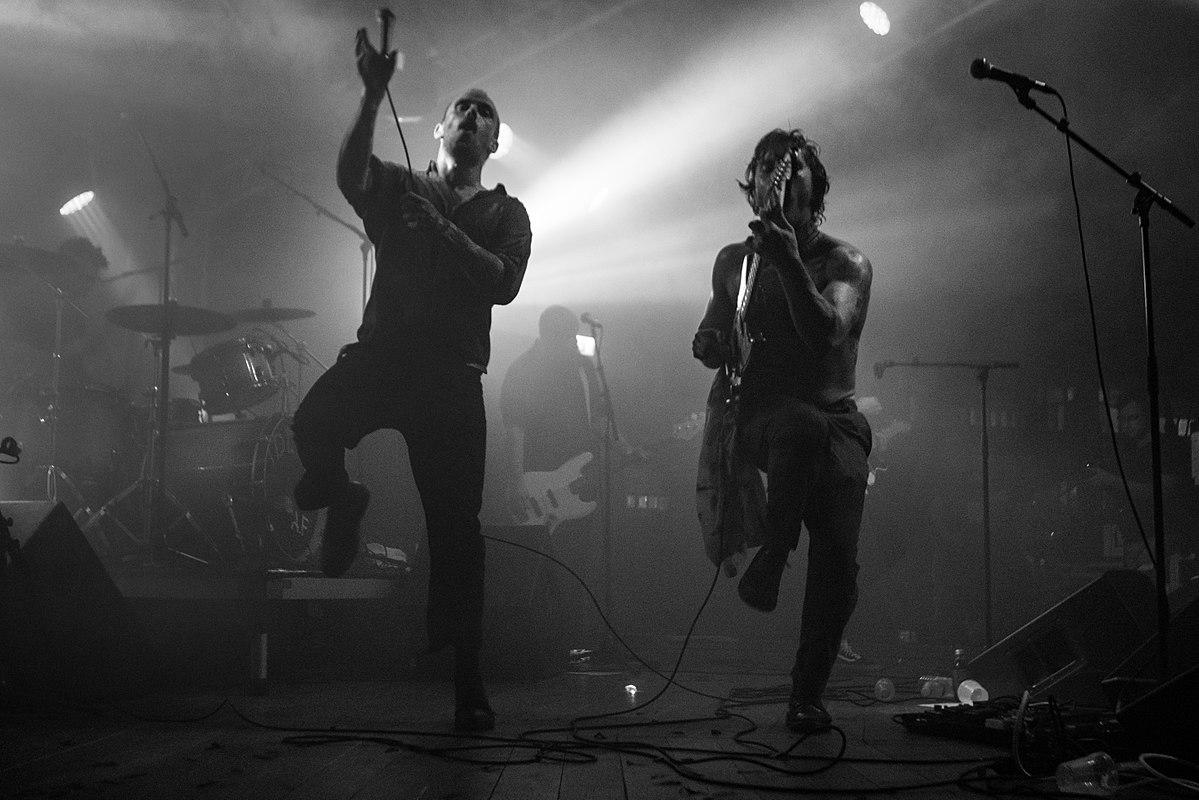 Music Critic Benjamin Forsdick reviews IDLES' live stream concert, weighing up the pros and cons that ultimately make it a good next-best-thing, but ultimately no substitute for a live gig
Covid-19 has metaphorically cancelled 2020's live music scene, with Glastonbury, Download and Coachella festivals being some of the first large events to be forced to announce that they would not be running. Furthermore, every artist planning a tour any time after March this year has faced gig postponement at best, cancellation at worst. There is no true solution to everything that's happening, but alternatives have been provided. Newcastle has seen some bizarre but endearing socially distanced outdoor gigs and the London Palladium hosted pilot indoor concerts. Similarly, many artists have recorded music specifically for and during lockdown. The low point of this was the celebrity 'I can sing a cornier verse than you' fest that was the collective 'Times Like These' Foo Fighters cover. The high point was Charli XCX writing and recording an album entirely within lockdown, just for it to become one of the most critically acclaimed pop albums of the year so far. The takeaway is that there is plenty still happening, but the success of the recording industry is inconsistent, whether in lockdown or not.
The more palatable interim status quo is for artists to livestream gigs to their audience through the virus repellent safety of the internet. This is exactly the route that Bristol post-punkers IDLES have taken, hosting three livestreams at Abbey Road studios. The band's third album is on its way, multiple singles are out in anticipation of the record and the tour next May (if it happens) is almost sold out. Furthermore, IDLES have cemented themselves in recent years as significant players within this current wave of post-punk groups, comfortably standing alongside the likes of Ice Age and Protomartyr. This makes an IDLES livestream gig at least partially as exciting as an actual IDLES show, so this 'gig' may be the best indicator as to whether the livestream setting is a viable one. 
The question that inevitably comes out of this experience is whether or not this is a worthy substitute for a gig, and the answer is definitely no. It is likely that the band were not even trying to achieve this. However, it could be considered the next best thing. Those familiar with Radiohead's In Rainbows studio recordings will enjoy what IDLES did here. It was as if the band had allowed fans to livestream a rehearsal and for all the negatives that a non-existent audience brings, there are positives too. Silence between songs gave insight into the relationships within the band. The result was that the set felt personal. It was not a show in the traditional sense which means that there is no pretense, a major positive considering the variety of aggressive music that IDLES perform. It is better to judge this this event in its own right, as opposed to through a comparative lens. 
---
The band took this opportunity to take a few risks, including bringing back some Brutalism cuts that are seldom performed live. 'Stendhal Syndrome' is one of IDLES' wittiest moments. It is a track that lampoons those who devalue abstract art due to a lack of appreciation, largely achieved through Joe Talbot's mocking conversational tone. Talbot did completely fluff the introduction, but it has been a while, so he can be forgiven. Likewise, the five-piece's restarted new track 'Kill the With Kindness' and the ending to their cover of The Ramones' 'I Wanna Be Sedated' was a bit strange; but this added to the studio and rehearsal feel that the livestream possessed, which worked to the band's advantage. These minor slips show that they are willing to play to their absolute limit, so who really cares if a song or two are restarted. Another older rarity, 'Date Night' was brought into the equation. The track is a grim assessment of modern relationships, again displaying the wit and cynicism that IDLES conveyed so well on their debut album. Talbot's vocals, especially during these older cuts, were aggressive and searing, each note sounding like a red-hot iron branding a thick layer of skin. '1049 Gotho' and 'Heel/Heal' also featured on the setlist, thus rounding off the Brutalism cuts and it is pleasing to see so many of them performed. The album is not nearly as widely celebrated as Joy as an Act of Resistance, but it is every bit as aggressive and lyrically observational, if not more so. 
'Never Fight a Man with a Perm' has fast becomes one of the group's most notable tracks and its inclusion is always welcome. The song displayed how well the band had set the session up, with Talbot situated in the middle of the studio. His presence allowed him to prowl from one band member to the next, making eye contact with each upon which that member would likely attempt to play even more abrasively than before. In particular, Jon Beavis' drumming is an audible onslaught that never eases, it is pure aggression for every moment of this performance. The setup meant that the entire band-sung chorus on 'Never Fight a Man with a Perm' was all the more unified. This characteristic was exemplified further on 'Television', performed towards the end of the track listing.
The setlist saw the inclusion of two cuts from the band's upcoming third studio album Ultra Mono. 'Mr. Motivator' was the first single teasing towards this album and the live setting is similar to the recorded one, insofar as achieving a combination of ironically overenthusiastic lyricism and hilarious references to popular culture. IDLES have previously name-dropped Mary Berry so it is hardly a surprise that Delia Smith has now made it into the IDLES back-catalogue. What makes this particularly amusing is that this stream was worldwide, so it is nice to see the band exposing some quintessential national treasures to the American audience (we joke about this but some of the lyrics are genuinely hilarious).
The other new track was perhaps the more exciting because 'Kill Them with Kindness' is unreleased. The only exposure anyone has had to this song is through this livestream and it sounded every bit as good as those singles which are already out there. Similar to the single 'Grounds', IDLES take influence from both '80s post punk and no wave. The riff is straight forward but played in unison by both guitars and bass, meaning there is power behind the simplicity. Less simplistic was the ambitious cover of 'I Wanna be Sedated'. It had been previously announced that each livestream would feature one cover and there are two reasons why this was an exciting announcement. The first is that any band taking on a cover is exciting. The second is that IDLES have a habit of covering very random songs; and by cover, what actually happens is they collectively yell their way through it. However, they toned the carnage down for this Ramones cover and gave the song a new life. A slower and more brooding atmosphere gave way to the lyrics becoming far darker than in their original context. It did unfortunately drag, but the band were right to take it on and change it. Covering a song without making it your own is glorified karaoke, so this slower version was a bold but ultimately correct call. The gig closed with 'Rottweiler', the standard IDLES closer and it was every bit as savage as it always is, with Talbot joining Beavis at the kit to hammer the track to its natural end. 
This livestream was a fun idea and something that many artists have been trying out recently. IDLES gave it their best shot and it was very enjoyable. It was not as good as seeing the chaos of the band in person but that was not the point. If we cannot all gather in a field in Reading to watch IDLES this summer, this is a respectable substitute. It raises the question as to whether this variety of marketing could be utilized more. After all, musicians are under increasing pressure to ensure that their vast touring schedules are not environmentally damaging. Events like this are wide reaching so have great potential to become a mainstay in the future. But make no mistake, IDLES are a great live force and there is a reason why they have already shifted circa 50,000 tickets for their upcoming UK tour. It seems that we all severely miss being on the farm and in that field. 
---
You Might Also Like
Album Review: Kelly Lee Owens – Inner Song
Album Review: Giant Rooks – ROOKERY
Album Review: Primitive Man – Immersion
Single Review: Taylor Swift – The Lakes